The Hives streaming new album; FIDLAR & Flesh Lights join tour (updated dates) +++ belated pics from Studio show
The Hives at the Studio at Webster Hall - 4/26/12

As mentioned, The Hives are set to kick off a North American tour next month which comes to NYC for the previously discussed show at Terminal 5 on June 22. Since we last spoke, it was announced that the Swedish band will be joined on the tour by two younger bands following in their footsteps of raunchy garage rock; LA's FIDLAR and Austin's Flesh Lights. Tickets for the NYC show are still available.
The Hives' new album, Lex Hives, comes out next week (6/5) but you can hear it ahead of its release in full at the bottom of this post. It's the band's first release since 2007's The Black and White Album and if you're wondering if they used that 5-year break to expand their sound... well they haven't at all. But that doesn't mean Lex Hives isn't fun as hell. "Come On!," which opens the album and most of their recent shows, jump-starts the band into the frenzy they've become known for with mile-a-minute instant sing-alongs.
Previously released singles like "Go Right Ahead" and "Wait A MInute" with their three-word choruses hold up great against some of the album's deeper cuts like "Patrolling Days," "Take Back the Toys," and "My Time is Coming," which are arguably better than the lead tracks. After a few listens you'll forget that you haven't known these songs since The Hives' early days.
Last month, when The Hives were in North America for Coachella, they stopped by NYC for a tiny sweaty show at The Studio before heading back overseas. A belated set of pics from that show, along with the Lex Hives album stream and a list of updated dates are below.

---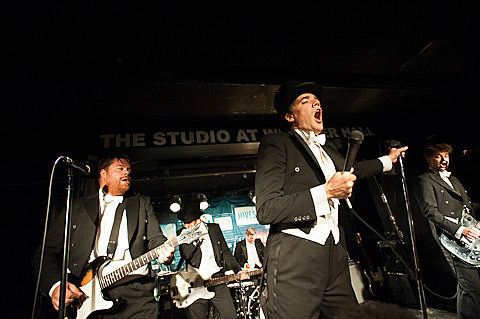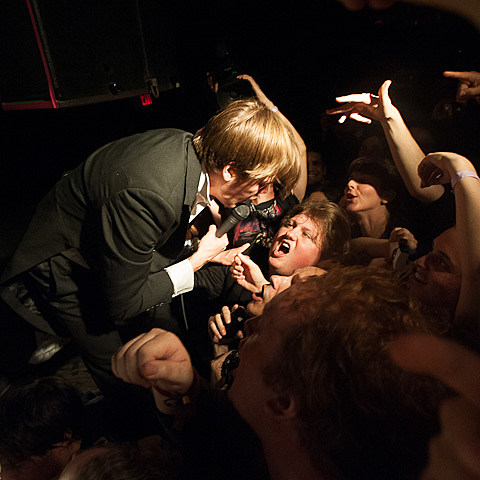 The Hives by Keith Marlowe
The Hives -- 2012 Tour Dates
31 May 2012 - Hässleholm, Sweden Siesta!
01 June 2012 - Nürnberg, Germany ROCK IM PARK
02 June 2012 - Nürburgring, Germany ROCK AM RING
08 June 2012 - Örebro, Sweden 20 Year Millencolin Festival
16 June 2012 - Aarhus, Denmark Northside
17 June 2012 - Interlaken, Switzerland Greenfield
19 June 2012 - Washington, DC 9:30 Club *
20 June 2012 - Philadelphia, PA Electric Factory *
22 June 2012 - New York, NY Terminal 5 *
23 June 2012 - Boston, MA House of Blues *
25 June 2012 - Montreal, QC Metropolis *
26 June 2012 - Toronto, ON - Sound Academy *
27 June 2012 - Pontiac, MI Clutch Cargo *
29 June 2012 - Milwaukee, WI - Summerfest
30 June 2012 - Chicago, IL The Vic *
27 July 2012 - Piteå, Sweden Dansar & Ler
28 July 2012 - Östersund, Sweden Storsjöyran
11 August 2012 - Fagersta, Sweden Rock Med Livstid
17 August 2012 - St Pölten/Vienna, Austria Frequency Festival
18 August 2012 - Hasselt, Belgium Pukkelpop
21 September 2012 - Stockholm, Sweden Gröna Lund
* - w/ FIDLAR, Flesh Lights