The Kills played Coachella & Terminal 5 (pics & setlist), playing Terminal 5 again (updated tour dates)
www.distortionfilms.com
photos by Dana (distortion) Yavin
The Kills @ Terminal 5

And then we were left with the man and woman of the hour. No, not William and Kate, but Jamie and Alison [of The Kills]. The two emerged from the shadows of the stage and stepped into the hazy blue light as cheers rang out. From the first note of Jamie's guitar, the party kicked into high gear and there was no looking back.
Mosshart prowled around the stage as she taunted the crowd with each lick of the guitar. She transformed into a human cyclone of tangled black hair and leather right before our eyes as she stood on top of speakers.
The set sampled heavily from "Blood Pressures" and included songs such as "Future Starts Slow," "Heart is a Beating Drum" and "Baby Says." But they also managed to work in fan favorites like "Sour Cherry," "Pull a U," "The Tape Song," and "No Wow."
At one point, Hince had to play bouncer in the middle of "Baby Says." One male audience member was getting into an altercation with a girl. As the scuffle broke out, Hince (while still playing) whistled for the guy and told him to "[expletive] off" and made a motion for security to kick him out as rousing cheers rose from the masses. Hince went on to unleash a fiery guitar solo soon after. At the conclusion, Hince justified his actions by saying, "it's a bad image when a guy wants to have a go with a girl. Don't be [expletive] stupid." Jamie Hince: underrated guitar player, bouncer and all-around good guy. -[The Ithacan]
Aided by an excellent supporting cast of The Entrance Band and Cold Cave, The Kills headlined Terminal 5 on Friday (4/29), the halfway point of their tour with the two bands that started at Coachella. Pictures of the Kills from both Coachella and Terminal 5 are in this post, a shot of the NYC setlist included (pics of the openers are HERE).
The show at Terminal 5 was a sell-out, and now The Kills will go for round two at the venue... another headlining show at Terminal 5 on August 8th. No support has been announced but tickets go on regular sale at noon on Friday (5/6) with a fan pre-sale hitting at noon on Tuesday (5/3).
All tour dates and more pictures below...

--
The Kills at Coachella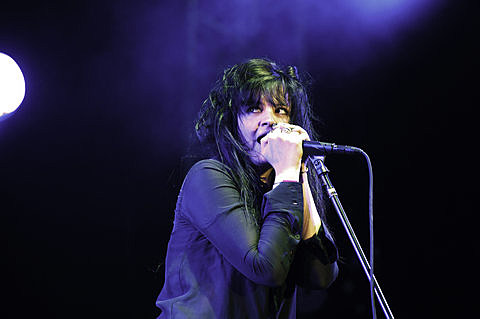 The Kills @ Terminal 5.....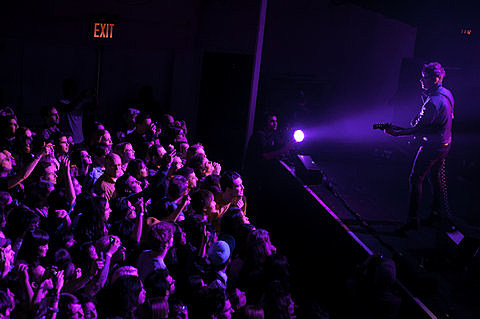 Cold Cave and The Entrance Band pictures are HERE.
THE KILLS - 2011 TOUR DATES
May 3 Detroit, MI @The Majestic Theatre *
May 4 Chicago, IL @ Vic Theatre *
May 5 Minneapolis, MN @ First Avenue *
May 8 Vancouver, BC @ Commodore Ballroom *
May 9 Seattle, WA @ Showbox at the Market*
May 10 Portland, OR @ Wonder Ballroom *
May 11 San Francisco, CA @ The Fillmore *
May 13 Los Angeles, CA @ The Music Box
May 14 Pomona, CA @ Fox Theater*
May 27 Central Methodist Hall. Manchester, UK
May 28 Evolution Festival. Newcastle, UK
May 29 ABC. Glasgow, UK
May 31 Met Uni. Leeds, UK
June 1 Academy. Oxford, UK
June 2 Anson Rooms. Bristol, UK
June 3 Roundhouse. London, UK
June 6 Magazzini Generali. Milan, Italy
June 18 Hurricane Festival. Scheessel, Germany
June 19 Southside Festival. Neuhausen, Germany
July 29 Splendour in the Grass Festival. Woodford, Australia
July 31 Fuji Rock Festival at Naeba Ski Resort. Niigata, Japan
August 8 Terminal 5. New York, NY
August 13 Route Du Rock. Saint-Malo, France
August 26 Rock En Seine. Domaine national de Saint-Cloud, France
* w/ Cold Cave & The Entrance Band