The Knife brought their 'Shaking the Habitual' stage show to Terminal 5 (pics, setlist), do it again tonight
The Knife @ T5 4/30/2012

"Welcome to SHAKING THE HABITUAL!" someone exclaimed during "Wrap Your Arms Around Me," the opening number at The Knife performance at Terminal 5 last night (4/30), their first of two at the venue on their current tour. Was this a concert or a musical revue? The correct answer is probably "both." There were 11 people on stage, all dressed in aqua-colored jumpsuits. Some of them played instruments, like this enormous string instrument/drum thing that was set up in the middle of the stage. There was also an electronic oboe being played at times. Some of them sang -- Karin was not always lead vocalist, and I bet some watching weren't even sure which one she was. All of them danced. And we're talking a show that was as choreographed a production as A Chorus Line, though I kept thinking of cult musical The Apple.
On the Knife's last tour in 2006 for Silent Shout, they spent most of the show behind translucent projection screens and you couldn't really tell if they were playing anything. (It was a cool show nonetheless.) They make electronic records that don't really translate to straight-up live performance. For this Shaking the Habitual tour, they are performing their asses off and it was an awesome spectacle -- including a "deep aerobics" warm up and spoken word piece mid-set. Amidst all this if you're hung up on whether the music is actually being played live, you're at the wrong show.
For those wondering: set was mostly the new album with three songs from Silent Shout ("We Share Our Mother's Health," "One Hit," and a techno'd out version of the title track to close the show), and one song each from Deep Cuts ("Pass This On" [no "Heartbeats" sorry]) and their eponymous debut ("Bird"). Setlist and lots more pics are in this post.
Side note 1: We had posted that Light Asylum's Shannon Funchess was part of this tour, but I'd forgotten till I saw her on stage. She plays a major part in the production, pretty cool to see.
Side note 2: The weather last night couldn't have been more miserable, a point driven home on the looong walk from the subway to Terminal 5 (a place I generally avoid). I was soaked to the bone by the time I got there and not in the best mood as a result, but that all pretty much evaporated once the show started.
The Knife do Shaking the Habitual again tonight at Terminal 5 which is sold out. More pics from the first night below...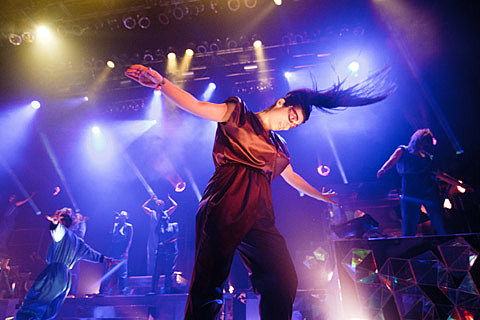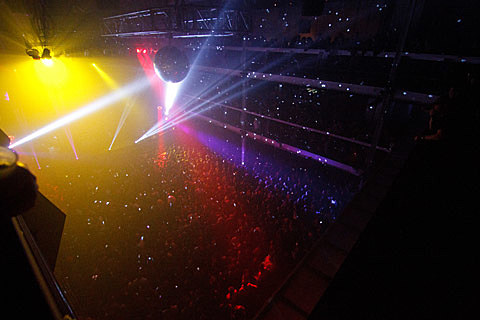 SETLIST: THE KNIFE @ T5 4/30/2014
Wrap Your Arms Around Me
Raging Lung
We Share Our Mothers' Health
Bird
Without You My Life Would Be Boring
A Tooth for an Eye
One Hit
Full of Fire
Collective Body Possum (Poem)
Ready to Lose
Pass This On
Stay Out Here
Silent Shout