The Low Anthem touring, played Bowery Ballroom (pics), add Brooklyn show (updated dates)
The Low Anthem @ Bowery Ballroom

From the boot-stomping joy of "Hey All You Hippies" (a song off the new album Smart Flesh), to a classical interlude--a clarinet trio playing "Wire," composed by Adams--there is never a dull moment. Before beginning "This God Damn House," Miller instructs the audience to call each other, and hold their phones together when he does the same. The effect is an electrical chirp pulsating throughout the room, producing a sound that is at one moment like a landing spaceship on The X-Files, at another like a field full of crickets.

The encore is the title song off an earlier album, Oh My God Charlie Darwin.... Spellbound, it feels like the whole crowd has broken out in goose bumps. -[New York Press]
The Low Anthem are currently out on tour in Europe, but will be back on the road in North America before the end of the month, like they were when they played a headlining NYC show at Bowery Ballroom on March 8th with Daniel Lefkowitz and Bobby. The rest of the pictures from that show are in this post (t-shirt silkscreener included).
Tickets go on sale at noon today (4/8) for a new Low Anthem show at Music Hall of Williamsburg on June 15th, one date of a larger tour for the band that will see them link up with Iron & Wine for some dates, with Mumford & Sons and Daniel Lefkowitz for others (the NYC show doesn't have openers listed yet).
All tour dates, a video and more pictures from the Bowery show, below...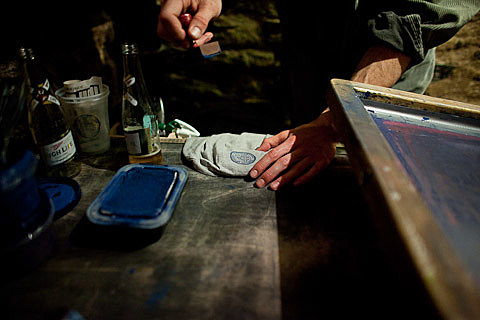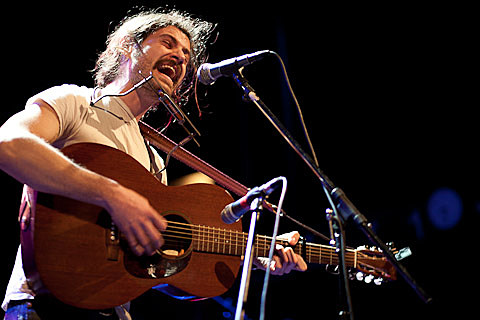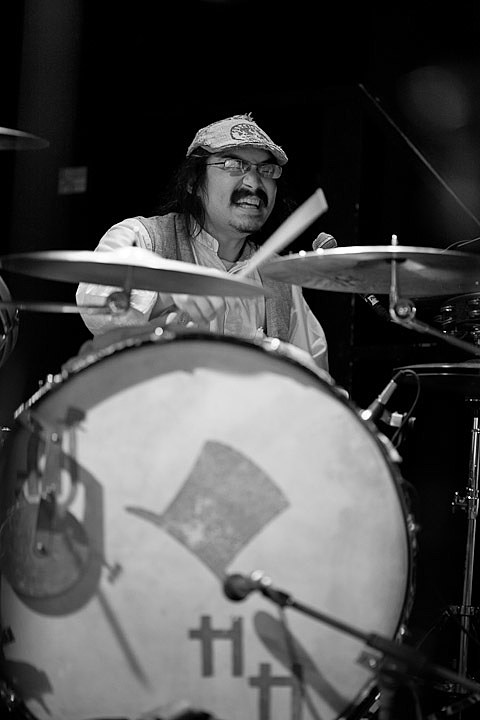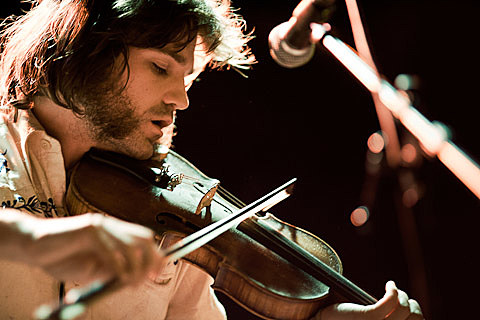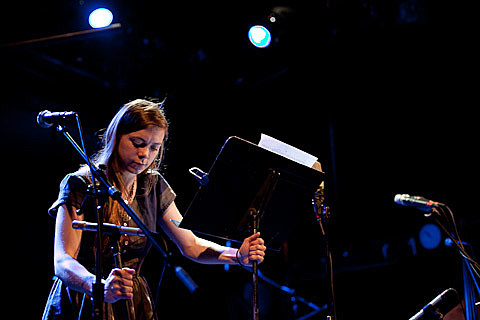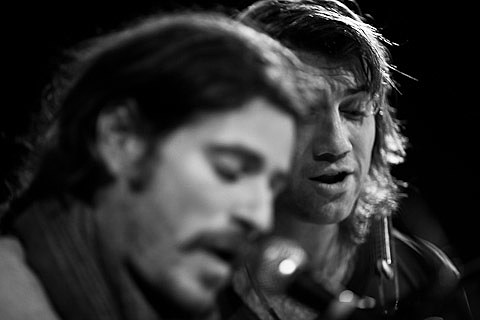 Low Anthem Bowery Ballroom 3/8/11

THE LOW ANTHEM - 2011 TOUR DATES
Apr 7 Glasgow, Scotland Oran Mor
Apr 8 Manchester, England St. Phillips Church
Apr 10 Dublin, Ireland Vicar Street
Apr 11 London, England Queen Elizabeth Hall
Apr 14 Detroit, MI Royal Oak Music Theatre*
Apr 15 Buffalo, NY Town Ballroom*
Apr 16 North Adams, MA MASS MoCA*
Apr 17 Burlington, VT Higher Ground*
Apr 18 Portland, ME State Theatre*
Apr 19 Boston, MA House of Blues*
Apr 20 Baltimore, MD Ram's Head Live!*
Apr 21 Philadelphia, PA The Electric Factory*
Apr 22 Washington, DC 9:30 Club*
Apr 23 Savannah, GA Savannah College of Art and Design*
Apr 25 Athens, GA 40 Watt Club*
Apr 26 Charlotte, NC Amos' Southend*
Apr 27 Richmond, VA The National*
Apr 30 New Orleans, LA New Orleans Jazz Fest
May 2 Houston, TX Fitsgerald's^
May 3 Austin, TX Central Presbyterian Church^
May 5 Sante Fe, NM Santa Fe Performance Exchange^
May 6 Tucson, AZ Club Congress^
May 7 Phoenix, AZ The Icehouse^
May 9 Los Angeles, CA The Autry - Heritage Court^
May 11 San Francisco, CA Great American Music Hall^
May 13 Portland. OR Doug Fir Lounge^
May 14 Kennewick, WA The Red Room^
May 16 Seattle, WA Triple Door^
May 17 Vancouver, BC The Biltmore Cabaret^
Jun 3 Columbus, OH Wexner Center for the Arts $
Jun 4 Louisville, KY Headliners Music Hall $
Jun 5 St. Louis, MO The Pageant $
Jun 7 Asheville, NC Thomas Wolfe Auditorium $
Jun 8 Raleigh, NC Raleigh Amphitheatre $
Jun 9 Columbia, MD Merriweather Post Pavilion $
Jun 11 Manchester, TN Bonnaroo Music & Arts Festival
Jun 12 Atlanta, GA Fox Theatre $
Jun 15 Brooklyn, NY Music Hall of Williamsburg
Jun 17 Newtown, CT Edmond Town Hall
Jun 18 Croton Point Park, NY Clearwater
Jun 24 Madrid, Spain dcode Festival
Jun 26 Glastonbury, UK Glastonbury Festival
Aug 13 Rees-Haldern, Germany Haldern Pop Festival
Aug 21 Brecon Beacons, UK Green Man Festival
Aug 28 St. Louis, MO Loufest
Nov 16 London, England Roundhouse
* w/Iron & Wine
^ w/Daniel Lefkowitz
$ w/ Mumford & Sons