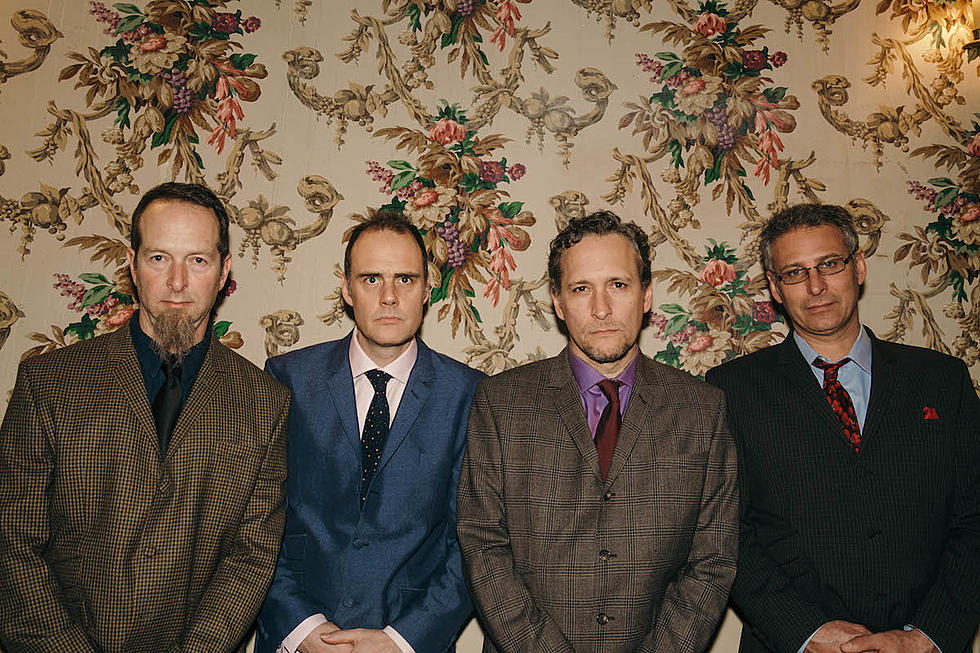 The Mommyheads prep new LP, raising money for charity with new video (watch)
Photo: Kevin Condon
Indie pop vets The Mommyheads have two records coming out on September 6: a 25th anniversary reissue of their 1994 album Bingham's Hole, and a brand new album titled Future You. First, the new album, which is their 10th and finds the band embracing '70s influences like ELO and Queen, as you can hear on "Woke Up a Scientist," the album's lead single. "'Woke Up A Scientist' is dedicated to anyone with an unbounded Imagination," says frontman Adam Elk. "In this case, my son literally woke up one morning and wanted to be a Scientist. I filled in the lyrical gaps with my own interpretation of how the world could benefit from rediscovering the fearlessness of it's own inner child."
We're premiering the very cool stop-motion-animated video for "Woke Up a Scientist" which was directed by Elk. "'That's the best music video EVER MADE!!!' proclaims my 10 year old daughter," Adam tells us. "She is a little biased, considering she was the Set Designer on the video for The Mommyheads 'Woke up a Scientist' and had also never seen 'SledgeHammer' by Peter Gabriel. What better way to visually depict a song about innocence and inspiration, than to use stop-motion animation to bring all the toys in our house to life? There are 50 separate scenes, each taking 3 to 4 hours to shoot. That's 150-200 hours of filming! That said, this video was was a true labor of love to make." There's an additional, very cool element to this video. The Mommyheads will send $1 per view, up to 1000 views, to Vieques Humane Society, a Puerto Rican animal shelter whose mission has proved even more important in the aftermath of Hurricane Maria. All you have to do is watch, and you can do so below.
As for 1994's Bingham's Hole, the band made the album with producer Peter Katis (who'd go on to produce The National, Interpol, Kurt Vile and more), and saw them branching out from more traditional indie rock into bigger pop ideas. "The Bingham's Hole record was a snapshot of the Mommyheads, as we were firing on all cylinders back in 94," says Elk who remixed the album for this reissue. "Counterpunching our way through the popular music trends of the day with a young Peter Katis manning the helm of his first production. Hopefully, Future You will be a complimentary 25-year spanning bookend to our long and melodic lifespan." You can listen to Bingham's Hole below.
Meanwhile, Mommyheads will be on tour in Europe in August and September and then have a few Northeast shows in the fall: Beacon, NY's Town Crier on 10/25, a Brooklyn record release show at Littlefield on 10/26, and show at North Adams, MA's Hilo on 11/9. All dates are listed below.
The Mommyheads - Future You tracklist:
1. Woke up a Scientist
2. Mutual Enemy
3. One drop of Beauty
4. Eldsj'l
5. Compelled
6. The Hound
7. Life in a Bubble
8. Prisoners
9. Stockholm
10. What are you
The Mommyheads - 2019 Tour Dates
8/30 Lasse Parken Stockholm Swe
8/31 Southside Tavern Stockholm, Swe
9/1. Parksalongen Oslo, NO
9/2 Holy Moly Gothenborg , Swe
9/3. Fiolen. Lund Swe
9/4. Tjili Pop Copenhagen , Den
9/5. Anarkist , Odense , Den
9/6 Plan B , Tranas , Swe
9/7 Konsertuset , Orebro, Swe
10/25 Towne Crier , Beacon NY
10/26 Littlefield , Brooklyn (Record Release Party)
11/9 Hilo , North Adams , MA