The Morning Benders, Twin Sister & Cults @ Webster Hall —- (pics & setlist)
Andrea joins the Morning Benders on Stage

I was somewhat surprised to learn that The Morning Benders were playing Webster Hall, but the large space was densely packed by 8:00 for the early string of shows.
Having missed Cults during CMJ, I was thankful for a second chance. At its core, Cults is the project of Brian Oblivion and Madeline Follin, but for their show, the duo had expanded. Fitting for their name, it looked as if Oblivion and Follin had chosen the additional four musicians based on their Manson family-esque appearance. All but one wore their dark hair long and a bit tussled.
"Hi. We're Cultssss," said Follin, dramatically drawing out the 's.' Like many young bands, Cults seems to lack a singular focus in their music, but their live show is the better for it. Over the course of their brief 25-minute set, they covered everything from slow, sexy songs to peppy, poppy dance numbers like the "Go Outside," which is perhaps their biggest hit to date.
Sure, Cults' set was a bit sloppy at times, but their music has all the right ingredients. They just need to let the dough settle for a bit so the yeast can do its thing.
Up next was Twin Sister. In addition to singer Andrea Estella's arresting appearance (Is that a parka? A wig? Or did she just tease her hair into a giant platinum mass?), it's easy to get lost in the band's mellow melodies and hushed vocals. The members of Twin Sister seemed to be in a perpetual state of bliss that had a calming effect on their music. Typically, stand out tracks are a band's more upbeat songs, but in the case of Twin Sister, it doesn't get much better than the smooth, slowly building "I Want a House" or the hazy jam "Lady Daydream."
The Morning Benders were met by a loud den of high-pitched cheers as they walked on stage. With singer Chris Chu's boyish good looks and the bands buoyant melodies, it should come as no surprise that their most ravenous fans are female. Throughout the evening, Chu spouted praises and niceties, which his eager fan base gladly absorbed. He could nonchalantly whisper "I love you" into the mic and at least 50 girls would turn to their boyfriends and dump them on the spot.
The band has apparently had a busy year. Chu estimated that Thursday night's show marked their 146th since March. Somehow, despite the heavy touring, the band didn't seem to be sick of the songs from their popular sophomore release, Big Echo, and nearly all of their set was lifted from the album. Of course, they did manage to work in a few other songs, like a Fleetwood Mac cover ("Dreams"), which featured guest vocals from Twin Sister's Andrea Estella.
Early in the show, Chu made a passing comment to get people dancing, but given the modest results, he repeated the sentiment before launching into the short, peppy song "Waiting For a War." "I gave you a chance to dance a couple of times, but you didn't really deliver [...] you guys could really go wild and express yourself. Feel free."
Then, as if all they were waiting for was permission, people started bopping along. Though the movement was a bit timid at first, as I watched from my perch in the balcony, I began to see subtle undulations on the floor as the crowd loosened up and seemed to move as one.
For "Excuses," the last song of their initial set, Chu put down his guitar, picked up a shaker, and walked to the edge of the stage, grabbing the hands of fans as he went. "Let's do this. Let's create a memory together, guys [...] let's get everyone singing." Sure enough, the house lights came on and nearly everyone sang along to the "dum du-dum's" of the chorus, including the other three members of the band. As the vocals continued on loop at the end of the song, Chu leaned over and started fiddling with pedals, and for a minute or so, the sunny melodies were shrouded in eerie overtones and discordant noise before he stripped it all away again, leaving the unadulterated group vocals to repeat a few more times before the screams and cheers from the audience became too overwhelming to hear the fade out.
Even if The Morning Benders don't appeal to you, it's hard to deny the gem of a song that is "Excuses" - so simple yet unbelievably catchy. Then you have the lyrics - not sexy enough to be dangerous or intimidating, but not completely innocent either. Take the first couple of lines: "You tried to taste me / And I taped my tongue to the southern tip of your body." (Whoa. Did I just blush typing that?)
As he walked off stage, Chris Chu uttered one last promise. "We'll be back soon with a new album." Then as if giving us a sneak peak, the band returned for one last song, a new one entitled "Virgins."
More pictures from the tour-ending show and the headliner's setlist, below...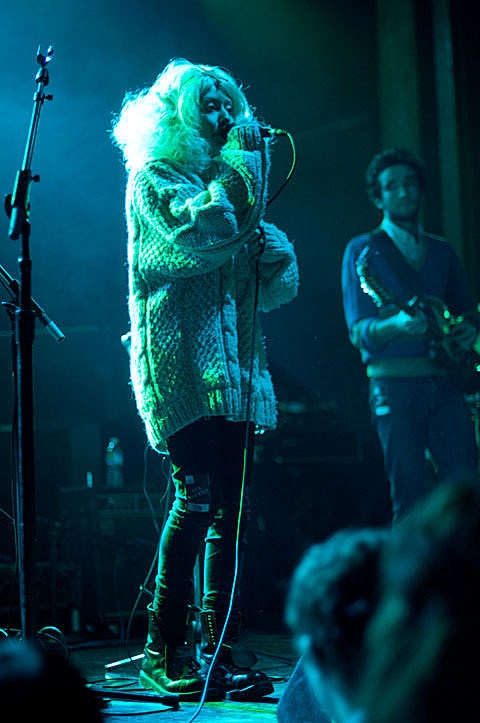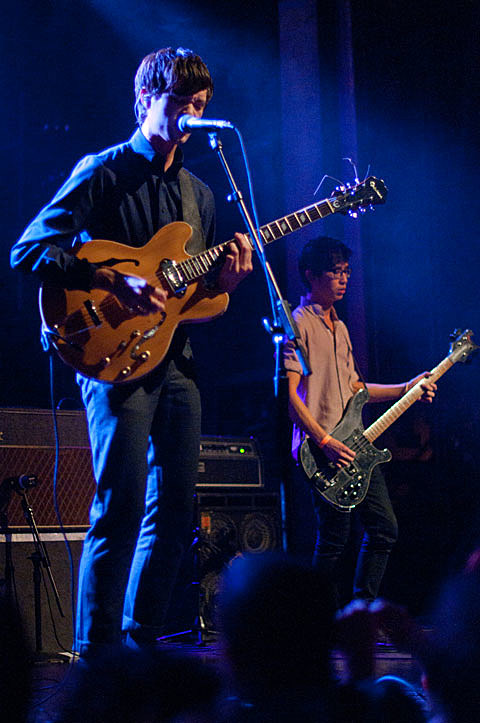 The Morning Benders Set list
Wet Cement
Cold War
Mason Jar
Boarded Doors
Promises
Hand Me Downs
Dreams (Fleetwood Mac cover song)
Stitches
Waiting For A War
All Day Day Light
Excuses
Encore:
Virgins