The Movielife began their reunion tour with 2 nights at Irving Plaza with Crime In Stereo (pics, setlists, review, video)
The Movielife @ Irving Plaza - 2/6/2015

"Thanks for coming out guys, we've got demos at the merch table, we're playing a VFW hall in Huntington tomorrow and one in Asbury Park the next day, and this next song goes out to Kill Your Idols and Vision of Disorder," joked Movielife frontman Vinnie Caruana on the second night of their reunion tour. Fitting, because though this was the second of two sold-out nights at NYC's Irving Plaza, not much about The Movielife has changed since they were a young Long Island punk band playing makeshift venues and thanking their hometown heroes on stage. While their LI pals Taking Back Sunday and Brand New went on to sign to major labels, dominate radio and MTV, and tour big venues across the world, The Movielife broke up before any of that could happen. But after briefly returning in 2011, they're now back for another well-deserved victory lap.
Staying true to those roots, The Movielife came out to the under-30-seconds blast of melodic hardcore, "I Hope You Die Soon," the kind of song that's hard to imagine seeing played anywhere but a VFW hall. From there on out, their 19-song set included just about all the fan favorites from the last two albums and the Gambling Problem EP, as well one song ("Dead to the World") from their 1999 debut, It's Go Time. We got "This Time Next Year," "Face or Kneecaps," "Pinky Swear," "Walking On Glass," "Kelly Song," "Hand Grenade," "Hey," "Self-Destruct" (their first time playing it live since the initial breakup) and more highlights from their short-but-great career. Obviously it wasn't literally everything, but it didn't feel like anything was left out.
"It feels great to be playing Movielife songs for you again," Vinnie said on stage. He was in genuinely great spirits the entire night, and he made it seem like these shows wouldn't be the last we'd be seeing of The Movielife. And the crowd was as appreciative as Vinnie and the rest of the band was. He ditched his mic plenty of times, only for the music to still be overpowered by the whole room singing along. The band got a circle pit going for one song, and there were moshers and crowd surfers aplenty for all the others. It wasn't an uncomfortable crowd by any means if you weren't trying to get rowdy, but almost no one was standing still. Certainly no one was during the night's best and heaviest moment, "Jamestown," the closer to the 90-ish minute set that felt like it flew by in half that time.
Direct support at both Irving shows came from their old Long Island pals Crime In Stereo, who were one of the more similar bands from that scene to The Movielife and a great start to the night. Night 2 was opened by Zumo Kollie (who I missed); and night 1 (which the pictures in this post are from) was opened by Pass Away, the band of Mike Ireland and Kellen Robson (both formerly of Vinnie Caruana's other band I Am the Avalanche) and current Crime In Stereo bassist Eric Fairchild.
More pictures from night 1, both setlists, a video, and the updated list of their tour dates (including West Coast shows with Onelinedrawing), below...

---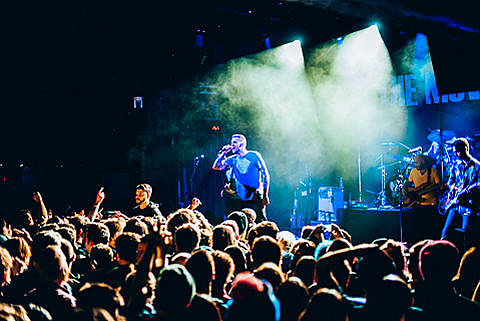 The Movielife - "Face or Kneecaps" at Irving Plaza - 2/7/2015

The Movielife @ Irving Plaza - 2/6/2015 Setlist: (via)
I Hope You Die Soon
10 Seconds Too Late
This Time Next Year
Face or Kneecaps
Pinky Swear
Takin' it Out and Choppin' it Up
Walking on Glass
Jamaica Next
Kelly Song
Maybe it's Nothing
Hand Grenade
Hey
Scary
Barefoot
Once in a Row
Sailor Tattoos
Encore:
Operate
Ship to Shore
Jamestown
The Movielife @ Irving Plaza - 2/7/2015 Setlist: (via)
I Hope You Die Soon
10 Seconds Too Late
This Time Next Year
Face or Kneecaps
Pinky Swear
Takin' it Out and Choppin' it Up
Walking on Glass
Jamaica Next
Kelly Song
Dead to the World
Hand Grenade
Hey
Scary
Self-Destruct
Once in a Row
Encore:
Sailor Tattoos
Single White Female
Ship to Shore
Jamestown
The Movielife -- 2015 Tour Dates
MAR 6 FRI TLA Philadelphia, PA w/ Crime In Stereo, Zumo Kollie
APR 2 THU Slim's San Francisco, CA w/ Onelinedrawing, Zumo Kollie
APR 3 FRI The Glass House Pomona, CA w/ Onelinedrawing, Zumo Kollie
APR 4 SAT The Roxy West Hollywood, CA w/ Souvenirs, Brian Marquis, Zumo Kollie
MAY 15 FRI SPRING FLING 3 Cleveland, OH w/ The Story So Far
JUN 18 THU Electric Ballroom London, United Kingdom
JUN 20 SAT Manchester Academy 2 Manchester, United Kingdom