The National & Beach House played Prospect Park (RIP geese) – pics & setlist
"Officials plan to reduce the number of Canada geese in New York State by two-thirds, eventually trimming the population to 85,000 from 250,000, according to a report prepared by several city, state and federal agencies.

The reduction is part of a larger plan that also calls for the near halving of the Canada geese population in 17 Atlantic states, to 650,000 from 1.1 million. The New York Times obtained a copy of the report.

In New York City, the report says, the current goose population of 20,000 to 25,000 is "five times the amount that most people would find socially acceptable," suggesting the number would be reduced to about 4,000...

...The first steps outlined in the plan went into effect last summer, when 1,235 geese in the city were gassed to death. The total for this summer remains unknown, though nearly 400 were killed after being rounded up in Prospect Park this month" [NY Times].
Though not with complete sincerity (Matt Berninger mentioned he also likes to know he's safer flying out of La Guardia), The National dedicated their song "The Geese of Beverly Road" to the slain geese of Prospect Park at last night's Celebrate Brooklyn show at the Prospect Park Bandshell. The band of two sets of brothers and a wine-loving frontman was rounded out by Padma Newsome on whatever Padma does, their usual horn players and Conrad Doucette on extra percussion.
"I think this is the first show we've played that we can walk to", said one of the Dessners to the beyond sold out hometown crowd at the celebratory show. And it was only one of three big sold out NYC shows the band is/was playing in less than two months (the first being Radio City) (the next being Thursday at Terminal 5) (more dates HERE).
The weather was perfect and the setlist was 21 great songs long. you can read it with more pictures of the show that Beach House opened (they sounded their usual good, album-like, dreamy selves), and a video, below...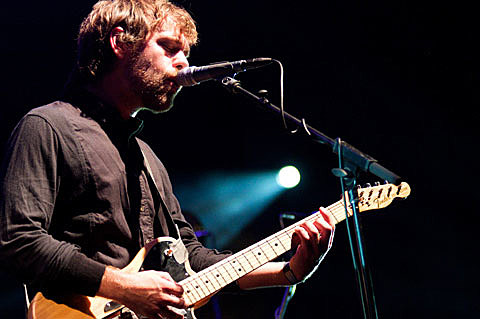 The National Concert at Prospect Park, Brooklyn, NY, USA Setlist on July 27, 2010
1. Runaway
2. Mistaken For Strangers
3. Anyone's Ghost
4. Bloodbuzz Ohio
5. Baby, We'll Be Fine
6. Slow Show
7. Squalor Victoria
8. Afraid Of Everyone
9. Little Faith
10. Available/Cardinal Song
11. Conversation 16
12. Apartment Story
13. Geese Of Beverley Road
14. Abel
15. Daughters Of The Soho Riots
16. England
17. Fake Empire
Encore:
18. Sorrow
19. Secret Meeting
20. Mr. November
21. Terrible Love