The National began their tour in Ithaca (pics, setlist)
photos by PSquared Photography
The National at State Theater - 5/16/13

As mentioned, The National are releasing their new album, Trouble Will Find Me, this week (5/21), and they kicked off their international tour in support of it last week (5/16) just a few hours upstate of their hometown at Ithaca's State Theater. Pictures from that show are in this post.
At that show, they played almost the entirety of the new album, including all three singles, "Sea of Love", "Don't Swallow the Cap", and "Demons", and a number of other highlights like "I Should Live In Salt" and "I Need My Girl." They spread the new tracks apart pretty well though, making room for tons of old favorites like "Daughters of the Soho Riots," "Fake Empire," "Mr. November," "Afraid of Everyone," and more. Check out the full setlist below.
As mentioned, The National's tour brings them to their hometown for their largest show there yet on June 5 at Barclays Center with Youth Lagoon (who also just played NYC). Tickets for the Barclays Center show are still available and we're also giving away a pair.
More pictures and the setlist from the Ithaca show below...

---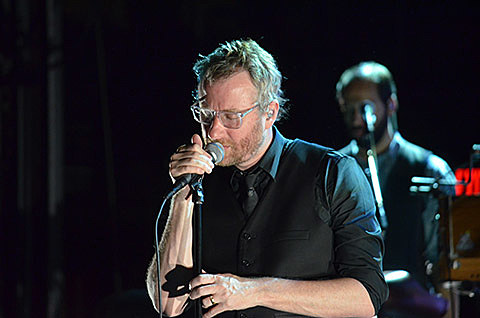 The National at State Theater in Ithaca - 5/16/13 Setlist:
Don't Swallow the Cap
Bloodbuzz Ohio
Sea of Love
Afraid of Everyone
Conversation 16
Demons
Heavenfaced
This is the Last Time
Mistaken for Strangers
Daughters of the Soho Riots
Apartment Story
Pink Rabbits
Humiliation
I Need My Girl
England
Graceless
About Today
Fake Empire
Encore:
I Should Live In Salt
Mr. November
Terrible Love