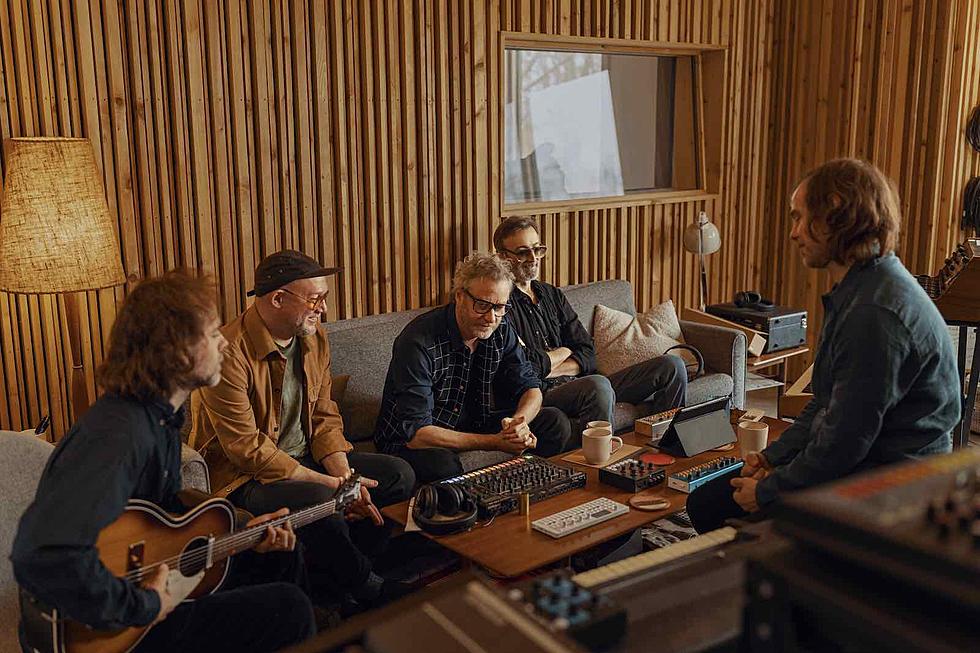 Notable Releases of the Week (4/28)
The National by Josh Goleman
Coachella is behind us, May is around the corner, and plenty of great new albums are out this week. I highlight eight below, and Bill tackles more in Indie Basement, including Beach House, Country Westerns, Robyn Hitchcock, John Andrews & the Yawns, Y La Bamba, JFDR, The Blue Aeroplanes, Shangri-Lass, and more.
On top of those, this week's honorable mentions include The Damned, Smokey Robinson, Braids, YUNGMORPHEUS, The Orb, Tiny Ruins, Dave Hause, Tee Grizzley & Skilla Baby, Baby Rose, Single Mothers, Vamachara, Scenario, Jim Legxacy, Glen Matlock (The Sex Pistols), Spotlights, Mike Dean, Lisa/Liza, Tony Shhnow, Rickie Lee Jones, Bill Orcutt, Bernice, Ben Copperhead, Morgan and the Organ Donors (Tobi Vail), Sleepsculptor, Martyna Basta, Neil Gaiman & FourPlay String Quartet, Ron Morelli, Gabriels, Great Lake Swimmers, Harrison (ft. Kadhja Bonet, Guilty Simpson & more), Josh Ritter, Danava, Joy Oladokun, Matthewdavid, Megafauna, Zoon, Fires in the Distance, Lonnie Liston Smith, Paul B. Cutler, Washer, Belgrado, Mya Byrne, Joseph, the Fucked Up EP, the Moreish Idols EP, the Overgrow EP, the Lunar Chamber EP, the Yunè Pinku EP, the Skiifall EP, the Mariee Siou EP, the Teenage Bottlerocket EP, the Deb Never EP, the Annie Blackman EP, the OK Cool EP, the Hariette EP, and the Doc Watson tribute album.
Read on for my picks. What's your favorite release of the week?
The National - First Two Pages of Frankenstein
4AD
The National are often at their best when they're not trying to be, when they're at their most spontaneous and not overthinking anything, and that seems to be the vibe of First Two Pages of Frankenstein. Matt Berninger was hit with writer's block in the leadup to the album, and instead of forcing anything, the members of The National focused on non-songwriting parts of their relationship, until they'd rekindled the very natural chemistry that's fueled their best records. Parts of the album were recorded live during rehearsals or concerts, and Aaron Dessner says that "slivers of improvisation" made their way onto the album, giving First Two Pages of Frankenstein a sense of raw urgency, even though it sounds as gorgeously polished as you'd expect from a present-day National album. No strangers to featuring guest vocalists on their albums, this one has Taylor Swift, Phoebe Bridgers, and Sufjan Stevens. Taylor and Phoebe's appearances especially seem poised to bring attention to this album and probably draw in new fans, but they never steal the show. First Two Pages of Frankenstein is at its best when it's just The National being The National, something they've been consistently good at for over two decades.
--
Indigo De Souza - All of This Will End
Saddle Creek
Indigo De Souza lost her band after finishing her fantastic 2021 sophomore album, Any Shape You Take. "I felt really scared and alone, because I had been convinced that those people were the only people for me," she told Paste. She persevered, putting together a new collection of musicians to join her last year at Drop of Sun Studios in her hometown of Asheville, North Carolina, where they recorded All of This Will End. "I was in a much darker place the last time I made an album, so this one felt a lot lighter," she continued to Paste. "And I felt a lot more supported." The difference comes through in the tone of the album, which is more varied than her last, shifting from ebullient synthpop to emotional closing ballad "Younger & Dumber," a major highlight. And all throughout, her lyrics remain as honest and relatable as ever, touching on her experience with a "manipulative and abusive LA model fuckboy," the beauty and brutality of growing up, and more joyful fare like her love of water, tempered by nostalgia for a faded childhood friendship. [Amanda Hatfield]
--
Jessie Ware - That! Feels Good!
PMR/EMI
Three years after asking us What's Your Pleasure?, Jessie Ware continues those themes on the similarly ecstatic That! Feels Good!, which offers up 10 more tracks of pure disco euphoria. Bill's got a review in Indie Basement.
--
Avalon Emerson & the Charm - Avalon Emerson & the Charm
Another Dove
As a DJ and producer, Avalon Emerson has been a force in the electronic music world for roughly a decade, but for her first full-length, she wanted to expand beyond dance music. Enter: Avalon Emerson & the Charm, the name of Avalon's new pop music-oriented endeavor. The project has a rotating cast of contributors that varies between her recordings and her live shows, and its debut album was made in collaboration with Bullion, who executive produced, along with other contributors. (Live, she'll be joined by her wife Hunter Lombard and life-long friend Keivon Hobeheidar.) Compared to her dance singles, Avalon Emerson & the Charm is pop music, but the kind of "pop" that Avalon channelled is from influences like Arthur Russell, Oppenheimer Analysis, Cocteau Twins, and The Magnetic Fields. It's off-kilter, experimental pop music that's just as creative and inventive as her dance tracks. She isn't watering down her music to make it more accessible, she's simply proving to be capable of even more than the world initially realized.
--
Skinny Pelembe - Hardly The Same Snake
Partisan
UK artist Skinny Pelembe had developed a sound entirely of his own by the time he released his 2019 debut album Dreaming Is Dead Now on Gilles Peterson's Brownswood Recordings label--a mix of psychedelia, electronic music, jazz, rock, hip hop, and more that really doesn't sound like much else. He's since signed to Partisan for his sophomore album Hardly The Same Snake, and it makes a clear leap from his already-great debut. "I never considered myself a singer before now," Skinny said in press materials for the new album. "This album is what I would have created first time round had I rated my own voice." His voice is indeed much more in the forefront on this album, and he embraces pop song structures in a much stronger way than he did on his debut, but the songs are still just as genre-defying and experimental. He took an approach that relied equally on live music and electronic music, by recording live instrumentation (with help from Malcolm Catto of The Heliocentrics) and later sampling, chopping, and looping it to create the backdrop heard on Hardly The Same Snake. The record is far-out and impossible to pigeonhole, but also catchy and accessible. It's not everyday that music this boundary-pushing goes down this easy.
--
Mat Kerekes - You Look Like A Stranger
Wax Bodega
Citizen's Mat Kerekes has been on a roll lately. Citizen came roaring out of lockdown with some of their best music yet and constant touring, and this year they're celebrating the 10th anniversary of their classic debut album Youth on tour with Fiddlehead and with a reissue. Mat released his great solo album Nova last summer (with Turnstile's Daniel Fang on drums), and now he's got yet another new solo album out, and this one's a lot different. Mat used synths and electronics effects to get a moodier, more experimental tone throughout much of the album, and if the record has a spontaneity to it, that's because Mat built these songs up, recorded them, and sent them off to be mixed without demoing anything beforehand. There's still some classic, driving guitar rock ("So Will We"), and also a few tender folky songs that suit Mat really well, and all of it sounds unmistakably like Mat Kerekes, even the songs that make the most drastic stylistic departures.
--
Enforced - War Remains
Century Media
Richmond's Enforced have been one of the most exciting newer crossover thrash bands for a minute and they just keep sounding meaner and meaner. For their third album War Remains, which follows 2021's Kill Grid, vocalist Knox Colby had this to say: "We didn't overthink anything. It's all very straight forward, no bells and whistles production-wise. It's almost ten minutes shorter than our last record and packs ten times more of a punch." I don't think there's any better way to sum it up than that. It's loud, raw, no-frills, hardcore-laced thrash and it's just one ripper after the next.
--
Plastic Presidents - Good Times Can't Last
Ska Punk International
Omaha ska-punk band Plastic Presidents played their first show in December 2021, quickly ended up on bills with bands like Mad Caddies, Eichlers and Hans Gruber and the Die Hards, and they seem to be winning over everyone who encounters them, myself included. Their debut LP Good Times Can't Last has eight catchy, rippin' tracks that really lean on the punk side of ska-punk--think stuff like Assorted Jelly Beans, Link 80, Slapstick, etc--and Plastic Presidents do it in a way that feels really refreshing. They're tight, full of energy, and fully-formed, especially for a band that's existed for only like a year and a half. If you like ska-punk and you're not already on the Plastic Presidents train, hop on now. I suspect this is a band we're gonna be hearing a lot more of.
--
Read Indie Basement for more new album reviews, including Beach House, Country Westerns, Robyn Hitchcock, John Andrews & the Yawns, Y La Bamba, JFDR, The Blue Aeroplanes, Shangri-Lass, and more.
Looking for more recent releases? Browse the Notable Releases archive or scroll down for previous weeks.
Looking for a podcast to listen to? Check out our new episodes with Fat Mike of NOFX and Braid.