The National played Beacon Theater w/ Wye Oak (night 4 pics & setlist), streaming Saturday's show online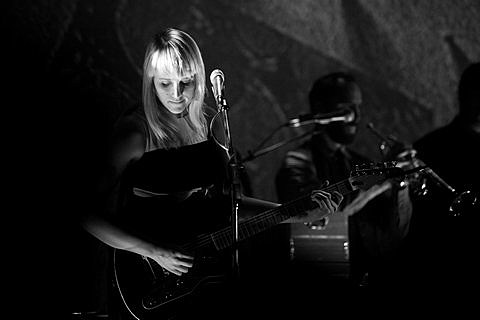 The National played their fourth of six shows at Beacon Theater last night (12/15). Wye Oak, who toured a lot with the National in 2011, opened the show. It was Wye Oak's last show of the year. Their first was on the same stage when they opened for the Decemberists in January. If they're ever playing there again, make it a point to go see them because they sound so good in there.
Wye Oak's Jenn Wasner later joined the National on stage for "Blood Buzz" and again for "Conversation 16" which Matt said was named that partly because his wife didn't think it was a good idea to name it "Brains". Andy and Jenn came back out for the show-closing, a capella "Vanderlyle".
Things run pretty similar each night. You can read our review (with pics) from night one HERE. Watch videos from night two HERE. Check out pics from night three HERE. Watch night six LIVE ONLINE COURTESY OF FUSE TOMORROW (12/17). Check out more pictures, the setlist and a couple of videos from last night, night four, below...


setlist