The National played Sycamore & Public Assembly (pics); Mercury Lounge is later tonight
"So great that I made it for The National's concert. Really small venue and great vibe. Highlight of the day. #NationalTrouble" - Alejandro Masferrer
"brah I'm just so fuckin hyped to watch the NATIONAL GEOGRAPHY BEE!!!" - Nic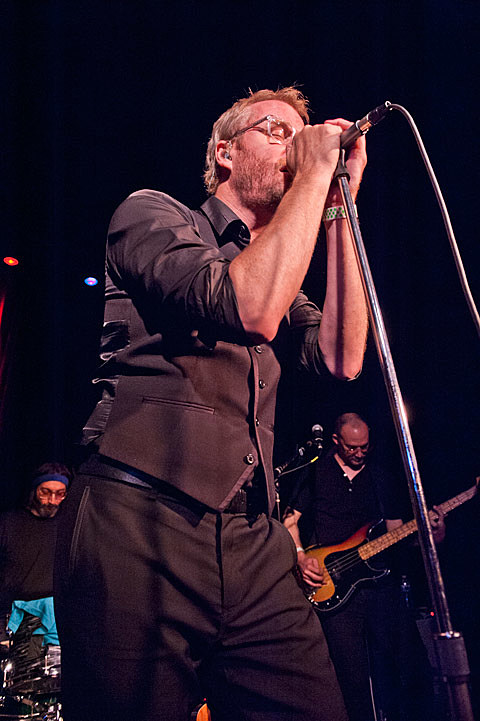 It was a flurry of activity for Brooklyn indie stalwarts The National today. Not only did they release their great and critically-acclaimed new album, Trouble Will Find Me, but they also announced, this morning, that they'd be celebrating it with three tiny NYC club shows in one day, today. Around noon they played a free show at super-tiny Sycamore in Ditmas park. They then packed up their gear and headed to Williamsburg to play the also-very-small back room at Public Assembly (which, like the front room, will soon be closed for renovations). Pictures from Sycamore and Public Assembly, which just finished, are in this post, PA setlist included. If you got in, what time did you get there and did you wait in line?
The band, who kicked off their tour the other day in Ithaca and were on Letterman last night, will play again at Mercury Lounge tonight at 10 PM. (How many of you were able to get tickets?) Clearly these guys don't have a problem with long days. As mentioned, for those who couldn't make it to any of their release celebration shows, you can still get tickets to their big Barclays Center show on June 5. More tour dates are HERE.
More photos and a "Vine' from Public Assembly are below...

---
sound check at Public Assembly...
the actual show at Public Assembly...