The National played Academy of Music in Philly w/ Yo La Tengo & Wye Oak (pics & setlist)
"The National returned for a few encores, and Ira Kaplan of Yo La Tengo joined in on guitar for an exhilarating version of "Terrible Love." The energy roaring from the stage prompted Berninger to dive into the audience, and make his way through the crowd and head to the back of the room, where he walked along the circumference of the lower level taking a victory lap while still singing with mic in hand. This was followed by a tender a capella reading of "Vanderlyle Cry Baby Geeks." In a word, glorious.

Yo La Tengo, hand-picked by The National, opened the show. Every indie-rocker worth his flannel knows Yo La Tengo formed in 1984 and that their named translates to "I have it." Twenty-seven years on, they should consider changing the name of the band to "Todavía tienen que," or they still have it. They still can seamlessly segue from tortured guitar noise freakouts to breezy folk-rock topped with ethereal vocal harmonies. Hands down, the highlight of their set was "Periodically Double or Triple" which featured Kaplan churning away on the keys in a manner which would have made Sam the Sham and the Pharaohs proud while bassist James McNew and drummer Georgia Hubley nailed down the greatest Stax-Volt groove never heard.

Opening this wonderful bill was Baltimore's Wye Oak, touring in support of their latest release, Civilian. Guitarist Jenn Wasner's vocals were dreamy and her guitar playing was nothing short of towering. And watching Andy Stack playing both drums and keyboard simultaneously was a complete delight." [Phawker]
The review is from the first of two shows The National played with Yo La Tengo (complete with Sun Ra Arkestra horn section) and Wye Oak at Philadelphia's Academy of Music last week. The pictures in this post are from the second (9/8).
Since then the National headed to LA for another great triple bill last night (9/11) at Hollywood Bowl. They played that show with Neko Case and Sharon Van Etten. Their next scheduled gig is November 6th in Singapore. Hopefully more NYC shows get announced soon, but for now they have nothing coming up in North America at all.
More pictures and the National's setlist from Philly, below...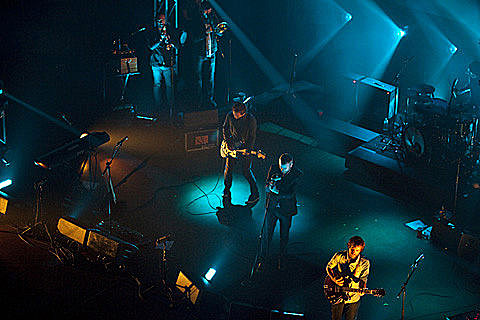 The National setlist
Start a War
Anyone's Ghost
Bloodbuzz Ohio
Afraid of Everyone
Conversation 16
Lemonworld
Available/Cardinal Song
Slow Show
Squalor Victoria
Sorrow
Apartment Story
Daughters of the Soho Riots
England
Fake Empire
Exile Vilify
Mr November
Terrible Love
About Today
Vanderlyle Crybaby Cry (Acoustic and unamplified)