The National played Austin Music Hall with Local Natives (pics, recap, setlist, 6 NYC shows soon — back on sale)
Timothy S. Griffin
Matt Berninger of The National @ Austin Music Hall 12/04

The venue was sold-out, and some attendees tweeted that the balcony area had been oversold - leaving many to stand in the aisles and walkways (if they could make it up there at all). While it looked very crowded up top, the floor section below seemed to have plenty of open space (probably not helpful to those with balcony tickets).
Local Natives opened, offering apologies for not having a new album yet since back at their Stubb's show in March, they said they wouldn't tour through Austin without a new one. Being asked to tour with The National was the exception. They did play two new songs as part of their nine-song set, "Black Balloons" and "Elephant".
Matt Berninger was first out, leading The National onstage and opening with "Runaway". The set list drew a little more than half its songs from Sad Songs For Dirty Lovers, Alligator, and Boxer. The balance of the list came from High Violet, including "Terrible Love" where Matt took about 150ft of mic cable with him as he jumped the barricade and walked throughout the audience. The final song was an accoustic performance of "Vanderlyle Crybaby Geeks", bringing all the band members front and center to wrap the show.
On Tuesday The National will be in Chicago, then head off for two shows in Canada (Toronto and Montreal). They'll be back in New York on the 12th for 6 (4 original, with 2 more added) shows at the Beacon Theatre. As you know, each night will have a different opening act.
12: THE WAR ON DRUGS
13: SHARON VAN ETTEN
14: SO PERCUSSION
15: WYE OAK
16: MY BRIGHTEST DIAMOND
17: THIS IS THE KIT
The National list all six shows as sold out, but tickets are back on sale.
More pictures from the Austin show, both setlists, and upcoming tour dates (for The National, with opening acts) below:

--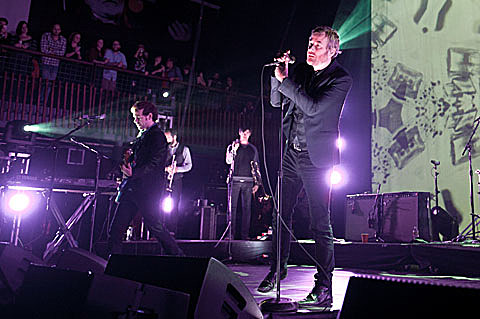 The National - December 4th 2011 - Austin Music Hall
-----------------------------------------------------
1. Runaway
2. Anyone's Ghost
3. Mistaken For Strangers
4. Secret Meeting
5. Bloodbuzz Ohio
6. Slow Show
7. Squalor Victoria
8. Afraid Of Everyone
9. Conversation 16
10. The Geese of Beverly Road
11. Available / Cardinal Song
12. Apartment Story
13. Sorrow
14. Lucky You
15. England
16. Fake Empire
Encore:
17. Santa Clara
18. Mr. November
19. Terrible Love
20. About Today (on band's set list, but not played)
21. Vanderlyle Crybaby Geeks
--
Local Natives - December 4th 2011 - Austin Music Hall
-----------------------------------------------------
1. World News
2. Black Balloons (New)
3. Warning Sign (Talking Heads Cover)
4. Wide Eyes
5. Elephant (New)
6. Shape Shifter
7. Airplanes
8. Who Knows Who Cares
9. Sun Hands
--
The National -- December 2011 Tour Dates: (check ticketmaster even if it says Sold Out)
06: CHICAGO, IL / ARAGON BALLROOM // w/ LOCAL NATIVES + WYE OAK // SOLD OUT
08: TORONTO, ON CANADA / AIR CANADA CENTRE // w/ NEKO CASE + WYE OAK
09: MONTREAL, QC CANADA / CENTRE BELL // w/ NEKO CASE + WYE OAK
12: NEW YORK, NY / BEACON THEATRE // w/ THE WAR ON DRUGS // SOLD OUT
13: NEW YORK, NY / BEACON THEATRE // w/ SHARON VAN ETTEN // SOLD OUT
14: NEW YORK, NY / BEACON THEATRE // w/ SO PERCUSSION // SOLD OUT
15: NEW YORK, NY / BEACON THEATRE // w/ WYE OAK // SOLD OUT
16: NEW YORK, NY / BEACON THEATRE // w/ MY BRIGHTEST DIAMOND // SOLD OUT
17: NEW YORK, NY / BEACON THEATRE // w/ THIS IS THE KIT // SOLD OUT