The National's Brooklyn house and recording studio is for sale
photo by Kim Metso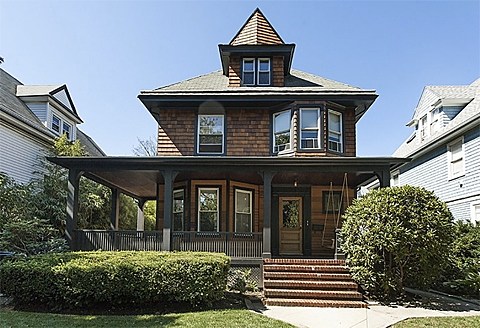 The National guitarist Aaron Dessner's house in Ditmas Park (which is right down the street from his brother Bryce's house) is now on the market. It's also the house that the band uses as their recording studio and which frontman Matt Berninger was renting the upstairs of. Brownstoner reports:
The shingle house at 236 Stratford Road in Ditmas Park has a porch swing, two-car garage and recording studio. But perhaps the most remarkable thing about it is the identity of the seller, The National's Aaron Dessner.

Technically in Beverly Square West, though many would call it Ditmas Park, the house cost Dessner $735,000 when it he bought in 11 years ago, in 2004, from sellers who had lived there for decades.

He renovated extensively, and it shows, with a relaxed organic-modern feel. The just-renovated exterior has cedar siding, Ipe on the porch and a porch swing.

Inside, there are original parquet floors, early electric light fixtures, a tiger oak staircase, paneling and stained glass windows. The fireplace in the living room works.

The kitchen has wood countertops and the bathrooms have classic white subway tile.
The asking price is $2,350,000 and the listing is up here. As the Brownstoner article points out, in addition to The National recording High Violet and Trouble Will Find Me in the house, Sharon Van Etten recorded Tramp there too.
Two million might seem like a lot, but this is a big house with history in a popular neighborhood, the Brooklyn real estate market is hot, and really two million starts to look like nothing when you realize how much the NYC ex-home of Billie Holiday costs.