the New Pornographers played Terminal 5 again (pics & setlist), Dark Was The Night raised lots of money
4AD and The Red Hot Organization are delighted to announce that $1,000,000 has been so far donated to charity from the proceeds of the DARK WAS THE NIGHT album. The album was released by 4AD in February 2009, and is a musical collaboration conceived and produced by Aaron and Bryce Dessner of The National, and Red Hot founder John Carlin. It contains 32 exclusive tracks by an unbelievably talented roster of artists, including Arcade Fire, Blonde Redhead, Bon Iver, Cat Power, The Decemberists, Dirty Projectors + David Byrne, Feist, Grizzly Bear, My Morning Jacket, The New Pornographers, Spoon, and Sufjan Stevens - to name just a few.

In order to recognize the generous contributions of the artists involved with Dark Was The Night, Red Hot asked them to recommend charitable organizations whose work they admire. The list of organizations is below.

The Red Hot Organization was founded in 1989 to deal with the crisis surrounding the devastation of the AIDS epidemic on the creative community in downtown New York. Dark Was The Night, released in February 2009, was the 20th Red Hot album.

Beggars Group chairman Martin Mills states "Aaron and Bryce pulled together a wonderful collection of artists, songs and performances that perfectly encapsulates these times and really makes Dark Was The Night into an 'album' - a labor of love that has created this amazing and very tangible result!"

Dark Was The Night was a long time in the making, and the result of a lot of hard work and generosity from a long list of supporters. Aaron Dessner sums everyone's feelings up very well. "We want to thank all of the artists and everyone at 4AD again for helping us make Dark Was The Night happen. We also want to thank everyone who has bought this record -- your donations amount to a very significant contribution to Red Hot's mission fighting the spread of HIV/AIDS."
As you may have heard or just read above, Dark Was The Night raised lots of money, so good work to everyone involved including The New Pornographers whose contribution to the album was a cover of Destroyer's "Hey, Snow White," a song they performed last night at Terminal 5, ironically without Dan "Destroyer" Bejar (a member of the New Pornographers) present. They also played about 22 other songs at the 12/6 NYC show that Ted Leo & the Pharmacists opened.
The full setlist and more pictures from T5, with the list of Dark Was The Night charities, below...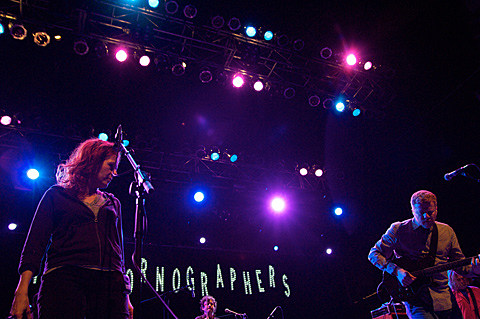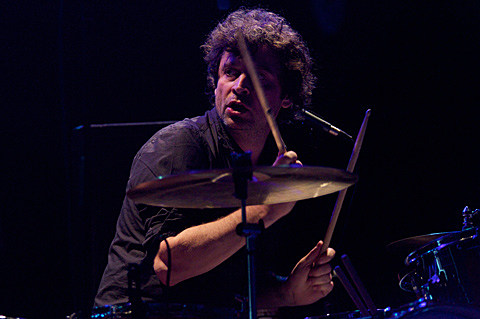 The New Pornographers Concert at Terminal 5, New York, NY, USA
Setlist on December 6, 2010
Moves
The Slow Descent Into Alcoholism
It's Only Divine Right
Crash Years
All the Old Showstoppers
The Laws Have Changed
Jackie, Dressed in Cobras
Miss Teen Wordpower
We End Up Together
Adventures in Solitude
Twin Cinema
Sweet Talk, Sweet Talk
Go Places
Hey, Snow White (Destroyer cover)
Your Hands (Together)
My Rights Versus Yours
Mass Romantic
Testament to Youth in Verse
Use It
The Bleeding Heart Show
Encore:
Challengers
Up in the Dark
Sing Me Spanish Techno
--
THE NEW PORNOGRAPHERS - 2010 TOUR DATES
December 09, 2010 @ Shepherds Bush Empire
December 11, 2010 @ Bowlie 2 Minehead, Somerset UK
The charities chosen to receive Red Hot grants are:
Advocates For Youth (recommended by The National)
After Hours Project, Inc (recommended by Sharon Jones & the Dap Kings)
AIDS Resource Center of Wisconsin (recommended by Bon Iver)
A Loving Spoonful (recommended by New Pornographers)
Bronx AIDS Services (recommended by The National)
Camp Amerikids (recommended by The National)
Casey House (recommended by Kevin Drew/Broken Social Scene)
Central City Concern (recommended by Decemberists)
Citta (recommended by David Byne)
Housing Works (recommended by Dirty Projectors)
Nebraska Aids Project (recommended by Conor Oberst)
Out Youth (recommended by Iron & Wine)
Partners In Health (recommended by Arcade Fire)
San Francisco AIDS Foundation (recommended by Kronos Quartet)
Tamasha (recommended by Sufjan Stevens)
In addition to Terrence Higgins Trust, PSI/YouthAIDS, and CHAI.