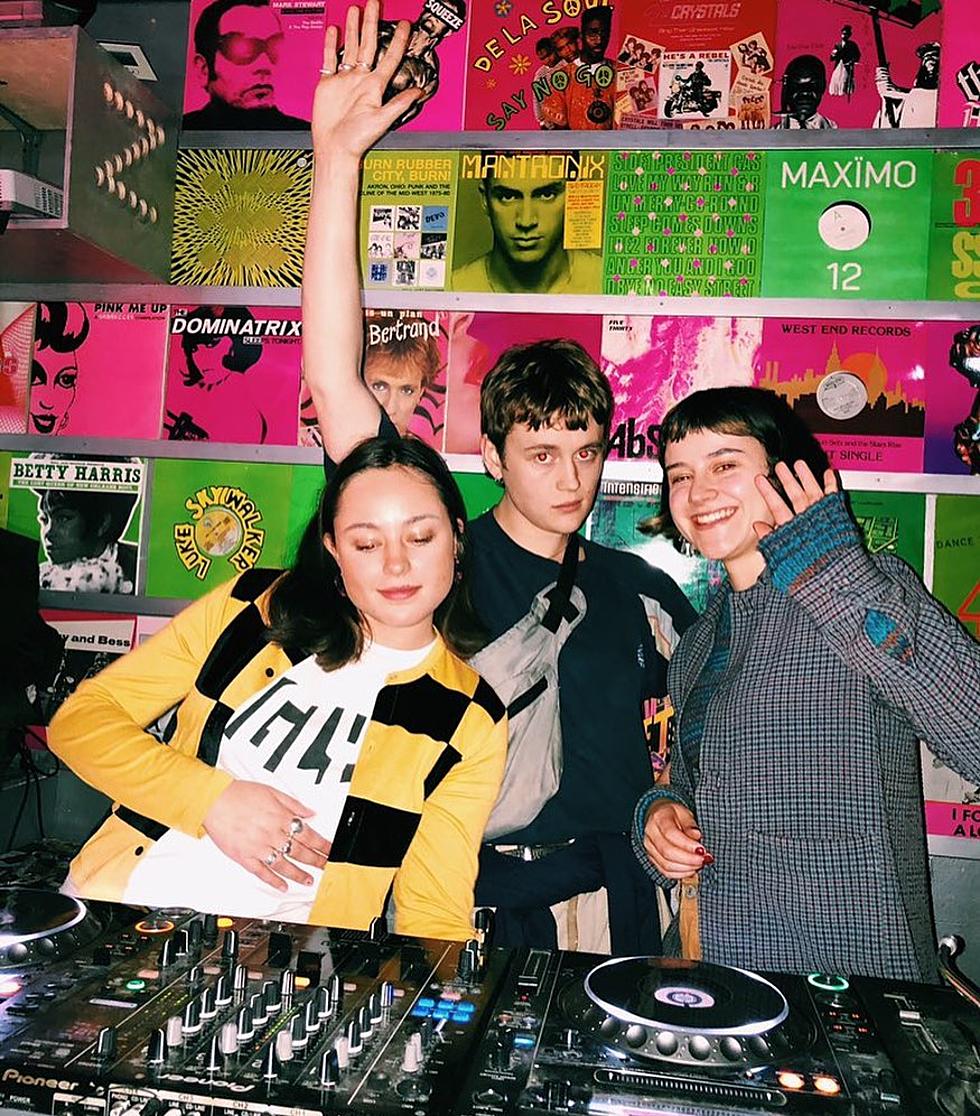 The Orielles tell us about what they're listening to, watching & reading during COVID-19 quarantine
photo via @theorielles
Like their labelmates Stealing Sheep, The Orielles were in NYC for New Colossus fest when the coronavirus began shutting everything down. They played a few shows and made it back home safe and sound and are now self-isolating as we all should be. We've been asking artists what's occupying their time while staying indoors and The Orielles' Sidonie B Hand-Halford responded with a detailed list of suggestions, including music (Stereolab, Talk Talk, Joe Henderson and more), movies, books and some general positive suggestions for staying sane during this very strange, very difficult time. It's a fun read and you can check out their whole Quarantine List below.
THE ORIELLES - SELF-QUARANTINE LIST:
-Blue Note Records have LOADS of great playlists on their Spotify account. Anything from the most popular sampled jazz breaks to journeys through the works of a particular Blue Note musician, it's great and a cool way to discover new music and relax/meditate.
-A site called radioooo.com is amazing. It allows you to select a country and an era and will play a random track fitting those specifications. For example, I recently discovered some great Polish music from the 60s. Heck yeah!
-Composer and legendary musician Ryuichi Sakamoto made a 'perfect dining playlist' for a Japanese vegan restaurant in New York City called Kajitsu. We were lucky enough to check out the space when we were in NYC recently and it was perfect, the music playing was magical and really did complement the dining experience. You can read more about his ideas behind the perfect playlist and listen to it here:
-It's also important to keep supporting new bands and listening to as much new music as possible. There are a lot of records that are scheduled for release over the coming weeks and it's gonna be super difficult for those artists to feel they are adequately promoting their work without touring...So buying new records and streaming new music is as imperative as ever! Share new music with friends, family and colleagues via social media too.
- Finally, listening to your favourite music and music that makes you happy is so important too. Stick on your favourite album and use the free time to just listen. We live in a time in which we are constantly on the move whilst consuming music, or constantly doing other things (working, cleaning, socialising), now is the perfect opportunity to just listen and appreciate the music with no other distraction.
-A few albums we recommend for meditative listening are:
1. Joe Henderson - The Elements

2. Stereolab - Emperor Tomato Ketchup

3. Talk Talk - Spirit of Eden

4. Arthur Russell - World of Echo

-Mubi have just announced that a three month subscription is only £1/$1 ! This is amazing. The site uploads a new film daily and simultaneously one will disappear, so there are only 30 films to choose from at one given time. Helps make the choices less diluted like Netflix can sometimes be. Not to mention, the quality of films on there is top notch. Some amazing independent, foreign cinema from some of the most influential filmmakers and now is the time to really explore a genre that wouldn't ordinarily take your fancy.
-Netflix is sick too, really recommend Inside No.9 for some true British satire/black comedy. [North America: this is available via Britbox.] Also Midnight Diner for a more peaceful and calming viewing experience. Such nice and poetic stories set and based around a diner in Tokyo.
- Although it's tempting to watch the news and keep up with current affairs, it can also be fairly damaging on mental health and can equally stump productivity if it creates anxiety. I'd suggest catching up on the news just once a day (unless crucial!!) and make it a time in the day in which you are in a positive flow. For example whilst you are eating a great home-cooked meal, or after you've listened to a great record and feeling inspired.
-I find anime and Studio Ghibli films to be very calming and relaxing things to watch right now. They are good forms of escapism and the playful drawings and colours are relaxing and not too heavy. If you're prone to anxiety or stress/worry then it's probably best to avoid horror films or anything that is high action or high stress. Stay calm! [Studio Ghibli coming soon to HBO MAX - Ed]
-There are tonnes of great documentaries and educational videos on YouTube! Anything from small length VOX Channel videos about music and art, to full-length features. RedBull 'In Conversation' videos are great too. Particularly suggest watching Brian Eno's 'Lessons on Creativity' right now for a very real take on what it means to be a creative. Pretty poignant and important in these times.
A few films we recommend are:
1. Brasilintime (Youtube Doc about beat sampling and record hunting in South America. Features Madlib amongst other great producers and also some incredible drummers and percussionists.
2. Mrs Doubtfire, cos, when isn't it a good time for this movie...?
Some books we recommend are:
1. Milan Kundera - The Unbearable Lightness of Being
2. Ernest Hemingway - The Sun Also Rises
3. Carrie Brownstein - Hunger Makes Me a Modern Girl
4. Uwe Schutte - Kraftwerk: Future Music From Germany
- meditation/gong bath/yoga
- draw (Line Camera is a great app for phone doodles and art)
-online games with friends and games on Facebook (Scrabble, pictionary etc)
-Learn a new instrument/language/skill - plenty of online resources for all of this!
-tidy spaces make for tidy minds. If you're working from home, make sure you have a neat space to do so, and make sure it is also as far away as possible from your bed. It's easy to slip into the habit of working from bed in your PJs but you'll feel happier working from a desk or kitchen table etc.
-Try to stick to as normal routine as you can. If you are used to waking up at 8 AM to go to work, then try to stick to this as much as you can. Even though there will be the temptation to stay in bed whilst nothing is happening!
-Finally, reach out and stay in touch with loved ones. FaceTime/Whatsapp Video calling/Skype are all great and whilst everybody is at home in a similar position, a ten minute catch up with a friend can do the world of good for you both and keep the more extroverted satiated!