The Pains of Being Pure at Heart – Trail of Dead show pics & 2009 Tour Dates (BV SXSW & Cake Shop included)
Between the Bell House (March) and Bowery (May) there will also be plenty of chances to see TPOBPAH elsewhere in North America, especially if you're going to SXSW where they currently have TEN shows scheduled including the TBA BrooklynVegan day party at Radio Room on Thursday March 18th, and the previously announced Pitchfork party happening at Emo's on March 20th.
Just the other day, the band opened one of the two NYC Midnight Masses/Trail of Dead shows. The So So Glos were the third band on the Bowery one in Manhattan, and the Pains of Being Pure at Heart were the third band on the Brooklyn show at Music Hall of Williamsburg. Jonny was at the latter, took some pics, and said,
Also on the bill for this show was pop shoegazers, and equally-long-moniker-possessing, Pains of Being Pure at Heart. Hot off of well-deserved Pitchfork praise for their new self-titled full length, Pains of Being Pure At Heart did not disappoint. Every minute of their all too brief set was just as sweet and luscious as their record, and though the vocals were never quite as enchanting, the rest of their sound was heightened by the great sound system and sheer volume which always seems to enhance shoegaze.
More pictures from that show, and all tour dates below...

Midnight Masses...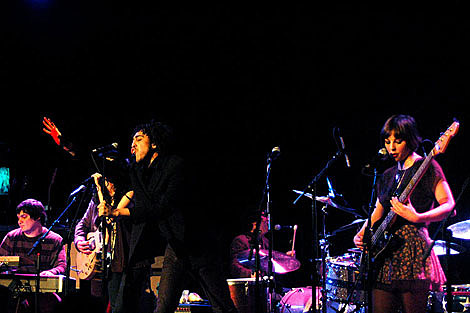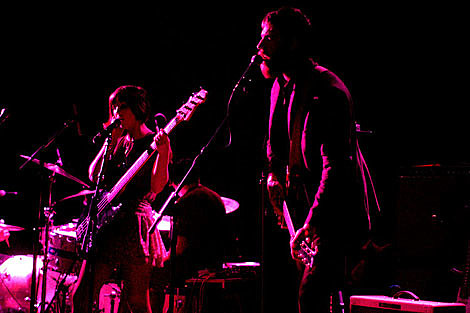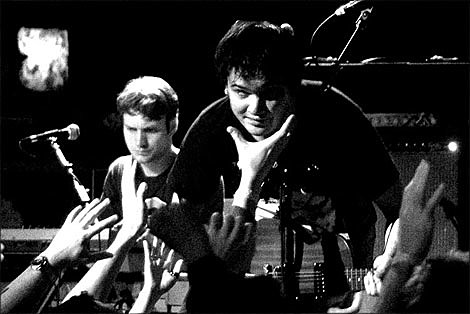 The Pains of Being Pure at Heart...
The Pains of Being Pure at Heart - 2009 Tour Dates
Mar 13 2009 Bell House Brooklyn, New York w/ Let's Wrestle
Mar 18 2009 4:35pm - Red 7 - Terrorbird/Force Field Austin, Texas
Mar 18 2009 8:30pm - Ms Bea's - Todd P + NY Noise Austin, Texas
Mar 19 2009 1:00pm - Radio Room - Brooklyn Vegan Party Austin, Texas
Mar 19 2009 3:45pm - Malverde - Iamsound + Sup Magazine Party Austin, Texas
Mar 19 2009 10:00pm - Opal Divine's - Green Label Sound Showcase Austin, Texas
Mar 20 2009 2:00pm - Emo's Main Room - Pitchfork Party Austin, Texas
Mar 20 2009 3:45pm - Fader Fort Austin, Texas
Mar 20 2009 6:30pm - South Salina Street - After The Jump Party Austin, Texas
Mar 20 2009 11:00pm - Emo's Jr. - Slumberland + Cake Shop Showcase Austin, Texas
Mar 21 2009 1:00pm - Waterloo Records Instore Austin, Texas
Apr 24 2009 American Legion Wallingford, Connecticut
Apr 25 2009 Risley Hall - Cornell University Ithaca, New York
Apr 26 2009 Iron Horse Hall Northampton, Massachusetts
Apr 27 2009 The Bug Jar Rochester, New York
Apr 28 2009 Lee's Palace Toronto, Ontario
Apr 29 2009 The Pike Room at Crofoot Pontiac, Michigan
Apr 30 2009 Beachland Tavern - All Ages Cleveland, Ohio
May 1 2009 The Summit Columbus, Ohio
May 2 2009 The End Nashville, Tennessee
May 3 2009 The Earl Atlanta, Georgia
May 4 2009 Local 506 Chapel Hill, North Carolina
May 5 2009 Talking Head Club Baltimore, Maryland
May 6 2009 The Barbary (Early Show) Philadelphia, Pennsylvania
May 12 2009 Bowery Ballroom New York, New York
Jun 18 2009 Cake Shop New York, New York w/ Crystal Stilts