The Pains of Being Pure at Heart, Blow, Screaming Females, Suuns & Young Man @ MHOW (more CMJ pics)
The Pains of Being Pure at Heart @ MHOW

"Young Man played a solid, occasionally Dirty Projector-ish 30 minute set; every Suuns song should feature loud wailing from a random dude playing the saxophone; Screaming Females continue to blow away everyone who has seen them this week at CMJ; and the Blow, well, the Blow is a one-woman band with a pre-recorded backing track. Think Lady Gaga, circa 2007, before she had any money. I'm not saying the Blow is as good as Gaga, but it's the same kind of performance art." [Encore]
I walked in right when The Blow was starting. I must confess I was somewhat worried about how people would react to her set - especially since she was playing in the wake of Screaming Females, but the crowd (though perhaps a bit perplexed at first) definitely warmed up to her one-woman show. Khaela Maricich charmed the audience with her unabashed dance moves, confessional lyrics, and humorous asides. Like a stand-up comedian, she may recycle much of her stage banter (which is much more involved than your typical fare), but the stories she tells - whether fictional or factual - are engrossing.
The Pains of Being Pure at Heart concluded the showcase with their blissful, fuzzed out pop songs. Unlike The Blow, POBPAH may not have said much between songs, but they still had the kids bobbing their heads in appreciation. A Brooklyn staple for some time, these guys certainly deserve the fanfare. They concluded their set with their eponymous song, which concludes perhaps the best anthem for CMJ: "We are so sure, we will never die, no no we will never die."
We already posted one set of pictures from this show. Here is a second, and it continues below...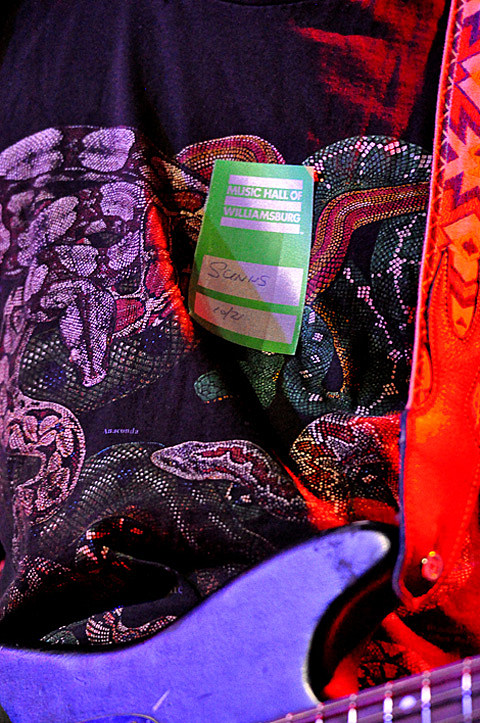 The Pains of Being Pure at Heart