The Raveonettes & Tamaryn are on tour, played Emo's who are opening another Austin venue (pics)
Timothy S. Griffin
photos by Tim Griffin
The Raveonettes @ Emo's

While they played nearly half of [new album] Raven and the Grave, which features a more dark and gloomy sound exemplified by songs like "Apparitions" and "Evil Seeds," The Raveonettes pleased their excitable [Austin] fans be delving deep in their back catalog. As a result, the set proceeded like a greatest hits revue with new material sprinkled in. Old standbys like "Here Comes Mary" and the jangly "My Tornado" were accompanied by early favorites "Love In A Trashcan," and "The Love Gang," Several of their late career hits were also present, including the insanely catchy "Heart of Stone," "Lust," and "Dead Sound."
Upon finishing their main set with new track "My Time's Up," the band gave the audience members a chance to relax their ears before coming back onstage. Foo took the mic for the haunting "Forget That You're Young" before the band closed out the night with "Aly, Walk With Me." [Austinist]
The Raveonettes (who did not make it to SXSW due to visa issues) and Tamaryn are currently traveling across the country together on a tour that concludes with two nights of shows at Music Hall of Williamsburg in Brooklyn. The 4/20 show is currently sold out, but 4/21 is still on sale.
Tamaryn @ Emo's

Tuesday night, while Hunx and his Punx and Shannon and the Clams were playing on the smaller stage, the two bands were doing it on the Emo's main stage with help from opener Shapes Have Fangs. Tim took pictures of the Austin show, including this picture of a picture that was on the wall:
Scheduled for an August opening, Emo's East will be fashioned along the lines of Washington, D.C.'s 930 Club and will accommodate up to 1,700. It will feature state of the art sound and lighting, plus tons of parking. Citing the new ACL Live venue raising the bar, Emo's owner Frank Hendrix says Austin's current live music climate is right for Emo's East. "Both artists and live music fans in Austin are savvy and their expectations are increasing. We want to offer them a first class facility to meet those expectations." [Soundcheck]
More pictures from the Raveonettes/Tamaryn show are below...


Shapes Have Fangs
Tamaryn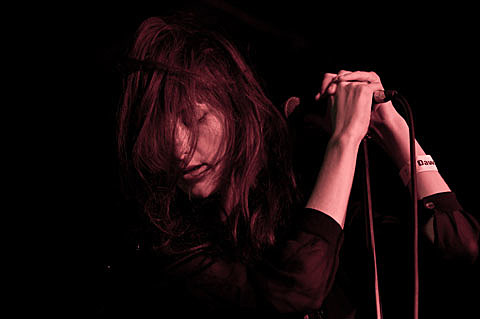 The Raveonettes