The Replacements played Forest Hills Tennis Stadium with The Hold Steady & Deer Tick (review, videos, setlist)
The Replacements @ Forest Hills Tennis Stadium - 9/19/14 (via BV Instagram)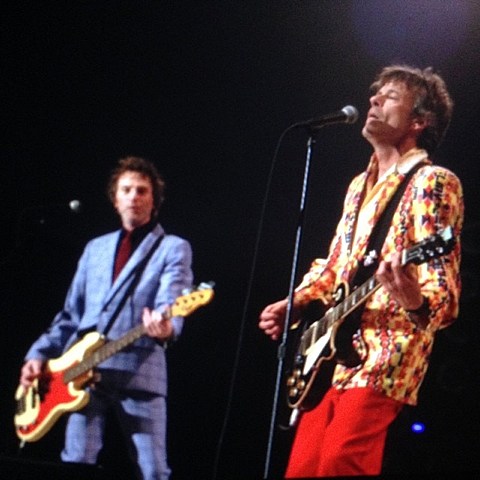 The Replacements have been playing shows again for the first time since 1991 for over a year now, but it wasn't until this Friday (9/19) at the Forest Hills Tennis Stadium in Queens that their reunion tour finally hit NYC. The band -- original members Paul Westerberg and Tommy Stinson, plus guitarist Dave Minehan (The Neighborhoods) and drummer Josh Freese (The Vandals, Devo, Weezer) -- were supported by Deer Tick and The Hold Steady, both of whom are old pals, tourmates and huge Replacements fans. I missed Deer Tick's early set (6:30 PM), but there was a definite admiration for the headliners during The Hold Steady's set. Craig Finn told a story of being at a tennis court as a teenager and telling someone his favorite band were the Ramones (who are from Forest Hills), and the person responded, "If you like the Ramones, you should check out The Replacements." He then said how The Replacements went on to become his other favorite band, so now opening for them at a tennis stadium located where the Ramones are from felt full circle. Before he left the stage, he said, "I can't believe I'm saying this... THE REPLACEMENTS ARE UP NEXT!"
I never saw The Replacements during their initial run, and I really had no idea what to expect. So many of the stories I've heard are that they were equally or more likely to get drunk and play a bunch of sloppy covers than put on a tight set. Not to mention, not all of these reunion shows have gotten the best reviews. But I'm being totally honest when I say this was up there with the best rock shows I have ever seen. The Replacements did like to mess around, but they've also written some of the best songs of this kind that have ever been recorded, and the Forest Hills show had them playing hit after hit, sounding tight as hell. ("They've never sounded this tight!" exclaimed an older fan sitting next to me who seemed like he had seen them plenty of times back when.) They played just about everything you wanted to hear too. Their three most classic albums, Let It Be, Tim and Pleased to Meet Me, were well represented. But if you're a fan of their earlier punk years, you got "Takin a Ride," "Take Me Down to the Hospital," "White and Lazy," "I'm In Trouble" and a handful of others. And if you're into the more polished latter albums, you got "I'll Be You," "Merry Go Round," "All Shook Down" and "Achin' To Be."
They did get a few covers in, including about half of The Jackson 5's "I Want You Back" for which Paul commented on being proud of themselves for learning that riff. And they definitely weren't taking themselves too seriously or anything. Tommy joked between songs, and even if the setlist was actually planned, he and Paul at least made some of the songs seem like they were picked on the spot. Everything got a great reaction from the crowd (and the huge venue was packed), but they went out with a bang, packing all the biggest anthems -- "Can't Hardly Wait," "Bastards of Young," "Alex Chilton," "Unsatisfied," college radio ode "Left of The Dial" -- in at the end of the set. If I had to pick a personal favorite moment, it would be hearing "Androgynous" which Paul sang with the same heartbreaking, voice-cracking sincerity he recorded it with thirty years ago. But hearing that huge crowd belt out "We are the sons of nooooooo one!" and "I'm in love! With that song!" even from my seats in the upper bowl were some of the most purely satisfying moments you could ask for at any rock show. Let alone one from a band who had been away for 22 years.
We'll have pictures from the whole night soon. UPDATE: Pictures are up. Meanwhile check out the full setlist and videos from the Forest Hills show below...

---
"Can't Hardly Wait" & "Bastards of Young"

"Left of the Dial" & "Alex Chilton"

"I Want You Back" (Jackson 5 Cover)

The Replacements at Forest Hills Tennis Stadium - 9/19/14 Setlist (via)
Favorite Thing
Takin a Ride
I'm in Trouble
Don't Ask Why
I'll Be You
Valentine
Waitress in the Sky
Tommy Gets His Tonsils Out / Third Stone From the Sun (The Jimi Hendrix Experience cover)
Take Me Down to the Hospital
I Want You Back (The Jackson 5 cover)
Color Me Impressed
Nowhere Is My Home
If Only You Were Lonely
Achin' To Be
Kiss Me on the Bus
Androgynous
I Will Dare
Love You Till Friday
Maybellene (Chuck Berry cover)
Merry Go Round
All Shook Down
Swingin Party
Love You in the Fall (Paul Westerberg song)
Can't Hardly Wait
Bastards of Young
White and Lazy
Left of the Dial
Alex Chilton