The Soundtrack of Our Lives called it quits, played final show in Stockholm (setlist, video); guitarist forms new band
by Bill Pearis
Curtain Call for TSOOL, Stockholm 12/22/2012 (via @alfredoanazco)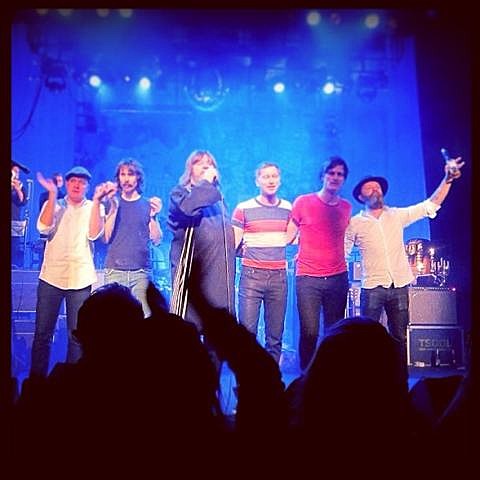 You said, "My idea when we started this band was that we were going to peak around 2012." Did you really believe that
Ebbot Lundberg: Yes, I always did.
Why did you say that?
EL: Because I knew it could happen. And it did. For The Soundtrack Of Our Lives is an alternative stargate to something more relevant than this specific era in our timeline.
[To Matthias] Ebbot said he thought the band would peak around 2012 - do you agree?
Mattias Bärjed: Yeah.
Why did he say that?
MB: I don't know. Maybe he always felt that it was a limited time for TSOOL as an active working band, and I totally agree on that. Maybe he had it all planned. Anyway, it's the right decision to call it a day. The music is still here and that's what counts. On this last ride I guess we all try to avoid all the bullshit that's been sucking a lot of energy out of this band during all the years. - [The Quietus]
Sweden's The Soundtrack of Our Lives played their last-ever show in their hometown of Stockholm right before Christmas (12/22). It marked the end of a 17-year career making riff-heavy psych-rock, and the band's history goes back even further to 1986 if you figure that many of the members played together in equally-awesome (and much punkier) Union Carbide Productions. The split was amicable and the band spent the second half of 2012 on a farewell tour that also promoted the band's seventh and final album, the very good Throw it to the Universe, though that tour did not include North America (though they played here the year before).
TSOOL has played the U.S. many times, however, and anyone who saw them knows they were one of the best live bands of the '00s. I still remember seeing them at Bowery Ballroom in October 2001 when the band had just released their breakthrough (and best) album, Behind the Music, and being knocked back by their mastery of rock moves, showmanship and general badassery. (I also met Joe Strummer at that show, about two months before he died.) Even when touring one of their lesser albums, TSOOL always -- always -- put on a killer show. The band's final show in Stockholm was an epic, 33-song set that concluded with "Instant Repeater '99" from their 1996 debut, Welcome to the Infant Freebase and there's video of that below, along with the setlist.
As for what's next, TSOOL have one last record coming out, a five-song EP due out sometime this year. Meanwhile, guitarist Mattias Bärjed has a new band Free Fall who just released their debut single, "Power & Volume," which you can stream below, along with TSOOL's Throw it to the Universe.

---
SETLIST: The Soundtrack of Our Lives - Södra Teatern, Stockholm, Sweden, 12/22/2012
First Set
Throw It to the Universe
Firmament Vacation
When We Fall
Where's the Rock
Freeride
Waiting for the Lawnmowers
If Nothing Lasts Forever
Confrontation Camp
Broken Imaginary Time
Busy Land
Reality Show
Black Star
Mantra Slider
Second Set
All for Sale
Solar Circus
Lost Prophets in Vain
What's Your Story
Faster Than the Speed of Light
Second Life Replay
Sister Surround
The Flood
Tonight
You Are the Beginning
Nevermore
21st Century Rip Off
Encore:
Lifeline
Jehovah Sunrise
Grand Canaria
Galaxy Gramophone
We'll Get By
The Passover
Shine On (There's Another Day After Tomorrow)
Instant Repeater '99