The Suzan, Street Chant, Intelligence, Bettie Serveert, Yellow Fever, Sunny Day in Glasgow & more in This Week in Indie
by Bill Pearis
DOWNLOAD: Oh No Oh My - Walking Into Me (MP3)
DOWNLOAD: The Suzan - Home (MP3)
DOWNLOAD: Bettie Serveert - Deny All (MP3)
DOWNLOAD: Elk City - Jerks on Ice (MP3)
DOWNLOAD: The Intelligence - Like Like Like Like Like Like Like (MP3)
DOWNLOAD: JEFF the Brotherhood - Diamond Way (MP3)
DOWNLOAD: Crystal Stilts - Shake the Shackles (MP3)
The Suzan @ Brooklyn Bowl for the Fool's Gold party (more by Brook Bobbins)

Unlike last year, I managed to make it through CMJ week without getting sick. Normally I try and do a sonic detox and not see any music after CMJ for at least a week. But that's not gonna happen as there's some seriously good stuff rolling through town in the next five days. Early next week too (Clinic/Fresh & Onlys), but let's not get ahead of ourselves too much.
Hey, remember Oh No Oh My? No? Oh. Well, people were going apeshit about them a few years ago. I kinda forgot about them, to the point where when I saw they were playing this week I thought it was Danish band Oh No Ono (editor's note: SAME). Anyway, Oh No Oh My are back!... and will release a new album of pleasant acousticy pop, People Problems, in early 2011. And they're here in NYC for a couple shows: tonight at the Rock Shop, and tomorrow (10/28) at Pianos.
More interesting to me are the bands they are playing with. Tonight at the Rock Shop, it's with Japanese bandThe Suzan whose new album Golden Week For The Poco Poco Beat was just released this week. It was produced by Bjorn Yttling of PB&J and you can definitely hear his touch on clever, catchy tracks like "Home" which you can download at the top of this post. Also playing are New Zealand's The Family Cactus.
The Pianos show has another New Zealand band,Street Chant, who were one of the funniest bands, stage-banter wise, I saw at CMJ. One memorable song intro: "We're the biggest rock band in New Zealand and this next song was Number One for nine months in a row!" Street Chant are pretty punk rock and definitely worth catching. Also playing the Pianos show: Boats (not Seattle's BOAT) and Estranged Estates.
The Intelligence @ Market Hotel in 2009 (more by Tim Griffin)

The Intelligence are visiting this weekend, playing Cake Shop on Saturday (10/30) and then the Todd P/Panache Halloween extravaganza on Sunday (10/31)at Ridgewood Masonic Temple . When it comes to surfy garage rock, The Intelligence are in the 99th percentile and if you haven't picked up the band's new album, Males, it's one of my favorites of the year. You can download a track from it above.
Further reading: Front dude Lars Finberg is keeping a tour diary for The Stranger and so far (one entry) it's a very entertaining read:

It's a 14-hour-plus drive to Fargo (basically 20 after my bathroom stops). We've learned to do this at the beginning of the tour as it can be so depressingly boring that all you can do is listen to Erik Satie and stare into the void. We finally stop around 2 am in Dickenson, North Dakota, and every hotel is booked for hunting season. I thought that the whole point of hunting was to drink the deer's blood and sleep under the stars in its carcass. It doesn't seem right to bag a deer and have a Rooty Tooty Fresh and Fruity breakfast and watch Becker in a warm bed at the Comfort Inn, so we drive on. Wait, there's a vacany sign--a true dump glowing like a beacon! "One room left," the clerk says. Highlights include two towels for five people (I am answered with a blank stare followed by a shrug when I ask if we can get more), a hornet in the room, and a shower curtain that emits such a powerful cigarette smell that I want to steal it to impress others.
The Cake Shop show is with Philly's An Albatross, plus locals German Measles and McDonalds; the Todd P Halloween show has Cassie and Justin from The Babies performing as The White Stripes, plus The Beets, Das Racist, Janka Nabay, Pictureplane and more. All upcoming Intelligence tour dates are at the bottom of this post.
Bettie Serveert

Visa issues kept Dutch band Bettie Serveert from playing Maxwell's and Southpaw earlier this month, but the band are here now, in the middle their North American tour that hits Bowery Ballroom on Friday (10/29), and Maxwell's a few days later. Their 1990 debut, Palomine, is one of my favorite Matador albums ever and they've consistently performed ever since. Pharmacy of Love is the band's ninth album and a little more rockin' than we've heard from the band over the last few LPs. Check out "Deny All" at the top of this post. Carol van Dyk's voice is still smoky cool, and catchy songs abound. And surely they'll play "Tomboy" and "Kid's Alright."
Opening are Elk City whose new album House of Tongues was kind of overlooked. Smart, well-arranged pop, with ex-Luna guitarist Sean Eden providing some shimmery flair. Download album track "Jerks on Ice" at the top of this post.
And finally, Austin's YellowFever are in town this weekend for a string of shows. Hopefully Jennifer made it through Airport security ok this time. They play tonight (10/27) at the Showpaper 42nd St. Gallery with The Babies, Sewn Leather and more. Then they play The Mug at Vassar College tomorrow (10/28), Dead Herring on Friday with Coasting, Julianna Barwick and more; and Saturday (10/30) at 171 Lombardy forThe Pelly Twins Halloween Party with DOM, Smith Westerns, Total Slacker and Sweet Bulbs.
Also, just in time for halloween, the spooky video for Total Slacker's "Crystal Necklace" which you can watch below.
That's the big stuff. A few more shows, day-by-day, not covered above.
'90s electronic superstars Underworld play Roseland Ballroom tonight. Lager, lager lager!
continued below...

--
THURSDAY, OCTOBER 28
JEFF the Brotherhood headline (!!!!!!) Music Hall of Williamsburg. This is insane to me but I always knew they had it in them. I'm sure they'll do their best to bring the Death by Audio spirit to the clean confines of MHOW, with some help from NinjaSonik, Liquor Store, Elks. Have you checked out their new track yet?
Shea Stadium has a good line-up tonight: Diehard, Gross Relations (Andy from Diehard's other band), and Miniboone.
FRIDAY, OCTOBER 29
Eternal Summers play the Los Hermanos Tortilleria out by the Jefferson stop on the L. It's part of a continuing series presented by Newtown Radio.  Also playing Total Slacker offshoot Web Dating, plus Connor from The Drums is DJing.
Crystal Stilts, whose new single "Shake the Shackles," is downloadable at the top of this post, play The Rock Shop tonight with German Measles and The Mad Scene.
Mininal synth duo Xeno & Oaklander haul out their wierd, cool old gear for a show at the New Museum with No Fun Acid.
SATURDAY, OCTOBER 30
If you're going to see Frightened Rabbit at Terminal 5, do get there early to see The Phantom Band who were just awesome at our day party on Friday.
A Sunny Day in Glasgow are at Mercury Lounge with low-fi Beach Boys lovers Candy Claws opening.
A Sunny Day in Glasgow have also added this:

Prospect Farm has almost completed its first season. You are invited to our Harvest Fest + Soup Cook-Off to be celebrated on October 30th (raindate October 31st) at the Prospect Farm from 11am to 4pm. Please save the date for this fun day of learning about the Prospect Farm's work, member info, games, music, food, soup cook-off judged for prizes, raffle, and more.
Prospect Farm Harvest Fest + Soup Cook-Off
Saturday October 30th (rain date Oct. 31st)
11am - 4pm
@ Prospect Farm located 1194 Prospect Ave btwn Seeley and Vanderbilt Sts.
F Train to Ft. Hamilton, exit towards Prospect Ave/Greenwood
Raffle! with prizes from: Brancaccio Food Shop, Crossroads Cafe, The Double Windsor, The Great Green Store, Juice Box Wines, Oak and Iris Cafe, Levy's Unique New York Tours, Namaste Yoga of Kensington, Sycamore Bar & Flowershop,Tally Ho Craft Beer, Third Root Community Health, Thistle Hill Tavern. and more to be announced.
Live acoustic sets from
2-3 pm Spirit Family Reunion
3-4 A Sunny Day In Glasgow
--
That's it for now. More dates, flyers and videos below...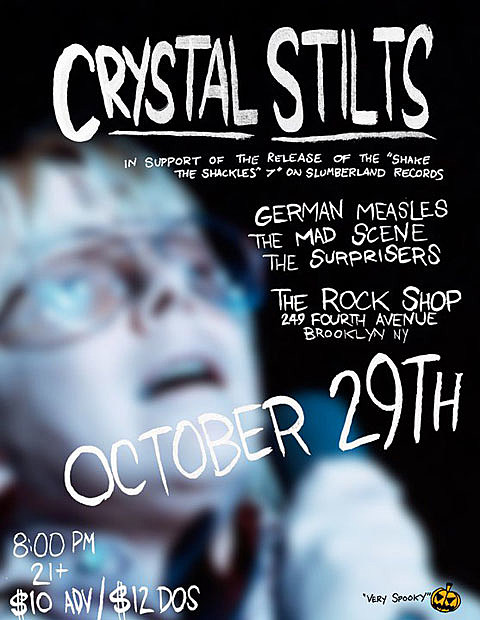 Oh No Oh My - 2010/2011 Tour Dates
Oct 27 The Rock Shop Brooklyn, New York
Oct 28 Pianos New York, New York
Oct 29 Northside Tavern Cincinnati, Ohio
Oct 30 Mike N Molly's Champaign, IL
Nov 1 Empty Bottle w/ Pomegranates Chicago, Illinois
Nov 2 The Frequency w/ Pomegranates Madison, Wisconsin
Nov 3 Vaudeville Mews w/ Pomegranates Des Moines, IA
Nov 4 Whole Music Club (Coffman Memorial Union) w/ Pomegranates Minneapolis, MN
Nov 5 Zoo Bar w/ Pomegranates Lincoln, Nebraska
Nov 6 Replay Lounge w/ Pomegranates Lawrence, Kansas
Nov 7 Hi Dive w/ Pomegranates Denver, Colorado
Nov 8 Kilby Court w/ Pomegranates Salt Lake City, Utah
Nov 9 Badlander w/ Pomegranates Missoula, Montana
Nov 10 Empyrean Coffeehouse w/ Pomegranates Spokane, Washington
Nov 11 Sunset Tavern w/ Pomegranates Seattle, Washington
Nov 12 Mississippi w/ Pomegranates Portland, Oregon
Nov 14 The Crepe Place w/ Pomegranates Santa Cruz, California
Nov 15 Rickshaw Stop w/ Pomegranates San Francisco, California
Nov 16 Bootleg Theater w/ Pomegranates Los Angeles, California
Nov 17 The Casbah w/ Pomegranates San Diego, California
Nov 18 Trunk Space w/ Pomegranates Phoenix, Arizona
Nov 19 Black Market w/ Pomegranates El Paso, Texas
Nov 20 Mohawk w/ Pomegranates Austin, TX
Feb 2 L'Abordage Evreux, FRANCE
Feb 3 LA MAROQUINERIE PARIS, FRANCE
Feb 8 Porcupine Pub Rovigo, Ariano Nel Polisine, ., ITALY
Feb 9 Mono Pescara, -, ITALY
Allo Darlin - My Heart is a Drummer

Bettie Serveert - Deny All

Bettie Serveert - 2010 Tour Dates
Oct 27, 2010: Brillobox (Pittsburgh, PA, USA)
Oct 28, 2010: North Star Bar (Philadelphia, PA, USA)
Oct 29, 2010: Bowery Ballroom (New York, NY, USA)
Oct 30, 2010: The Record Collector Store (Bordentown, NJ, USA)
Oct 31, 2010: Iota Club & Café (Arlington, VA, USA)
Nov 02, 2010: T.T. the Bear's (Cambridge, MA, USA)
Nov 03, 2010: Maxwell's (Hoboken, NJ, USA)
Nov 04, 2010: Daniel Street (Milford, CT, USA)
Nov 13, 2010: De Oosterpoort (Groningen)
Nov 21, 2010: Beauforthuis (Austerlitz bij Zeist)
Nov 26, 2010: Podium Asteriks - Blokhuispoort (Leeuwarden)
Nov 27, 2010: 't Beest (Goes)
Dec 03, 2010: De Waerdse Tempel (Heerhugowaard)
Dec 10, 2010: Muziekgieterij (Maastricht)
Dec 23, 2010: De Vorsting (Hilversum)
--
The Intelligence - 2010 Tour Dates
10.26.10 Tue Cleveland, Ohio Now That's Class w/ So Cow
10.27.10 Wed Columbus, Ohio Cafe Bourbon Street
10.28.10 Thu Pittsburgh, Pennsylvania, Thunderbird Cafe
10.29.10 Fri Philadelphia, Pennsylvania Kung Fu Necktie
10.30.10 Sat Manhattan, New York Cake Shop w/ German Measles, the Beets
10.31.10 Sun New York Panache / Todd P Halloween Party (see above)
11.01.10 Mon Richmond, Virginia Strange Matter w/ Bermuda Triangles
11.02.10 Tue Charlotte, North Carolina Snug Harbor
11.03.10 Wed Atlanta, Georgia Earl
11.04.10 Thu New Orleans, Louisiana Siberia w/ JEFF the Brotherhood
11.05.10 Fri Baton Rouge, Louisiana Spanish Moon w/ Polvo, JEFF the Brotherhood
11.06.10 Sat Austin, Texas Mohawk (Fun Fun Fun Fest afterparty)
11.07.10 Sun Lubbock, Texas Haunted Castle
11.09.10 Tue Tempe, Arizona Yucca Tap Room
11.10.10 Wed Los Angeles, California Spaceland w/ Nobunny
11.11.10 Thu San Francisco, California SF Eagle w/ Ty Segall
11.13.10 Sat Reno, Nevada The Lincoln Lounge
11.14.10 Sun Portland, Oregon East End
11.15.10 Mon Seattle, WA, Neumos
Total Slacker - Crystal Necklace