The Swell Season (and Nico Muhly & Brian Eno's iPhone app) played 92YTribeca – pics, review, setlist & 2009 Tour Dates
The Swell Season's new album, Strict Joy, is out October 27th on Anti-. On Monday night, September 14th, the Irish & Czech duo (who are no longer a couple) performed at 92YTribeca in Manhattan. 92YTribeca is an intimate, and kind of swanky, downtown NYC venue that is much smaller than the places the Academy Award-winning band played last time they were here (Radio City and Summerstage). It's also probably much smaller than the ones they'll play next (nothing announced yet) (Beacon Theatre?). Bands often visit NYC for press purposes before an album, and I think that's related to why this show happened. Limited tickets were sold for $35 a pop. It was a packed house with tables taking up most of the room. People stood on the sides and in the back.
The setup on stage was spare. Glen Hansard had an old acoustic guitar which sometimes had "a mind of its own". Markéta Irglová sat at the piano when she wasn't standing up singing, either with Glen or by herself. They alternated playing solo and together. They flew in the night before, and hadn't performed in a while. Glen related that last fact to his forgetting to pack a few things, like his guitar tuner. To remedy the situation, he told us he downloaded iTune, an iPhone app that helps you tune your instrument. He even gave a demonstration of it after showing us how the Brian Eno iPhone app works (not sure if it was the old one or the brand new one). The iPhone segment was one of Glenn's many trademark (and entertaining) stories of the evening. His funny anecdotes offset the feelings of woe that dominate Swell Season songs.
Glen was as modest and down to earth as ever. He became frustrated when his guitar didn't do what he wanted. He thanked everyone for coming (especially Paddy, or is it Patty, in the front row who he thinks has been at every NYC show he's ever played), and for paying money to do so. He acknowledged that he expected the great success of last year to not always be there in the future. I imagine he is fine with the possibility that it won't always be Radio City and the Academy Awards, but I have no doubt The Swell Season can do it again (even if their demographic becomes less my friends, and more my mom's). Everything else aside, Glen (who is also in the band The Frames), can sing and play. And so can Marketa. It was especially noticeable since I'd just returned at 5am that morning from ATP NY, a festival in upstate NY where I saw a variety of bands, of varying musical abilities, perform.
The Swell Season setlist ranged from new songs to old songs to covers to something Glen wrote the night before. I don't know exactly what Glen's relationship is to Nico Muhly (Nico may have worked on the new album), but I know that Nico and Glen have a friend and collaborator Thomas Bartlett (aka Doveman) in common. I didn't see Thomas there, but Nico (who performed with Thomas at the Miller Theatre just a few days earlier) was, and he played a solo piano song in the middle of Swell Season's set. It was kind of weird - maybe out of place. Glen introduced his friend Nico before leaving the stage (Marketa was already off). Nico then came up and played his song, and then Nico left and then the Swell Season came back. Regardless, special guests are always fun and I like Nico.
"Falling Slowly" (the big hit) was played early in the set, and my initial excitement turned into "I guess I'm sick of this song", but the Once songs they played at the end, "When Your Mind's Made Up" and "Lies", felt much better. Other highlights included an upbeat cover of Tim Buckley's :"Buzzin' Fly" mixed with a bit of Jeff Buckley's "Grace", anything Marketa did solo, and the closing number which was a cover of Daniel Johnston's "Devil Town". During that, Glen had the NYC crowd singing along to the chorus which he repeated a few times, partially A Capella and sometimes with accompanying funny faces, accents, and vampire gestures. He sang part of it with a German accent, and he ended with a pose he called a "Kanye moment". The crowd followed with a laugh and a standing ovation.
More pictures and tour dates (which were recently announced, but no NYC yet), and the NY show's setlist, below...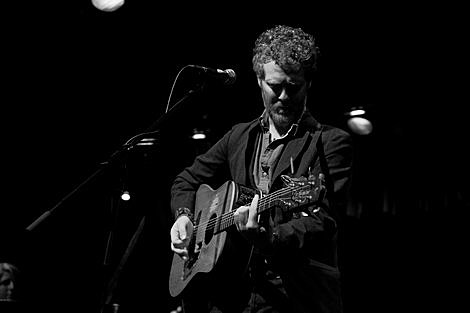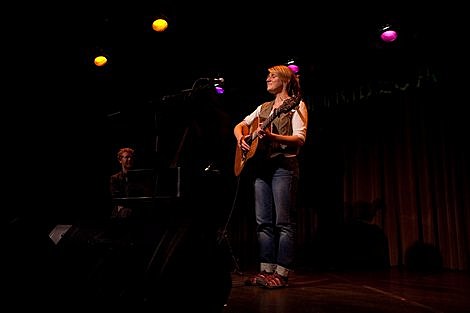 92YTribeca setlist
In these arms
Low rising
Feeling the pull
The moon
High horses
Falling slowly
I have loved you wrong
Leave
Movin on (new tune)
Paper cup (tribute to bobby charles)
Reading opf strict joy
Backbroke
Buzzin fly (Tim Buckley)
When your minds made up
Encore
The hill
Lies
Devil town (daniel johnston)
The Swell Season - 2009 Tour Dates
11/01 MILWAUKEE, WI The Pabst
11/02 INDIANAPOLIS, IN Clownes Theatre
11/03 TORONTO, ON Massey Hall
11/04 MONTREAL, QC Olympia
11/06 BOSTON, MA Berklee Performing Arts Centre
11/07 PROVIDENCE, RI Lupo's
11/08 PHILADELPHIA, PA Merriam
11/09 WASHINGTON, DC 9:30 Club
11/12 NEW ORLEANS, LA House of Blues
11/13 HOUSTON, TX Warehouse Live
11/14 DALLAS, TX Palladium
11/15 AUSTIN, TX The Paramount
11/17 MESA, AZ Mesa Arts
11/18 LOS ANGELES, CA The Wiltern
11/20 SAN FRANCISCO, CA The Paramount
11/22 SEATTLE,WA The Paramount
11/24 PORTLAND, OR Crystal Ballroom
11/25 VANCOUVER, BC Centre For the Performing Arts
11/27 BOISE, ID Egyptian
11/28 SALT LAKE CITY, UT Jeanne Wagner Theatre
11/29 DENVER, CO The Ogden
11/30 KANSAS CITY, MO Uptown
12/03 CHICAGO, IL Auditorium Theater
12/04 ST. LOUIS, MO The Pageant
12/05 MINNEAPOLIS, MN The State Theatre