The Tallest Man On Earth & S. Carey played Webster Hall, NYC (pics & setlist)
Even if you don't know much about S. Carey's background, it probably wouldn't come as much of a surprise to learn that he wrote much of the material for his debut album while on the road with Bon Iver. Sean Carey possesses the kind of slow, steady vocals that make you weak in the knees, and the accompanying music benefits from a collection of classy instruments like the upright bass, saxophone, and vibraphone. The set began with a hushed, melodic opening that gradually crescendoed when Carey came in on vocals midway through the song. For once, earplugs weren't necessary - at least for the majority of the set Monday night at Webster Hall (9/27).
S. Carey did make one notable departure from the tranquil presentation. Fitting for its title, "Action" featured a surprisingly rowdy segment as each of the musicians contributed to the song's chaotic and frenzied conclusion.
Considering the fact that S. Carey has never played a show in New York, Webster Hall is a pretty impressive place to start. The sheer size of the venue typically makes it an inhospitable setting for quieter acts, but both S. Carey and Tallest Man on Earth effortlessly captured the attention of the mild-mannered and appreciative crowd.
When it came time for The Tallest Man on Earth to play, the stage had been stripped down to a single mic stand, a simple brown wooden chair, and a guitar rack. Kristian Matsson walked on stage to what sounded like a Swedish song playing in the background. Without a word of introduction, he began singing "A Field of Birds." Whenever he wasn't required to be at the mic, Matsson paced around the stage, sometimes running back over just in time to sing.
"Thank you so much New York. I'm glad to be back. I might have played that song a bit too fast, but don't judge me. This is a big place," Matsson sheepishly confessed after a couple of songs. Matsson's distinctively gruff voice provides an interesting contrast to the melodic strains of his guitar. Though he didn't have a backing band, Matsson's music impressively resonated throughout the large space and the reverent sold-out audience.
The magical star-lit backdrop lining the stage seemed to be perfectly suited for a man whose songs feature motifs like love, the beautiful Scandinavian landscape, and of course - birds. At one point, someone in the crowd asked him about the mysterious message emblazoned in blue on his T-shirt. "Good question. Thank you so much for asking and not yelling something like 'Fuck you.'" He countered. "It's Leksand Delarna. It's where I'm from. It's my home town." He briefly reflected on his homesickness before momentarily turning his back on the crowd and walking over to get a closer look at the celestial backdrop, as if marveling at the beautiful Swedish night sky.
After playing a couple of songs about the ups and downs of love, he returned to the topic of his homeland and the album artwork it inspired. "So I have a new EP. It's only 5 songs. But the cover is awesome... it's like a chimney and a field house... go to the merch. You don't have to buy it. Just check it out." And with that, he launched into "Like the Wheel."
Though the show featured a number of pauses as Matsson stopped to tune a guitar or communicated with the sound technician, this attention to detail paid off and made for quite a robust sound (and the most beautiful and complicated guitar tuning technique I've ever heard).
Matsson capped off his initial set with "Thrown Right at Me," a lovely duet featuring Amanda Bergman (aka Jaw Lesson) (previously Hajen) on vocals. He then returned to wild applause to wrap up with an impassioned three-song encore.
The Tallest Man and S. Carey are on tour (S. Carey will be back for CMJ too). Updated dates, the full Tallest Man setlist, and more pictures from the NYC show, below...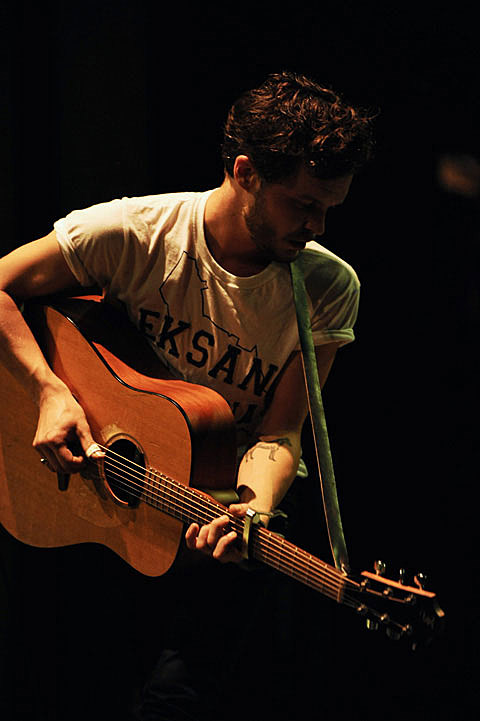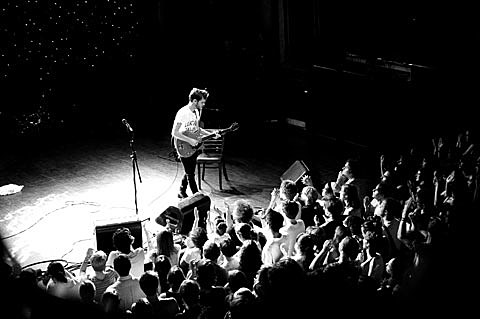 S Carey & Tallest Man on Earth - 2010 Tour Dates
09/30/10 Northampton, MA - Pearl Street Nightclub
10/01/10 Somerville, MA - Somerville Theater
10/02/10 Philadelpia, PA - Theater of the Living Arts
10/03/10 Washington, DC - 9:30 Club
--
Tallest Man on Earth Set list
A Field of Birds
Burden of Tomorrow
I Won't Be Found
Pistol Dreams
Love is All
King of Spain
The Wild Hunt
The Tangle
Like the Wheel
You're a Big Girl Now (Bob Dylan cover)
The Gardener
Where Do My Bluebirds Fly
You're Going Back
Thrown Right at Me
Encore
The Dreamer
A Lion's Heart
This Wind