The Tallest Man on Earth played Town Hall w/ Strand of Oaks (night 1 pics & setlist)
"although each song is basically the same, The Tallest Man on Earth was blissful tonight @ Town Hall" - Christopher CJ Smith
The Tallest Man on Earth at Town Hall - 6/19/12

Halfway through his set at Town Hall last night, Kristian Matsson--also known as Tallest Man on Earth--set his acoustic guitar down and clumsily stumbled to the other side of the stage, sitting down at a grand piano. "I can't really play this thing over here; it's hard," he mused softly into the microphone. "But I like to sing." He carefully placed his hands on the keys, fluttering his fingers just enough to make the audience doubt what he had just said, and squeaked out the first words to the title track of his recently released LP There's No Leaving Now, a song about overcoming the fear of failure. The concertgoers watched as this man, solo among his five guitars and single piano, earnestly shared his demons--a recurring image throughout the night. [Village Voice]
The Tallest Man On Earth brought his tour to NYC last night (6/19) for a sold out show at Town Hall with Strand of Oaks. He played most of the tracks off of his great new album, There's No Leaving Now and old favorites like "Love Is All," "Kind of Spain," "Where Do My Bluebirds Fly," and "The Gardener."
Opener Strand of Oaks (aka Timothy Showalter with drummer Chris Ward from Pattern is Movement) is set to release a new album this year titled Dark Shores. You can grab the first single from that album above and check out the lyrics to the track on bandcamp.
The Tallest Man on Earth and Strand of Oaks will play Town Hall again tonight (6/20) and tonight's show is also sold out.
More pictures and setlist from last night below...

---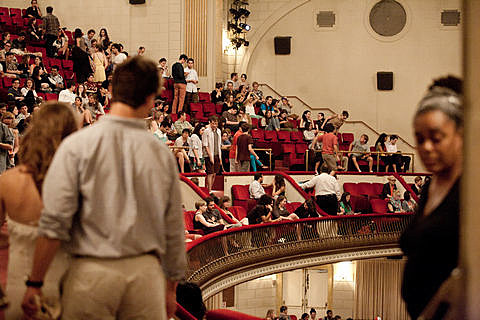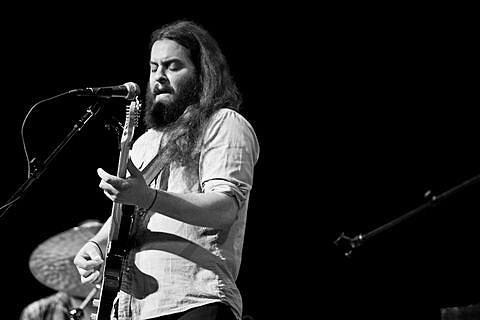 Tallest Man on Earth Setlist:
To Just Grow Away
Love Is All
1904
Leading Me Now
I Won't Be Found
The Gardener
There's No Leaving Now
Troubles Will Be Gone
Where Do My Bluebird Fly
The Wind and Walls
Like The Wheel
King of Spain
Little Brother
On Every Page
Encore:
The Dreamer
Thrown Right On Me (w/ Amanda Bergman)