the Thursday & Friday night in Dance w/ Showtrotta
Kyle Dean Reinford
DOWNLOAD: Alexander Technique & Van Scott - Nightlovers (ZSHARE MP3 LINK)
DOWNLOAD: Alexander Technique & Van Scott - Nightlovers (Chewy Chocolate Cookies Remix) (ZSHARE MP3 LINK)
M83 @ Webster Hall - Nov. 14, 2008 (more by Kyle Dean Reinford)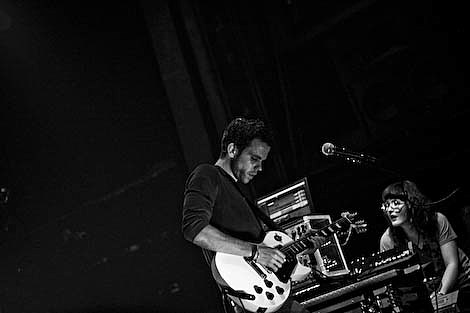 Last Friday I had a frustrating, puzzling experience at the M83 show at Webster Hall. M83 is easily one of my favorite bands and I'd enjoyed many of their shows prior to last week's including the one they played just a few months ago at Music Hall of Williamsburg. Despite playing a similar set Friday night, I just wasn't having my typically awesome M83 experience. For some reason, I had no patience for their more mellow and slow songs and when they finally would play something more upbeat or poppy (like Don't Save Us From the Flames or Graveyard Girl) it didn't pack as much of a punch as I wanted. The encore of Couleurs was amazing, but overall something just seemed to be missing. That said, one of my friends loved it, the another (who had never seen M83 before and was only slightly familiar with their music) shared thoughts similar to mine. I also watched some videos of the show THE following morning and got goosebumps, so who knows...Check out one of M83 performing Teen Angst below (more here):
that video, and Thursday and Friday night's events, below...

M83 @ Webster Hall

This weekend there's a lot going on dance-wise, as always. Here's what's happening starting with Thursday night (11/20).
Josh Gabriel (of Gabriel & Dresden) is at Cielo.
Advanced tickets available here.
After a week off, Cheeky Bastard is happening again at Hiro. This week's party has Damian Lazarus headlining:

Free with RSVP.
Voodoo Funk happens This Thursday (and every Thursday) at Santos.

10pm, $5.
One thing that doesn't happen every Thursday is the Nightshifters Label Launch at Le Poisson Rouge:
Nightshifters is a new label run by 4AM Jess (Jubilee) & Jason Forrest (DJ Donna Summer) dedicated to "prime-time oriented banging club tracks to get people raving again!"

Prepare for a big old slab of RAVE to descend upon you this week! Palms Out Sounds, Mean Red, and Good Peoples are teaming up to throw a Nightshifters label launch party featuring DJ Donna Summer (Berlin), Rob Threezy (Chicago), Proper Villains (NYC), 4AM Jess aka Jubilee (NYC) and we guarantee you we're gonna mash the place up!

$5 with RSVP.
Check out the Nightshifters blog for some mixes and downloads from people deejaying the party as well as others on the label.
which brings us to Friday (11/21):
If you like what you heard from 4AM Jess aka Jubilee you can catch her deejaying again, either at the Manslaughter for Mishka release party at Love Brigade & Friends Boutique along with Star Eyes:
or later that night at Flashing Lights at Public Assembly, along with the rest of the crew (Nick Catchdubs and Ayres) plus guests Sujinho (welcome him back to NY!) and Huggs. 11pm, front room, free.
The Bunker also happens every week at Public Assembly. This week's features New York's own Mike Servito as well as Micha Klang from Germany. If you're into tech house check out Micha's Flush Dance EP which just came out last week.

11pm, back room $10.
Also happening on Friday, Nick Catchdubs (one of the residents at Flashing Lights mentioned above) is deejaying the Fader's monthly museum get down, One Step Beyond, at the American Museum of Natural History along with Michna (Ghostly).
More info on this and future OSB line-ups here. Advanced tickets available here.
Also, be sure to check out Nick's mix in the Pre-party Jamz series over at Nickydigital.com (who was just named "Best Nightlife Photographer by Paper Magazine - Congrats Nicky!).
Another big party happening Friday night is at Webster Hall with deejay sets from Switch, D.I.M., AC Slater, Grandmaster Flash + more, and even a few bands. I'm really looking forward to this...I've had mostly good experiences with Switch before and witnessed awesome sets from D.I.M. and AC Slater earlier this year. Should be a good one...

Advanced tickets available here.
Also awesome and happening Friday: The UK's Chewy Chocolate Cookies, who's been cranking out freshly baked remixes for some of the top electronic artists out there, makes his New York debut at Studio B. He recently finished one for DJs Are Not Rockstars resident Van Scott (who is also deejaying the party). The tune (Nightlovers) will be out on the DJs Are Not Rockstars label early next year. Check out Chewy's blog for info on his latest remixes and some free downloads of many he's already completed to get you excited for Friday. Full line-up and party info below:

Advanced tickets available here.
And finally, a couple of smaller, but still good parties:
Things get disco-ey at Lounge 87 with Play It Loud featuring Darshan Jesrani of Metro Area, Son of Sound, and Doug Gomez:
At APT, Evan Baggs from Kindisch (sister label to Get Physical) is deejaying with resident Jesse Mann. Check out Evan's Top 10 for October over at Resident Advisor.
Check back for more dance headed your way for Saturday into next week, plus a review of the Korrupt party with Boy 8 Bit from last Saturday.