The Truck America Festival in pics & review
words & photos by Alexandra Marvar, more photos by Claire Bennnett, Gabe Soria & Sonam Zoksang

Roadside Graves @ Truck America

"After 12 years America got its first taste of Truck at a resort in the Catskills about three hours outside of New York City. A more modest affair in size and lineup than the forthcoming Truck in Steventon this July, the Full Moon resort was perfectly situated for the comparatively small event.

The entire weekend made for a remarkably relaxed experience. While the weather in the Catskills in early May is usually akin to that of Oxfordshire in the summer, the days were unseasonably warm and the nights crisp, making sitting in an unheated converted barn after midnight a pleasant experience." [Clash]
Alexandra Marvar, who performed at British Truck festival offshoot TRUCK AMERICA this past weekend with the Mercury Rev orchestra, and with Common Prayer, reviews the fest's highlights with accompanying pictures. Check it out below...

---
Natureboy

Neil Halstead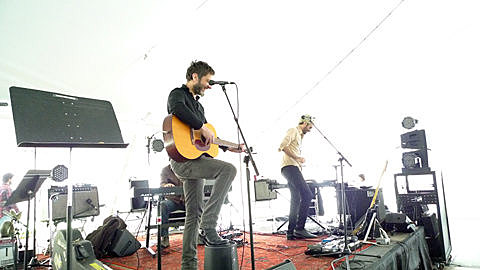 - Mercury Rev's special appearance supported by a chamber orchestra was moving. In fact, I nearly wept during a cover of George Harrison's "Isn't It A Pity" but had to refrain, as my energy was required in the woodwind section, on clarinet. My chair was beside Truck founder Robin Bennett on flute. Joe Bennett scored the orchestra parts and conducted, and swapped his conductor's baton for a trumpet in the encore performance of "Goddess on a Highway." Also of note: an endearingly honest cover of Nico's "These Days," with a striking string part of staccato violin on the off-beat, and several serious favorites from Rev's beloved Deserter's Songs--"Holes," "Carwash Hair," "Tonight it Shows"--which were as compelling as they were when we put them on mix tapes last decade.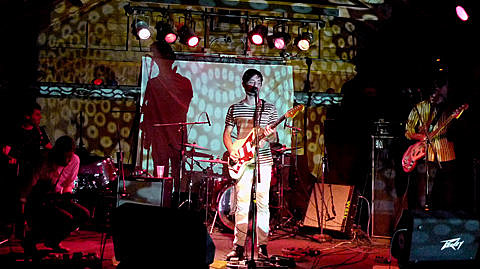 Hopewell, who played England's Truck fest in 2007 and had a hand in curating the American event, played three sets this weekend (Thursday night warm-up party, Friday night special 15-year retrospective, Saturday night super-spirited 2 a.m. rock extravaganza).
Ida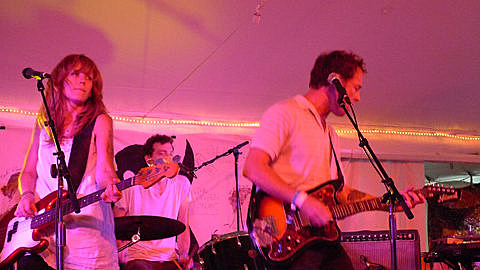 - Here We Go Magic and White Rabbits' appearances at the fest were the epic conclusion of their tour together. White Rabbits' Steve Patterson lamented the bittersweetness of it all. They made Truck their own, playing back-to-back phenomenal sets, joining each other on stage for more than one mega-percussion situation that may have shook the mountain, and later that night waving giant sparklers in an all-inclusive shoulder-to-shoulder a capella circle, wailing the Doobie Brothers' "Black Water" refrain on the Roadhouse porch.
The Silent League

Grand Mal

Nina Violet

- Upstate sensation Nina Violet and her band arrived from Martha's Vineyard in a school bus piloted by Willy Mason and erected their canvas-clad geodesic dome in the camping area. They played a barn stage Friday night; Nina's sister Marciana Jones accompanied her on an unstoppable cocktail of neat things (omnichord, harp, etc) and sang some sibling harmonies that tugged at the heartstrings.
Monogold

- Gary Louris of the Jayhawks took the stage Saturday evening. He threw together a band on site (fest founders the brothers Bennett, Tim Easton, Cat Martino, Hopewell's Tyson Lewis), and their finale rendition of "Blue" was everything we wanted it to be.
Tim Easton and Joe Bennett sing back-up vocals for Gary Louris

Robin, Joe, and Claire Bennett, Truck festival organizers, with Michael Lang, creator of the original Woodstock festival (second from left)

- The North Wales band the Joy Formidable spent their second day in America blowing minds when they headlined Truck America's main stage Friday night. Created in the image of Karen O gone blond, the girl power exuded by Ritzy Bryan was captivating. Now on tour, you can catch them at Mercury Lounge in NYC on May 10th.
- As it always has in the festival's English permutation, Truck's structure devolved organically into a til-dawn campfire singalong--Neutral Milk Hotel, the Beatles, and a "Goddess on a Highway"/ "Wonderwall" medley, while Rev's Grasshopper rocked along shouting "We wrote it first!"
- Unlike any other music festival I've attended, "There wasn't really any panicking," reflected organizer Claire Bennett. The food was decent and not overpriced. The security crew were polite and good-humored. Swimming, camping, English football, and a slew of other indie rock summer camp activities made good use of the mountain environs. No bands overlapped by more than a few minutes, so relatively few difficult choices needed to be made about when to be where. Elaborately-facepainted children frolicked. Michael Lang, co-creator of the original Woodstock festival, chilled on the lawn. Joan as Policewoman & company spent a morning foraging for nettles and dandelions around their band bungalow--it was that kind of vibe. And there was no cell phone signal. None. Truck America was the anti-festival. We look forward to its return to patriot soil.