The Vaccines played Summerstage w/ help from Minor Threat's Lyle Preslar (video, pics & setlist)
The Vaccines in Central Park

The Vaccines regularly cover Minor Threat's cover of "Sometimes Good Guys Don't Wear White" by the Standells. Tuesday night, 5/24, during their opening set at Central Park Summerstage in NYC, Minor Threat's Lyle Preslar actually played it with them!
NME talked to both of them:
"I was a little worried The Vaccines might turn out to be like the British version of emo-core or something," Preslar told NME. "Frankly, over the years, you do find yourself in a situation where you don't like the bands that claim to like you. But I genuinely love the way they're quite referential to other bands but quite fresh at the same time."

The Vaccines frontman Justin Young explained his surprise at finding Preslar to be so enthusiastic, especially as the guitarist hadn't played the song since Minor Threat disbanded in 1983. "I couldn't help but think it sounded so much tighter with Lyle than we do when I play the song," he said. "It was a great honour. I got into hardcore when I was 13 or 14 but to be honest, Minor Threat are the only hardcore band that I still listen to."
Watch a video of Lyle playing with The Vaccines last night at Summerstage, with more pictures from the opener's set, and their setlist, below...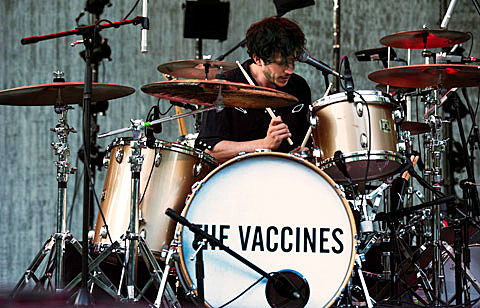 Arctic Monkeys pictures from this show HERE.
The Vaccines with Minor Threat's Lyle Preslar, New York Central Park

The Vaccines - Good Guys (Don't Wear White) @ Bowery Ballroom

Nardwuar asks The Vaccines about Minor Threat

Vaccines Central Park setlist:
'Under Your Thumb'
'Blow It Up'
'Wreckin' Bar (Ra Ra Ra)'
'All In White'
'Wetsuit'
'A Lack Of Understanding'
'If You Wanna'
'Post Break-Up Sex'
'Good Guys Don't Wear White' (with Lyle Preslar)
'Nørgaard'