The Very Best (new remixes) played LPR (w/ Ezra Koenig) & Supreme Trading (a secret show?) w/ Ahmed Janka – pics
LPR photos by Kwesi Abbensetts, Supreme Trading photos by Ryan Muir
Esau Mwamwaya @ Le Poisson Rouge - July 18, 2009 (by Kwesi Abbensetts)

The Very Best (production duo Radioclit and Malawian singer Esau Mwamwaya) played a late-night show at (Le) Poisson Rouge on July 18th. They were joined by two backup dancers (one of which was on crutches!), and Ezra Koenig of Vampire Weekend for one song. He stopped by to contribute his part on "Warm Heart Of Africa." That track and two new remixes are posted above.
Ezra Koenig @ Le Poisson Rouge - July 18, 2009 (by Kwesi Abbensetts)

The Very Best's debut record, Warm Heart of Africa, is due to come out on Green Owl, the NYC-based record label that was founded by Benjamin Brewer (the father of M.I.A.'s child), on September 22nd (available digitally August 25). Ezra and M.I.A. both sing songs on it. That album is not to be confused with Esau Mwamwaya & Radioclit Are The Very Best which was the mixtape (that contains songs by Vampire Weekend and M.I.A.) they released for free in 2008. Grab that above.
On Saturday night (7/25) (exactly a week after the LPR show), Radioclit brought "their wild monthly London residency, SECOUSSE, to the States for an all out UK vs. BK battle of the riddims." And by "the states", they mean Supreme Trading (or the former Supreme Trading building at 213 N 8th St) in Williamsburg, Brooklyn. Green Owl artist Janka Nabay was also on the bill.
"While many genres of African music have made the crossover to the west (Afrobeat, Highlife, etc), Sierra Leone's traditional Muslim street songs, or Bubu music, have not. The king of Bubu is Ahmed Janka Nabay, an amazing humanitarian musician whose life has been shaped by Sierra Leone's civil war." [Straw vs Gold]
According to Green Owl, it was the king of Bubu's first "official" NYC show, but he didn't have to come too far; Ahmed Janka currently lives in Philadelphia. He wore a traditional Rafia costume at the show, that he made earlier that day....
Ahmed Janka @ Supreme Trading - July 25, 2009 (by Ryan Muir)

AND, it ends up that Saturday night's show at Supreme Trading was also a sort-of-secret Very Best show. Radioclit did DJ, but then performed with Esau too (no Ezra this time though). More pictures from both shows and the new album artwork, below...

The Very Best @ Le Poisson Rouge...
Ahmed Janka @ Supreme Trading...
The Very Best @ Supreme Trading...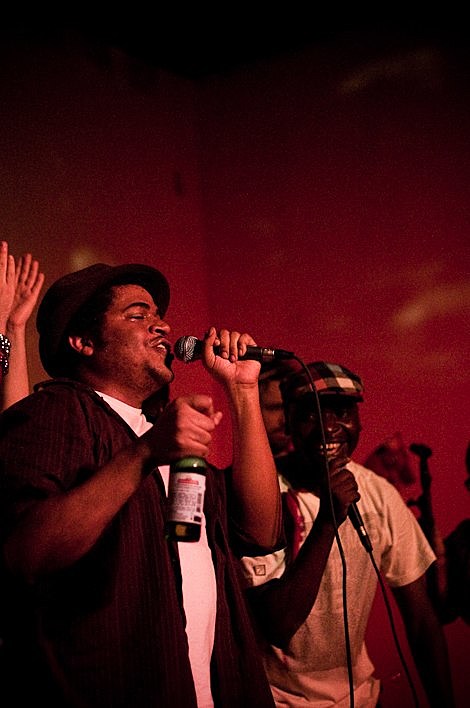 the new album