The Wedding Present are here, played Hotel Vegan (pics)
photos by Amanda Hatfield
The Wedding Present @ Hotel Vegan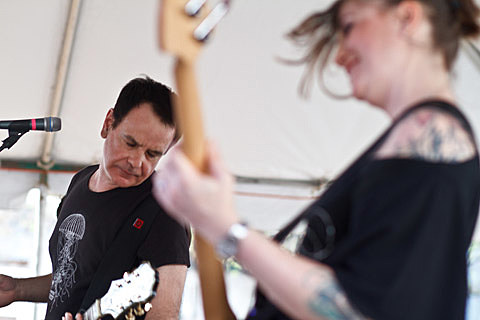 As Bill wrote in his full SXSW Thursday recap, "We didn't get Seamonsters in full like they'd do at the Cake Shop showcase on Friday night, but The Wedding Present definitely pulled out some old favorites for their Hotel Vegan main stage performance, including 1986 single "You Should Always Keep in Touch with Your Friends" which opened their rocking set. Frontman David Gedge, who is 52 but looks at least 15 years younger, throws his all into his guitar. The Wedding Present played a lot of shows during SXSW, don't know how he does it."
The Wedding Present continue their tour started at SXSW, playing their Steve Albini-produced masterwork Seamonsters in-full across the U.S., including gigs tonight (3/21) at The Bell House and tomorrow at Le Poisson Rouge, both with Jet Age. Tickets seem to still be available for both. All tour dates HERE.
Their latest album, Valentina, dropped this past Tuesday (3/20).
A few more pictures from Hotel Vegan are below...

--