the week in Dance w/ Showtrotta (part 3)
Stretch Armstrong @ Été d'Amour
@ the Rivington Hotel Penthouse - June 14, 2009

Hopefully all the rain we've been getting lately hasn't kept you from heading out to dance. Unlike this weekend, last weekend's weather was pretty good for dancing outside. I got a late start and arrived at the BKLYN Yard for Sunday Best just before Jus-Ed began his set. The two hours that followed were brimming with great house music, which even included some live vocals from Madafi Pierre:


The weather for this Sunday isn't looking too promising, but disco masters Rub-N-Tug are the guest deejays for this week's Sunday Best at the BKLYN Yard. Be sure to check Sunday Best's Twitter around noon on Sunday for an update about the weather/possible rain location for the party.

address 400 Carroll St between Bond and Nevins, Brooklyn
if it rains (lets hope it doesn't!) The Bell House (around the corner)
dates Every Sunday from Memorial Day Weekend to Labor Day Weekend
food Tacos, Huaraches and other Latin American delicacies
booze You have to be 21 to drink it, but we'll be selling it at the bar
ages All ages
time 3p - 9p
cover $10 // $8 before 4pm with rsvp OR $8 in advance
RSVP rsvp@sundaynestnyc.com
Thinking back to sunnier times...last weekend after Sunday Best I went to Été d'Amour and had a great time. The noise complaint woes of the week prior were no more and Stretch Armstrong was behind the decks blaring tons of house and disco at very appropriate volumes. Check out the video below. It's dark in there, but you can hear some of Stretch's set and get a look at the view of Manhattan from the Rivington Hotel's penthouse:
This Sunday the weekly French fete will feature some more disco courtesy of New York's own Holy Ghost. They will be deejaying from 7pm until 1am, with a "soul disco funk balearic warm up" from 4 to 7pm by French dj/producer GONES THE DJ. Info below:
RSVP at Facebook and check the out the EANY Facebok group for info on future parties.
Also on Sunday (6/21):
- Tropical Hotdog Rooftop BBQ at Studio B with guest deejay Alex From Tokyo.
- Ain't Nuthin But A House Party with Jellybean Benitez at Water Taxi Beach. Check Water Taxi Beach's Facebook for updates regarding the weather.
- Godxiliary showcase at Santos.
Here's what's happening heading into next week:
Monday (6/22)
- Francois K is deejaying for the entire night at Deep Space at Cielo.
- Tommy Moye is at Trophy Bar.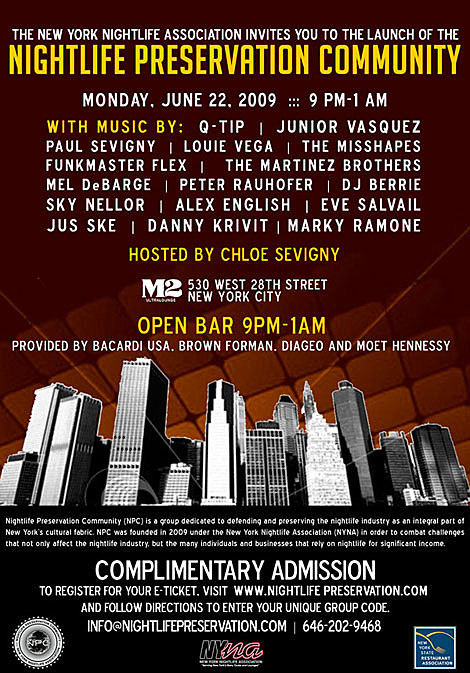 More info on the Nightlife Preservation Community here.
Tuesday (6/23)
- I went to my first My Favorite Things party back in October and it was excellent! Check it out at APT. Tyler Askew (whose set at the Loving Day Flagship celebration a few weeks ago was awesome) will be deejaying and more:
Wednesday (6/24)
- Fatboy Slim is at Terminal 5! Shinichi Osawa is opening! (tix)
- Modular is hosting their last Downtown Downturn of the summer at BEast (171 E. Broadway at Rutgers). This week's features guest deejays Josh Druckman (Chinatown Records) and DJ Fake Mexican.
- Roots with Kevin Hedge (Blaze Imprints) at Cielo.
- Machine Soul with Mike Bryant and Doug Singer at the Annex
- Hotel Motel at Le Poisson Rouge with deejays JD Samson, Lauren Flax, and Luiza Sa.
As I already mentioned in Saturday's post, I am really excited about Fatboy Slim deejaying here on Wednesday. Check out this cool (old) video of a gigantic trail of dominoes set-up in Fatboy Slim's house, set to his track "Champion Sound":