The Well is opening next to The Wick in Bushwick (Cam'ron, Os Mutantes, Ty Segall, Thee Oh Sees & more already scheduled)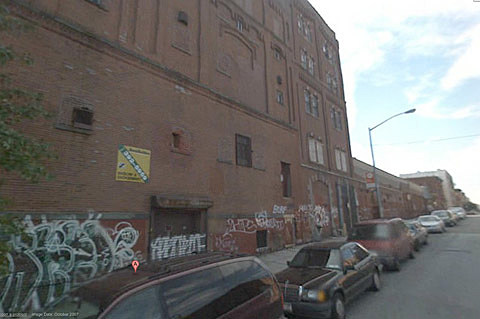 "The police call it "the Well" -- this block of Knickerbocker Avenue, between Troutman and Jefferson Streets, that has become the most notorious drug bazaar in Brooklyn and one of the toughest in New York City."
[NY Times, 1992]
It's been some time since we heard much about The Wick (260 Meserole St.), the forthcoming Bushwick, Brooklyn music venue located right down the street from The Acheron, and the Wick is still not open, but it is still coming (as you can see on its website).
Meanwhile welcome beer hall and event venue The Well, located at 272 Meserole St. (two blocks from the Montrose stop on the L line), which will be The Wick's larger and related neighbor.
The Well is a "public house" ...with a 4,000-square-foot interior complete with 30-foot ceilings, and an 11,000-square-foot backyard. [Co-Owner Joshua Richholt] and partner Shay Vishawadia will offer 60 beers on tap and another 200 in bottles, with every brewery in New York State represented.

Richholt is excited about the space itself, a "huge old brewery circa 1875," with "great German architecture" in the form of intricate brick work and steel girders, "a lot of detail nobody bothers to do anymore because it's so expensive." The building's street was once known as "brewery row" and home to seventeen suds factories; the great part now is that Riccholt expects it to be pretty immune from noise complaints. "It kind of becomes a ghost town at night," he said.
The Well's 11,000 square foot private outdoor space, the venue tells us "is designed to serve as a meeting place for the neighborhood, offering public activities, community events, sports and more year round." They go on to say that "talent booker Chris White, the former showcase director of the CMJ Music Marathon, will bring some of the world's best known and most beloved performing artists to THE WELL with a lineup of pop, rock and hip hop artists as diverse and as talented as Brooklyn itself. Reasonably priced tickets offer the casual concert goer the opportunity to sample a few of THE WELL's 300+ beers on offer." Chris White is also, as mentioned back in 2011, booking the smaller venue The Wick which has the same owners (Chris also used to work at Knitting Factory).
The Well will host its inaugural show, a hip hop one, with Cam'ron (who was recently was a surprise guest at the Drake show in Jones Beach), Flatbush Zombies, Asaad & Reese, and more on Saturday, July 14. Doors are at 4:00pm, Show is at 5:00pm, 18 and over to enter. Tickets are on sale.