The Whitest Boy Alive played 2 NYC shows, Coachella (pics)
The Whitest Boy Alive @ Coachella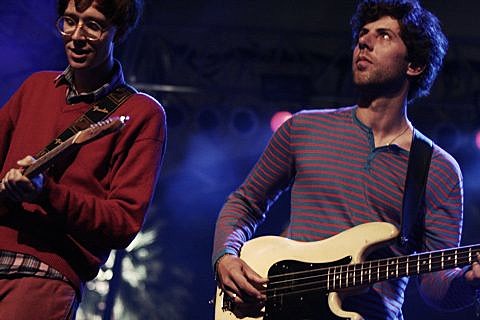 "Are you ready to rock?," Erlend Øye asked the packed Music Hall of Williamsburg last night (4/21). The crowd screamed. "Are you ready to house?" The place went bananas. If you've only ever seen Øye perform with hushed folk duo Kings of Convenience, you might think he's a stick in the mud, but it's clear, to me at least, he has a lot more fun in Whitest Boy Alive.
Along with Hot Chip and LCD Soundsystem, MHoW has played host to the best dance music shows I've seen this year -- hell, any shows -- and Whitest Boy Alive is right up there with both of those. I was kind of blown away. Whitest Boy Alive seem closer to Soulwax in ethos (though not in material) than LCD or Hot Chip, playing club music as a live band to club kids. The audience reflected it, more club kids and Euro-types (more than a few armed with glo-sticks) rather than your typical indie crowd. They were there to dance.
And when "High on the Heels" kicked in with it's CeCe Peniston-esque keybord riff, the place lost it. I felt sure everyone around me was peaking. People were bouncing, hugging, bouncing while hugging and generally freaking out. I had no idea they were so popular. Whitest Boy Alive's two albums -- 2006's indiepop-ish Dreams and last year's more dancefloor oriented Rules -- are polite affairs, a kind of Funk Lite disco that's part Steely Dan, Al Jarreau, New Order and '90s Eurohouse (they covered Robin S.'s "Show Me Love" for the encore). But live it's much more the Erlend Øye Party Machine, thanks in no small part to a super tight band. The night really belonged to keyboardist Daniel Netwig -- who flipped his Crumar at one point for a bit of welcome showboating -- whose lithe, funky playing kept hands in the air all night.
The 90-minute set hit all the highlights of Dreams and Rules, including the aforementioned "High on the Heels," a version of "Golden Cage" that has clearly been influenced by its Fred Falke remix, the Daft Punk-y "1517" (that I hoped would work in "Harder, Better, Faster, Stronger," but no ), and an extended "Islands" where Øye and the band worked the crowd like a DJ in Ibiza. This was The Whitest Boy Alive's second-ever NYC show, the first being the night before at Bowery Ballroom, part of a tour that included Coachella. They got a horn section but I can't imagine the vibe was anywhere near as ecstatic as MHoW. "Last night we finally played New York," Øye told the crowd near the end of the band's set. "It was a good show. But tonight is a great show." I gotta concur.
Check out more pictures from the band's Coachella set (we only posted two the other day), plus video from there, along with two shots from MHOW, and video from Bowery Ballroom, below...

--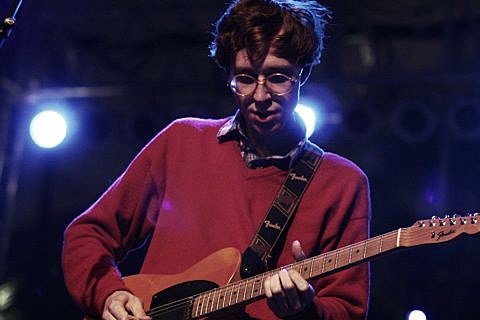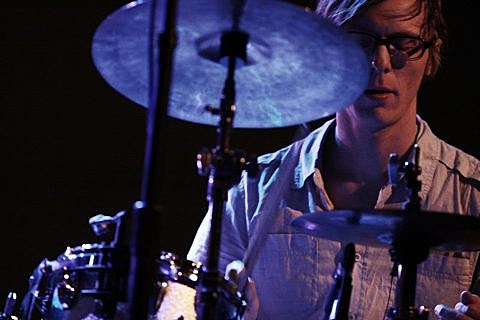 The Whitest Boy Alive @ MHOW..
"High on the Heels" - Coachella 2010

Fireworks and "Show Me Love" - Bowery Ballroom 4.20.2010