The Who & Joan Jett @ Forest Hills Stadium (review, setlists)
The Who at Forest Hills Stadium - 5/30/15 (photo via BrooklynVegan Instagram)

The Who wrapped up the current leg of their 50th anniversary tour last night (5/30) in Queens at Forest Hills Stadium, the same place they played in 1971 before the venue stopped hosting concerts for decades (it stopped in the late '80s and began doing so again in 2013). It was their second NYC show on the tour after Barclays Center last Tuesday (5/26) and third in the area after hitting Long Island's Nassau Coliseum the week prior. They played an excellent set, but before that happened was another excellent set from their tourmates Joan Jett & the Blackhearts.
Joan Jett is a pretty great opener for The Who. Like that band, she's important, influential and still sounds relevant today, but her brand of punk/hard rock surely owes a thing or two to early Who. And she had no trouble getting their crowd going. Even if you've never actively sought out her music, just about anyone who's listened to classic rock radio can sing along to "I Hate Myself for Loving You" and her version of "I Love Rock 'n' Roll" (which, in a stadium full of Who fans, is pretty much everyone). At the same time, we got "Cherry Bomb" and "You Drive Me Wild" off The Runaways' 1976 debut album. Maybe those had a little less of the crowd singing, but they're classics of the early punk era and Joan still delivers them with the energy they demand.
After Joan's 11-song set, The Who took things back all the way to 1965, kicking off their set with "I Can't Explain." (It was almost the same setlist as Barclays Center -- we didn't get "A Quick One.") Like Joan, or maybe more accurately like fellow early seventy-something Paul McCartney, Pete Townshend and Roger Daltrey just show absolutely no sign of slowing down. Roger mentioned on stage that they might not be able to do this for much longer, but it's hard to believe him. I wasn't around to see them in the '60s/'70s, but Roger Daltrey's still prancing around and swinging his mic and Pete Townshend's still windmilling that guitar just like all the old live footage. He tends to end the show with his guitar in one piece these days though. Not every band can successfully rock a stadium, especially one with 50 years behind them and only half of their classic lineup, but The Who can and they do it in a way that's genuinely enjoyable.
The Who in Austin in April (more photos by Tim Griffin)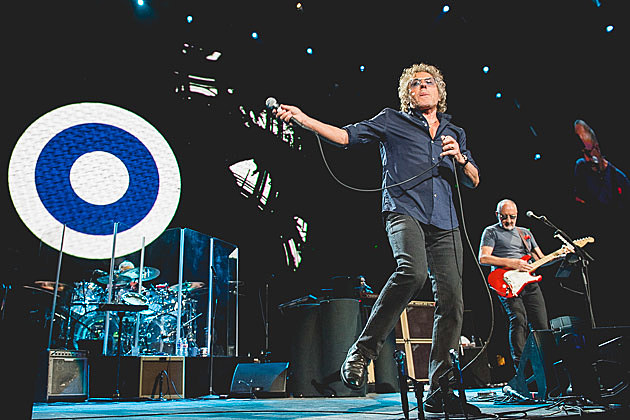 Like they have been for about 20 years, Daltrey and Townshend are joined by Ringo Starr's son Zak Starkey on drums, and they've also got Pete's younger brother Simon on guitar, Pino Palladino on bass, and three keyboardists. Tributes to Keith Moon and John Entwistle were shown on the stage's screen between sets, and they also had multiple montages with photos of the classic four-piece playing during certain songs. The spotlight was of course always on Pete and Roger, but it's also pretty fun to watch Zak Starkey do his thing. He's no Keith Moon, but some say he's better than Ringo.
The setlist was also almost flawless. It seemed a little unnecessary to include the dated '80s pop of "Eminence Front" with so many classics from the '60s and early '70s that could've been played, but other than that it was hit after hit. "The Kids Are Alright," "I Can See For Miles," "My Generation," "Bargain," "Love, Reign O'er Me," "Pinball Wizard," "See Me, Feel Me," the list goes on. For myself and so many other rock fans, these are foundational songs that are embedded in you for as long as you can remember. But aside from being rock history, they're also just great songs and it's pretty amazing that we still get to see them passionately performed by two of the guys who created them.
The Who and Joan Jett's tour picks back up again in late summer/early fall, and returns to the NYC-area on 10/25 at Prudential Center and 10/27 at MSG (tickets). We didn't get pictures of the Forest Hills show, but you can check out our pictures from the Austin show if you haven't already.
Zak Starkey also plays NYC two more times this week with his band Sshh. They open for reunited shoegazers Ride (whose lineup includes Zak's former Oasis bandmate Andy Bell) when that band's tour hits Music Hall of Williamsburg on Monday (6/1) (sold out), and they headline Santos Party House on Tuesday (6/2) (tickets).
The Who and Joan Jett's setlists and a video from Forest Hills, below...

---
Joan Jett Setlist
Bad Reputation
Cherry Bomb
Do You Wanna Touch Me (Oh Yeah)
You Drive Me Wild
Light of Day
Love Is Pain
The French Song
Different
I Love Rock 'n' Roll
Crimson & Clover
I Hate Myself for Loving You
The Who Setlist
I Can't Explain
The Seeker
Who Are You
The Kids Are Alright
I Can See for Miles
My Generation
Behind Blue Eyes
Slip Kid
Bargain
Join Together
You Better You Bet
I'm One
Love, Reign O'er Me
Eminence Front
Amazing Journey
Sparks
Pinball Wizard
See Me, Feel Me
Baba O'Riley
Won't Get Fooled Again