The Wonder Years, Motion City Soundtrack, State Champs & You Blew It! played 2 nights at Webster Hall (pics, review)
The Wonder Years @ Webster Hall - 10/18/15

Back in early September, The Wonder Years released their fifth album, No Closer to Heaven. It's a polished pop punk record even people who aren't normally fans of that genre could end up falling in love with. I wrote about why. This past weekend, they brought their tour in support of it with Motion City Soundtrack, State Champs and You Blew It! to NYC for Webster Hall shows on Saturday (10/17) and Sunday (10/18), the first of which was sold out and the second almost was. I caught Sunday's.
Past Wonder Years shows have opened with a bang, but they're taking a different approach for this tour. Like on No Closer to Heaven, they began with the post-rocky build of "Brothers &" and segued directly into lead single "Cardinals." The stage was flooded with bold, vivid lighting and at a few particularly triumphant moments they shot bursts of smoke out in front of the band (closer to pyrotechnics than fog machines). They were very clearly matching their live show to the gorgeous, matured, cathartic release of their new album, and it worked.
The visual aspect of the stage set up isn't all The Wonder Years had going for them though. They gave us pretty much everything you'd want from a great melodic rock show. I talked about them in that above-mentioned article from a defensive standpoint, as the kind of music they're playing is often a highly-maligned genre. But The Wonder Years deserve to be taken on their own terms, apart from any scene, and that couldn't be clearer at the Webster Hall show. If you're gonna compare them to other pop punk bands, they never fall into over-eagerness, overly snot-nosed vocals, New Found Glory knockoffs or lovelorn cliches. And if you're going to compare them to indie rock, something like 80% of the bands in that genre wish they had a rhythm section this good or a singer this powerful. There was no moment of the show where something dragged or you wished the band was a little tighter. It was a super professional, emotionally bare performance with absolutely no inhibitions.
After the NCTH opener, they went straight into The Greatest Generation highlight "Passing Through A Screen Door" and mostly split things pretty well between those albums (though we got a few off Suburbia and one off The Upsides). They pretty much got all the standouts in there too -- "There, There," "The Bluest Things on Earth," "I Don't Like Who I was Then," "Dismantling Summer," etc. They ended the pre-encore set with TGG's colossal closer "I Just Want To Sell Out My Funeral" and then opened up the encore with the atmospheric "Cigarettes & Saints," which had guitarist Matt Brasch acting as second drummer and Soupy taking over on guitar. There aren't many good ways to follow that, but turned out "Came Out Swinging" worked just fine.
Motion City Soundtrack

Before them it was Motion City Soundtrack, an older band who also were not entirely accurately tied to the Warped Tour world, and one I admittedly haven't kept up with too well since 2005's Commit This to Memory. I kinda regret that now though, 'cause their whole set sounded pretty great. They've got a new album, Panic Stations, their second back on Epitaph after briefly going to a major. It fits in pretty well with the interesting newer bands Epitaph's been signing (Joyce Manor, TWIABP, Pianos Become the Teeth), and like a lot of their older material it's pretty Weezer-y. (It's also better than most of what Weezer has put out in the past few years.) They of course gave us plenty of old favorites too -- "The Future Freaks Me Out," "Everything Is Alright," "My Favorite Accident" and more. Good set.
Before them it was State Champs and opening was '90s-style emo revivalists You Blew It!, who I unfortunately missed because of Ticketweb's advertised 7 PM start time (they actually played from 6:30 to 6:55). Our photographer caught everyone though, and pictures continue, with TWY and MCS' setlists, below...

---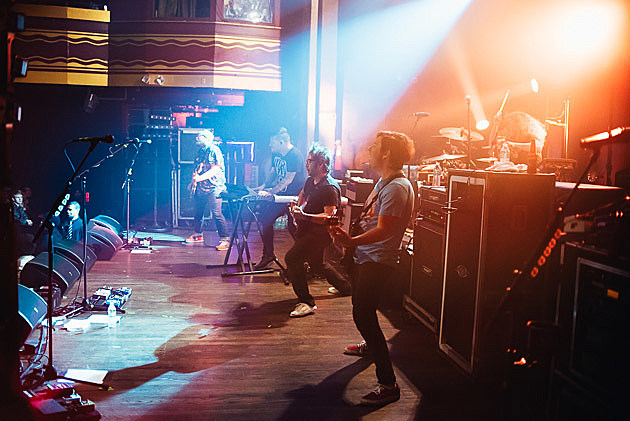 Motion City Soundtrack Setlist (via)
Anything At All
Everything Is Alright
L.G. FUAD
Gravity
I Can Feel You
Her Words Destroyed My Planet
Lose Control
The Future Freaks Me Out
It's a Pleasure to Meet You
When "You're" Around
Capital H
This Is for Real
Last Night
Attractive Today
Heavy Boots
Hold Me Down
My Favorite Accident
The Wonder Years Setlist (via)
Brothers &
Cardinals
Passing Through a Screen Door
Local Man Ruins Everything
Logan Circle
Hoodie Weather
You in January
There, There
A Song for Ernest Hemingway
The Bluest Things on Earth
Coffee Eyes
A Raindance in Traffic
The Devil in My Bloodstream
I Don't Like Who I Was Then
Dismantling Summer
I Just Want to Sell Out My Funeral
Encore:
Cigarettes & Saints
Came Out Swinging