The World Is A Beautiful Place & I Am No Longer Afraid To Die, Foxing, TTNG & Brightside @ MHOW (pics, review)
TWIABP / Foxing

The awesome double-billed tour of The World Is A Beautiful Place & I Am No Longer Afraid To Die and Foxing landed in NYC Thursday night (12/3) for a sold-out show at Music Hall of Williamsburg. I missed openers Brightside (our photographer didn't) but got there during the second band, UK trio TTNG. They told the crowd they're about to start recording a new album and they played some new songs that fit right in with the old ones, filled with the kind of clean mathy guitars and mellow vocals that fans of various Kinsella bands would immediately find familiar. They were good.
Then it was Foxing, fresh off the release of Dealer, which they played plenty of. The few off their debut got the crowd going crazier than the Dealer songs, but the new stuff was no less phenomenal. Foxing tour like crazy, and they've become the kind of band where you can get completely lost in their performance. They've got soaring atmospheric guitars, gorgeous strings and horns (most members play more than one instrument on stage), and the guys up front are constantly thrashing their bodies around without an ounce of restraint. I was on one of the risers in the venue, but watching the kids up front rushing the stage and screaming every word right back in Conor Murphy's face, it was impossible not to be moved.
As if Foxing's set wasn't intense enough, TWIABP wrapped up the show with one at least as mesmerizing. Their shows aren't always this way. They (in)famously played that one Cameo show where they were pissed at the venue and only played two actual songs in their set (they talked about this Thursday night too, and since Cameo just closed they eulogized it from the stage: "Rest in shit, Cameo"). But at this show they weren't messing around. The band were all in dark clothes and lit up by nothing but white bulbs behind them, and seeing them in a bigger room like MHOW actually worked to their advantage. It was the first time their nine thousand members weren't crammed together, and the extra breathing room only made them look more massive.
Like Foxing, they just released an album that bests everything they've done prior (Harmlessness), and it was a thrill to see those songs come to life. The back and forth vocals between David Bello and Katie Shanholtzer-Dvorak on "January 10th, 2014" were even more triumphant than on record. The shift from the first half of "I Can Be Afraid of Everything" to the second was harder hitting than ever. They worked in gripping post-rock interludes between songs, and with four guitars, keys, violin and a powerhouse drummer all going at once, there were hardly moments when they weren't creating a towering wall of sound. And as an added bonus, Greg Horbal (who isn't exactly a former member, but doesn't play live with them these days) joined them for his vocals on "Picture of a Tree That Doesn't Look Okay" and "Getting Sodas," the latter of which also had several guest singers join for the song's ending (as they've done before). After that, the lights came right back on and their encore-less set was done.
Pictures from the MHOW show continue below...

---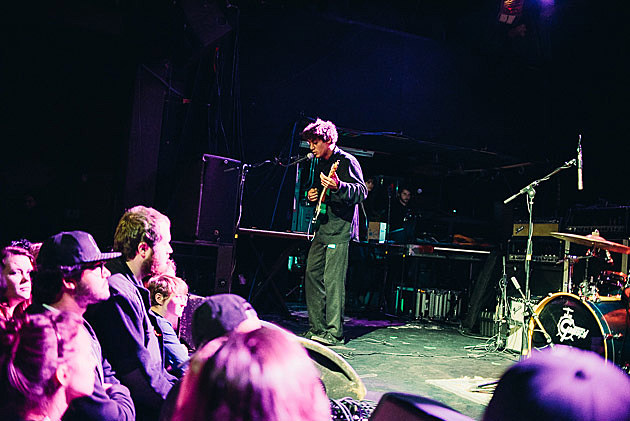 The World is a Beautiful Place and I Am No Longer Afraid to Die