The Year in Metal (BBG's best of 2009)
Samantha Marble
Dave Verellen of Narrows (more by Samantha Marble)

Another year gone, but not without lasting memories! Eyehategod (x2). Akitsa. Rorschach (x2). BV-BBG @ CMJ. Ludicra. BV @ Northside. Keelhaul... Not to mention the tons of memories jogged by my turntable and iPod. Estimates place the number of albums released in 2008 at 115,000, and while similar data for 2009 is scarce, I think that number seems on the low side. With so many to choose from, you can imagine that it was tough to sift through 20 (22 actually) that represented my year...

===
20. Burnt By The Sun - Heart of Darkness
You know how most bands run out of ideas and their last album is a mish-mosh of disparate influences and bad ideas? Heart of Darkness is nothing like that.

19. Absu - Absu
First thing first, the Absu responsible for Tara is a different band, both in lineup and approach. To compare that (admittedly excellent) record to the recently minted S/T effort is, as they say, apples and oranges. Proscriptor McGovern's impressive new incarnation of "mythological occult metal" is razor sharp, and especially impressive on tracks like the unreal "13 Globes", The Absu Of Eridu & Erech" and "Girra's Temple", any of which could proudly stand next to Tara classics like "Pillars of Mercy" or "Four Crossed Wands".

18. Magrudergrind - Magrudergrind
Is it grind? Powerviolence? What ever you call Magrudergrind's self-titled LP, you definitely have to call it mailcious. Save for the sludgy and raucous "Bridge Burners", Magrudergrind deliver next-level speed-demon beatdowns with unabashed power, interlacing with samples from Midnight Express, Boyz N The Hood, and even interludes resembling a DJ's turntable juggle ("Heavier Bombing").

17. Krallice - Dimensional Bleedthrough
It's exactly what you'd expect, but with a twist. The Brooklyn boys deliver another technical yet brutal balancing act on their latest LP, this time employing the low end bellows of bassist Nick McMaster. The result adds a different facet to the already impressive band.

16. Keelhaul - Keelhaul's Triumphant Return To Obscurity
Titling your first album in six years Triumphant Return To Obscurity with song titles like "Everything's a Napkin" is very telling. Keelhaul's sense of humor -or more accurately, sense of FUN- permeates through Triumphant Return To Obscurity, a jaw-dropping record of incredible instrumental prowess and equally killer songwriting.
Dare I say, this is as good as their last?

15. Javelina - Beasts Among Sheep
Javelina must be orphans. The Philadelphian foursome's sound hails from south of the Mason-Dixon line and recalls greats like Buzzoven, and what other reason could explain their foul demeanor. Javelina's debut was one of my favorites of 2008 and Beasts Among Sheep moves further into the lair, staying war-hungry and smelling out false metal. Beasts among sheep, indeed.

14. Gaza - He Is Never Coming Back
I went to college in the south, Georgia to be exact. If you could get away with wearing a light jacket, without fail a man (exclusively) could be found outside of the student center belting out a sermon chastising the heathens for our hedonistic alcoholism and blasphemous premarital sex (he obviously didn't know me nor the school's male to female ratio too well). Gaza is the arch-nemesis of Mr. Holier-than-thou, blending atonal hardcore with sludge, grind, quirky directional shifts, and melancholic acoustic guitar towards a single goal: the obliteration of religion and the church. Next time I head back to campus, I'm bringing my boombox.

13. Church of Misery - Houses of The Unholy
Poor Led Zeppelin pun aside, Houses Of The Unholy is instant; electric shotgun blues dedicated to serial killers (like Albert Fish, Charles Starkweather, etc) that comes off like Clutch with a sheet of acid tabs and anger management issues. Badass.

12. Altar of Plagues - White Tomb, Wolves In The Throne Room - Black Cascade
2007's Two Hunters was a favorite, but Wolves In The Throne Room's Black Cascade is a completely different animal. After incorporating tons of shoegaze-y atmospherics in with keys and classical female voice, WITTR aimed to remove elements not easily presented in a live setting. The result is more lush and emotional that you would think.
Conversely, it could be argued that Altar of Plagues adheres closer to WITTR's original ambient and shoegaze tendencies on Two Hunters. The Irish band has the ability to blast as hard/fast as the best, yet wings are stretched much further; White Tomb encapsulates elements of post-metal, post-rock and blackened doom in with their madness. The result is nothing short of monumental.

11. Asphyx - Death... The Brutal Way, Funebrarum - The Sleep Of Morbid Dreams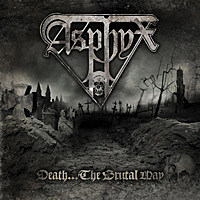 Was it Swedish Death Metal (the book) that started the ruckus or is the ebb and flow of metal in general? Either way, 2009 saw a major resurgence of old school death metal capped off with the re-emergence of Bolt Thrower and a re-Martin Van Druunen-ed Asphyx at Maryland DeathFest, not to mention the litany of similar sounding acts. Of all bands associated with the style, Asphyx and Funebrarum released my favorite LPs in 2009.
Asphyx's lack of mercy is unquestionable on their new release, and if it weren't for Death... The Brutal Way's crystalline production (that manages to keep that SDM crunch), the album may be able to pass for their fifteen+ year-old follow-up to Last One On Earth (MVD's last record with the band). This is old-school brutality through and through.
A little bit newer on the scene (but still veterans) is NJ's Funebrarum, who's The Sleep of Morbid Dreams is their first LP in eight years. Funebrarum is one of the few bands able to expand on the dark promises laid by DM's early forefathers without coming off as strictly idol worship. Sick shit.

10. Coalesce - OX

Ten years is a long time away from the studio. Yet listening to OX it becomes evident that since their landmark 0:12 Revolution in Just Listening, one thing has remained constant: Coalesce churns out schizophrenic, powerful, and mandatory hardcore. Between 0:12 and OX, Coalesce has undeniably proven themselves as part of a pioneering hardcore triumvirate with Converge and Botch. OX is unpredictable and undeniable.

9. The Atlas Moth - A Glorified Piece of Blue Sky
A Glorified Piece of Blue Sky is marked by three vocal styles: Stavros Giannopoulos expertly switches between low-end hardcore scream and black metal screech, while guitarist David Kush precisely kills soaring melodic vocals that don't come off sappy, a tough feat. Its an indication of the record's trajectory and many influences, which all seem to meld without issue. Muscular and riffy doom/sludge gives way to psychedelic blues and ambient passages before the clouds disappear and melodicism prevails. This is epic stuff, people. Get familiar.

8. Sunn O))) - Monoliths & Dimensions
Haters, it takes more than full stacks and a few fuzz pedals. And much discussed drone doom duo have gone more ambitious than ever with Monoliths & Dimensions, this time taking their twisted vision from a women's choir in Vienna to the orchestra pit and even to the church steeple. The riffs are there, but this time the rumble resides next to Bela Lugosi-like spoken word, church bells, orchestral arrangements, and even clean guitar tones (!). After the band's recent run in celebration of their inaugural release, the comparatively stripped down Grimmrobe Demos, it's easy to see that sunn O))) has taken this simple concept to the moon and back.

7. Funeral Mist - Maranatha
Who wants to see an old lady spread open her vajayjay? No one, and Arioch knows that, which is why said orifice is front and center on the cover of Funeral Mist's new LP. As you may have guessed, Maranatha does not do well with subtlety - the putridity is piled on in shovelfuls. But although the blasphemy is heavy-handed, the approach is far from singular: "Blessed Curse" utilizes a half-time crust punk beat over samples from a sermon, half of "Jesus Saves" is more blackened folk, while choirs and orchestral movements interject blasting on "A New Light". This is ugly stuff, and a much different approach than Arioch's other gig, Marduk.

6. Tombs - Winter Hours
Winter Hours' opening track is a bit misleading; "Gossamer" heads in a direction similar to Mike Hill's previous outfit, Versoma, blending hardcore and shoegaze-y psychedelia. Though Versoma-like moments pop-up throughout the proceedings, Tombs takes those roots and infuses them with icy black metal and to create a versatile hybrid that pummels toward catharsis before movement towards introspection and emotion.

5. Yob - The Great Cessation
The Great Cessation isn't merely a doom-underdogs-reform-for-due-glory release, but more of a standalone testament of unmatched doom riff-tensity. The title track has the distinction of being the single most played song on my iPod this year; I can think of few moments more punishing than when clean guitars are interrupted halfway in (about 7:45) by a curtain of thundering guitars. This is my definition of muscular doom in 2009. Posers take note.

4. Converge - Axe To Fall

Axe To Fall is not as good as you've heard. That's not to say that the album is anything short of brilliant and simply one of the greatest achievements of the year, but to say that this is Converge's best effort since Jane Doe takes away from their considerable canon in-between. Converge is clearly on the top of their game, and on top of THE game (metal/hardcore that is) with Axe To Fall, another in a long line of effective and compelling records.

3. Teitanblood - Seven Chalices
Primitive, vile, and putrid: these are some of the many adjectives that come to mind during Seven Chalices. In between the many interludes lies some of the most discordant, destructive, and ultimately unfucwitable blackened death in a long time. Teitanblood have nailed great riffing and well-executed song-writing on Seven Chalices. Now they want to kill.

2. Cobalt - Gin
Multi-instrumentalist Eric Wunder and miltaryman/vocalist Phil McSorley have been Cobalt for years now, all while McSorley has been stationed in military installations across the globe. Though Eater of Birds was a resounding success, Gin ups the ante for the duo, cohesively blending moments of black metal, crust, prog, dark folk ala Angels of Light, and the kitchen sink into a cocktail that is decidedly eclectic and rewarding through repeated listens. Gin defies both classification and convention. Look out for Eric Wunder's new solo project Man's Gin next year.

1. Kylesa - Static Tensions
Much like my choice for last year, it came down to playability, and this year I rocked Kylesa more than any other heavy record. Static Tensions is crusty, sludgy, tribal, celestial without being in outer space, all with an ability to blend riff and melody, delivering on the promise of 2006's Time Will Fuse Its Worth. Kylesa's Georgian contemporaries/titans Mastodon and Baroness both released high profile records in 2009, but while Blue Record swam in same-y Red waters and Crack The Skye was overblown/riffless, it's Static Tensions that is the true champion 2009.
================================================
Honorable mentions:
Lord Mantis - Spawning The Nephilim
Hatred Surge - Deconstruct
Amesouers - Amesouers
Liturgy - Renihilation
Goes Cube - Another Day Has Passed
Mournful Congregation - The June Frost
Russian Circles - Geneva
Napalm Death - Time Waits For No Slave
Doomriders - Darkness Come Alive
Wormrot - Abuse
Arckanum - ÞÞÞÞÞÞÞÞÞÞ
Weekend Nachos - Unforgivable
Marduk - Wormwood
Portal - Swarth
Impetuous Ritual - Relentless Execution Of Ceremonial Excrescence
Culted - Below The Thunders Of The Upper Deep
Non-Metal favorites
Mt. Eerie - Wind's Poem
... And You Will Know Us By The Trail Of Dead - Century of Self
Washed Out - Life of Leisure
Dinosaur Jr - Farm
Bastard Noise - Rogue Astronaut
Raekwon - Only Built For Cuban Linx II
Mos Def - The Ecstatic
Fever Ray - Fever Ray
Future of the Left - Travels With Myself and Another
Kurt Vile - God Is Saying This To You
Cold Cave - Love Comes Close
Pissed Jeans - King of Jeans