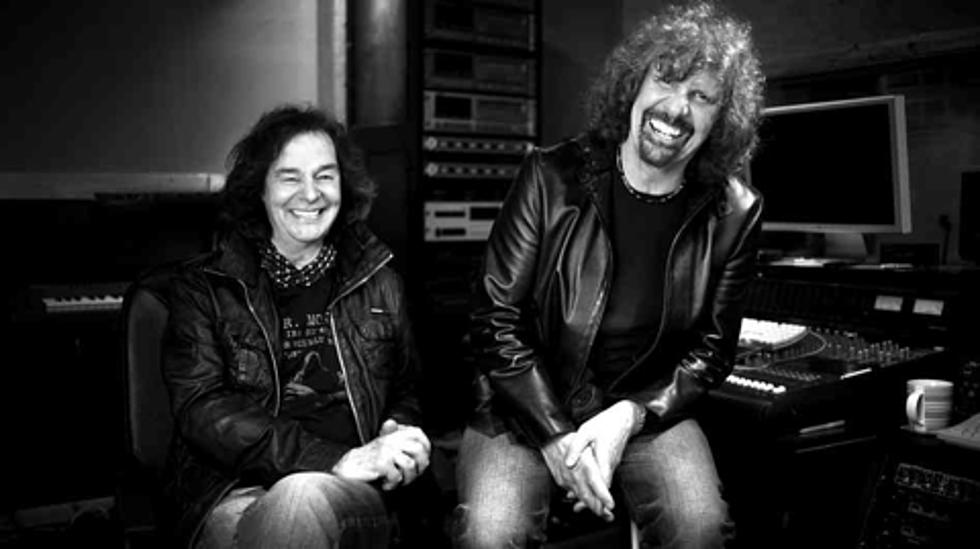 The Zombies expand tour, playing Central Park Summerstage w/ Django Django and Adam Green & Binki Shapiro (dates)
It was pretty exciting earlier this year when baroque pop legends The Zombies (who just released a RSD 12") toured with support from Elephant Stone, and now, as revealed in today's Summerstage 2013 lineup announcement, they'll be playing a show in NYC with another band they've surely influenced, Django Django. That show happens on June 15 at Central Park Summerstage and also includes Adam Green & Binki Shapiro and a DJ set by Modest P. The show is free to the public. It's a day show which runs from 3 to 7 PM so it could be a good one to catch before heading to Brooklyn for Northside Festival that night.
Adam Green & Binki Shapiro will be in the NYC-area even sooner when their tour with Father John Misty and Jessica Pratt hits Maxwell's on May 17 (sold out). UPDATE: We just learned that Adam Green & Binki dropped off the Father John Misty tour.
The Central Park show is part of The Zombies' US spring/summer tour which hits the Bergen Performing Arts Center (6/13) in NJ and Mohegan Sun (6/14) in CT right beforehand. All dates are listed, along with a video of their full Live on KEXP set at SXSW (where they were sounding especially great), below...

---
The Zombies Live on KEXP - SXSW 2013

The Zombies -- 2013 Tour Dates
May 1st 2013 Southend Palace Theatre UK
May 2nd 2013 Swindon Wyvern Theatre UK
May 3rd 2013 Cornwall Truro Hall UK
May 4th 2013 Selsey Embassy Theatre UK
May 5th 2013 Burnley Burnley Blues Festival UK
May 8th 2013 Birmingham The Jam House UK
May 10th 2013 Norwich Open UK
May 11th 2013 Worcester Huntingdon Halls UK
May 12th 2013 Leeds City Varieties Music Hall UK
May 14th 2013 Edinburgh Queens Hall UK
May 15th 2013 Dunfermline, Fife Carnegie Hall UK
May 16th 2013 Stranraer Ryan Centre UK
May 17th 2013 Gateshead The Sage UK
May 19th 2013 New Brighton Floral Pavilion Theatre UK
May 20th 2013 Manchester The Lowry UK
May 24th 2013 Margate Royal Theatre UK
May 25th 2013 Basingstoke The Anvil UK
May 26th 2013 St Albans Alban Arena UK
May 28th 2013 Sevenoaks Stag Theatre UK
May 29th 2013 Pontypridd Muni Arts Centre UK
May 30th 2013 Guildford G Live UK
May 31st 2013 Wimborne Tivoli Theatre UK
June 1st 2013 London IndigO2 at The O2 UK
June 8th 2013 Amsterdam Paradiso Netherlands
June 13th 2013 Englewood, NJ Bergen Performing Arts Center US
June 14th 2013 Uncasville, CT Mohegan Sun US
June 15th 2013 New York, NY Central Park Summerstage US *
June 16th 2013 Rockville, MD Parilla Center for the Performing Arts US
June 17th 2013 Annapolis, MD Rams Head On Stage US
June 20th 2013 Jim Thorpe, PA Penn's Peak US
June 22nd 2013 Uniontown, PA State Theatre US
June 23rd 2013 Buffalo, NY The Tralf Music Hall US
June 25th 2013 Chicago, IL Mayne Stage US
July 3rd 2013 North Truro, MA Payoment Performing Arts Center US
July 5th 2013 Hamden, CT Hamden Summer Concert Series US
* - w/ Django Django, Adam Green & Binki Shapiro