Thee Oh Sees played Mercury Lounge & the Bell House (pics)
Then, Thee Oh Sees played a Sunday night (4/5) Mercury Lounge show with Skeletons, Child Abuse, and Zs. I caught that performance, which showcased John Dwyer & Co.'s reverbed out garage rock sound in a set of short, to-the-point songs. The psychedelic-punk vibe worked for the band who seemed to thrive on an element of danger - Dwyer frequently jammed the mic into his mouth squeaking lead-lines in a kind of manic breathing/barking gesture. The band plays without a bass guitar (they were the third band of the night to do so) which gave their sound a weightless, centered quality that could've been found just as easily on the tiny speakers of a portable turntable or an FM radio. Songs started with only a quick count off by singer/guitarist Dwyer, who traded barely-intelligible melodic fragments with co-singer Brigid Dawson over the steady, held-back drums of Mike Shoun. Other guitarist Petey Dammit layed a simple, hypnotic foundation for the reverberating sounds on stage. The band compressed that into a concise set, played one encore, and headed home to San Francisco.
Thee Oh Sees' newest record, Help, just came out on In the Red Records. The band has a set of West Coast dates planned.
All Bell House photos and tour dates below...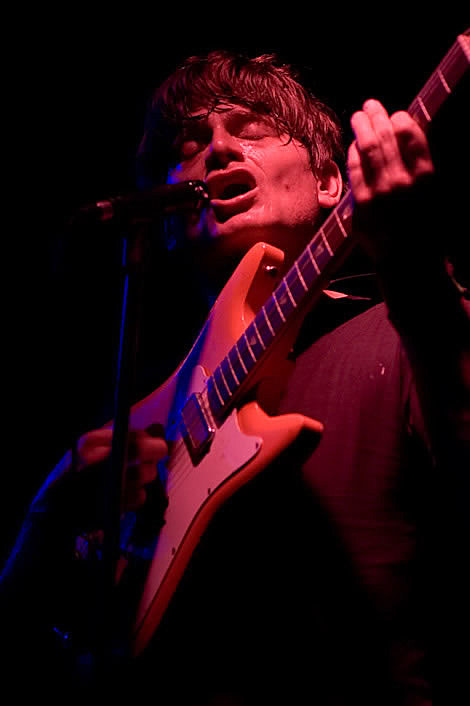 Thee Oh Sees - 2009 Tour Dates
Apr 14 - annies social club sf, California
Apr 29 - el ricon sf, California
May 1 - de young museum sf, California
May 4 - da knockout sf, California
May 8 - oberlin college oberlin college, Ohio
May 15 - amnesia sf, California
Jun 11 - the casbah san diego, California
Jun 11 - the casbah san diego, California
Jun 12 - tba la, California
Jun 13 - thee independent sf, California