These Are Powers – 2009 Tour Dates & Bell House pics
THESE ARE POWERS, the Brooklyn/Chicago based trio of future primitives have announced plans for a United States tour. The dates include select performances with Abe Vigoda, Bird Names and US Girls, and begin February 25 in Philadelphia, Pennsylvania, wrapping up on March 27 in Richmond, Virginia. Touring in support of All Aboard Future, available for pre-order from Dead Oceans on CD and LP. The vinyl is 180 grams, housed in a gatefold sleeve and includes a coupon to download the songs as MP3s. We would also like to extend an apology to Sarah Wilmer, whose gorgeous photograph was not credited on the LP.
Their next NYC show is tonight, Friday January 30th, with Dan Deacon and friends AT The 1896 (NOT AT DANBRO). They also have shows coming up at the recently-almost-burned-down Monster Island, Manhattan's Less Artists More Condos, the record store Other Music, 92Y Tribeca, and many other places across the country. All dates and more pictures from last week's show, below...

These are Powers...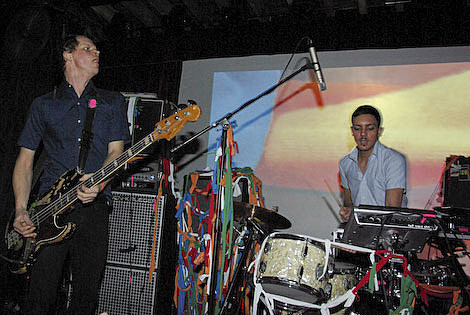 Johnny's Ponytail pics HERE. TAP dates below...
These Are Powers - 2009 Tour Dates
01/30 - Brooklyn, NY - The 1896 - Brooklyn Vs. Baltimore Battle w/ Dan Deacon, USAISAMONSTER, Thank You
02/06 - New York, NY - 92Y Tribeca w/ Bird Names
02/08 - Portland, OR - Backspace
02/13 - Brooklyn, NY - Monster Island - Art Show with Album Art
02/16 - New York, NY - Other Music
02/20 - New York, NY - Less Artists More Condos
02/25 - Philadelphia, PA - The Marvelous Music w/ U.S. Girls
02/26 - Pittsburgh, PA - Lava Lounge w/ U.S. Girls
02/27 - Chicago, IL - The Hideout w/ Bird Names, Gatekeeper, DJS Hunter Husar, Alex Valentine
02/28 - Grinnell, IA - Grinnell College - Gardner Lounge w/ Bird Names
03/01 - Minneapolis, MN - Triple Rock Social Club w/ Bird Names
03/02 - Lincoln, NE - Box Awesome
03/03 - Denver, CO - Rhinoceropolis
03/04 - Salt Lake City, UT - Kilby Court
03/06 - Seattle, WA - Vera Project
03/07 - Olympia, WA - The Northern
03/08 - Portland, OR - Backspace
03/11 - Chico, CA - Tion
03/12 - Santa Cruz, CA - Crepe Place
03/13 - Oakland, CA - Totally Intense Fractal Mindgaze
03/14 - San Francisco, CA - The Hemlock
03/15 - Los Angeles, Ca - The Echo/Part Time Punks
03/16 - Phoenix, AZ - Phix Gallery w/ Abe Vigoda, Wavves
03/17 - Albuquerque, NM - TBD
03/23 - Jackson, MS - 121 Milsaps
03/24 - Atlanta, GA - Eyedrum Gallery
03/25 - Athens, GA - Caledonia Lounge
03/26 - Chapel Hill, NC - Nightlight
03/27 - Richmond, VA - Church of Crystal Light w/ Diamond Black Hearted Boy