This Week in Indie – NON-Northside edition (Esser, Meat Puppets, Fol Chen, Telekenisis, An Horse, Thomas Jefferson Slave Apartments, So Cow, Exit 44 Fest & more)
The Meat Puppets

While for many area music fans (especially ones, like me, who live in Williamsburg or Greenpoint) the Northside Festival is going to be the main attraction (by guide to Day One, HERE), there are a lot of other things going on. Even other festival type things.
You may already know about Todd P's Unamplified Acoustic BBQ 2009 which happens on Sunday (6/14) at Fort Tilden Beach, featuring somewhere in the neighborhood of 50 performers. As the weather's supposed to be partly sunny, high of 80, this could be a great way to spend the afternoon... and you could still make it back to catch some Northside Performances.
On Saturday (6/13) there's the Exit 44 Festival which will be held at Wonderland in Astoria, Queens. Headlined by Tigercity and Project Jenny, Project Jan, the fest also features Action Painters, My Teenage Stride, Schwervon!, The Specific Heats and more. (See the flyer below for a full list of bands. Tickets are $10 in advance or $13 at the door.
The Meat Puppets are at Mercury Lounge this week - Thursday (still tickets available) and Friday. Their new album Sewn Together is the mellowest thing the band have ever released, but it's unmistakably a Meat Puppets album, with Curt Kirkwood guitar style, those distinctive harmonies and some really nice songs. (To be fair, the Meat Puppets have been pretty mellow since 1985's Up on the Sun.) And you know they're going to lean heavy on their classics -- Meat Puppets II, Up on the Sun, "Backwater." And getting to see them somewhere small like Mercury Lounge will be a real treat.
Fol Chen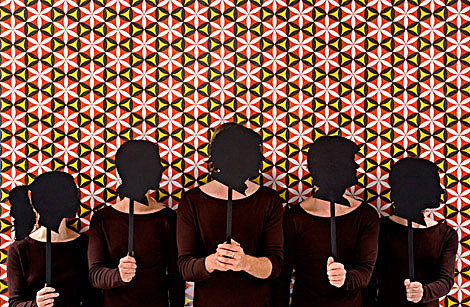 L.A.'s Fol Chen are playing their first-ever NYC show this Sunday (6/14) at Mercury Lounge. If you haven't heard them, there are a couple MP3s at the top of this post. There's a little bit of Grizzly Bear/Animal Collective density in their sound, but Fol Chen are poppier, sunnier, befitting a West Coast disposition. (They sorta remind me of Psapp if you know them.) Their debut, Part I: John Shade, Your Fortune's Made, came out back in February on Asthmatic Kitty without much of a splash but the band have recently started to get more attention, especially in the UK, where the band are currently on a whirlwind, 6-day/7-show visit to London. The Mercury Lounge show will be them barely off the plane. Hope they won't be too jetlagged. Tickets are on sale.
That Mercury Lounge show is solid all around. Headlining are Brisbane, Australia's An Horse who recently released their debut, Rearrange Beds. It's one of those unassuming records that isn't particularly groundbreaking and doesn't hit you at first, but then you find yourself coming back to it a lot, or saying "oh what's this?" when it comes up on shuffle. Sort of the same reaction I had with Wye Oak, another seemingly unassuming duo. The sound is so simple you have a feeling they're going to be pretty good live.
An Horse are on tour with recent Merge signees Telekinesis whose self-titled record I also like a lot. Produced by Chris Walla, the album kind of feels like Merge's greatest hits all in one band: a little New Zealand pop, a little of Superchunk's anthemecism, solid pop hooks (take your pick of their roster)... it's good stuff. I didn't catch them the last time they were in town but may have to this time. In addition to the Mercury Lounge show, Telekinesis and An Horse also play Union Hall on Saturday (6/13).
An Horse

Then Saturday (6/13) at the Bell House is Columbus, OH-based webzine The Agit Reader's One Year Anniversary Party. Columbus, OH's Times New Viking are the official headliners, but the real draw of the show is their '90s lo-fi punk elders The Thomas Jefferson Slave Apartments, who began playing again a couple years ago after nearly a decade of inactivity. This will be thier first non-Columbus show since getting back together. In case you don't remember them, I defer again to The Trouser Press:
Most of the bands operating under the Luddite doctrine that's been dubbed "lo-fi" are quiet...sweet-tempered...pussycats even. This Columbus-spawned quartet -- the brainchild of former Great Plains frontman Ron House -- makes like that same pussycat injected with a goodly dose of the rabies virus, tearing apart the shabby confines of its 4-track studio with glee. The Slave Apartments (to use the shorthand preferred by the band) spent a few years releasing limited-edition singles -- including one that never went on sale at all; you had to write House directly with a good reason for him to send you one for free. The edition "sold" out quickly, and from the exhausting rush of Bait and Switch, it's easy to see why. House's high-pitched whine gives an oddly vulnerable edge to self-deflating tracks like "My Mysterious Death (Turn It Up)" and a reprise of the prior EP's "You Can't Kill Stupid" (which addresses the singer's early-'90s battle with cancer), while Bob Petric's splatter-punk guitar riffs action-paint the margins of pieces like the spot-on cover of "Cyclotron" (from the catalogue of Cleveland proto-punks Electric Eels) with unremittingly chaotic abandon. The topper, however, is the revolutionary screed "RnR Hall of Fame," which tosses verbal firebombs at the very concept of the Cleveland rock hall, advocating that someone "blow it up...before Paul Westerberg gets in." Bait and switch? Duck and cover is more like it.
As mentioned before, So Cow is swinging back through NYC before heading home to Ireland. In addition to the Monday show at Union Hall we already posted about, he's playing Sunday night at Brooklyn's newest DIY venue, Shea Stadium, along with Knight School, The Specific Heats and The Gusties.
Esser

And finally, moving slightly into next week, UK artist Esser makes his NYC debut at Le Royale on Monday (6/15). Those who follow the NME scene closely (very very closely) might remember Ben Esser as one third of short-lived group LadyFuzz. Looking like he stepped out of 1982, Esser mixes bubbly synthpop, 2-Tone ska, Lord Kitchener style calypso with a hint of '90s Britpop. He's been releasing a string of downloadable singles since last year, many of them were very good and one of which, "Headlock," made my Top Ten Singles of 2009. You can download it at the top of this post. All of those singles, and about four other songs, are on his debut album, Braveface, which is out now in the UK. I caught him at SXSW and despite some technical difficulties and playing under less than ideal conditions, he was pretty good. And the show at Le Royale is free with RSVP.
Videos, flyers, and tour dates after the jump...

Esser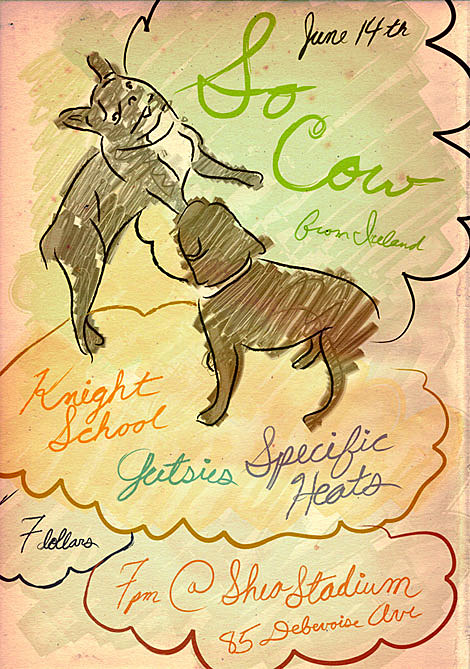 Meat Puppets - "Backwater"

Meat Puppets - 2009 Tour Dates
Jun 10 Paradise Boston, Massachusetts
Jun 11 Mercury Lounge New York, New York
Jun 12 Mercury Lounge New York, New York
Jun 13 Rock 'n Roll Hotel Washington DC
Jun 14 Cat's Cradle Carrboro, North Carolina
Jun 16 The Earl Atlanta, Georgia
Jun 17 Exit/In Nashville, Tennessee
Jun 19 2 Pontiac Garage at H.O.B. Dallas, Texas
Jun 20 Parrish Austin, Texas
Jun 24 Rock Island Brewing Co. Rock Island, Illinois
Jun 25 Summerfest Milwaukee, Wisconsin
Jun 26 The Reverb Rock Garde Waterloo, Iowa
Jun 27 The Mill Iowa City, Iowa
Jul 9 What's Up Lounge Mankato, Minnesota
Jul 10 The Warehouse LaCrosse, Wisconsin
Jul 11 St John's Block Festival Rochester, Minnesota
Jul 12 7th Street Entry w/ Retribution Gospel Choir Minneapolis, Minnesota
Fol Chen - "No Wedding Cake"

Telekinesis - Awkward Kisser

An Horse/Telekinesis 2009 Tour Dates
Jun 8 Pike Room Pontiac, Michigan
Jun 10 The Horseshoe Toronto, Ontario
Jun 11 Club Lambi Montreal, Quebec
Jun 12 Iron Horse Music Hall Northampton, Massachusetts
Jun 13 Union Hall Brooklyn, New York
Jun 14 Mercury Lounge New York, New York
Jun 16 Kung Fu Necktie Philadelphia, Pennsylvania
Jun 17 Black Cat Backstage Washington DC, Washington DC
Jun 18 Local 506 Chapel Hill, North Carolina
Jun 19 The Earl Atlanta, Georgia
Jun 20 The End Nashville, Tennessee
Jun 21 Off Broadway St Louis, Missouri
Jun 22 Slowdown Omaha, Nebraska
Jun 23 Hi Dive Denver, Colorado
An Horse - More 2009 Dates
Jun 27 Rescue Rooms w/ Silversun Pickups Nottingham
Jun 28 Thekla w/ Silversun Pickups Bristol
Jun 30 02 Academy w/ Silversun Pickups Birmingham
Jul 1 Stereo w/ Silversun Pickups Glasgow
Jul 2 Academy 2 w/ Silversun Pickups ~moved from Academy 3~ Manchester
Jul 3 Digital w/ Silversun Pickups ~moved from Audio~ Brighton
Jul 5 The Windmill Brixton
Jul 6 02 Academy w/ Silversun Pickups Oxford
Jul 7 Heaven w/ Silversun Pickups London
Jul 8 Camden Barfly London
Jul 10 White Light @ The Lexington London
Jul 11 Hultsfred Festival w/ Kings Of Leon, The Killers, Franz Ferdinand, Peter Bjorn and John & more Hultsfred
Jul 17 Slottsfjell Festival w/ Kaiser Chiefs, The Streets, The Wombats, Foals, Turbonegro & more Tonsberg
Telekinesis -- More 2009 Tour Dates
Jun 23 Hi-Dive w/ An Horse Denver, Colorado
Jun 27 The Echoplex Los Angeles, California
Jun 28 Bottom Of The Hill San Francisco, California
Sep 5 Bumbershoot! Seattle, Washington