This Week In METAL (07/15/08)
by Black Bubblegum
DOWNLOAD: Black Elk - "Eyebone" (MP3)
DOWNLOAD: Thou - "An Age Imprisoned" (MP3)
DOWNLOAD: Thou - "I Was Ignored. And Judged. And Cast Down." (MP3)
DOWNLOAD: Caina - "Willows And Whippoorwills" (MP3)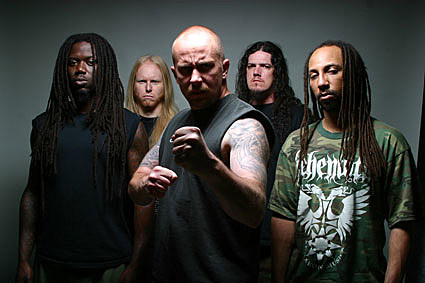 Sunday night (July 13th) at their BB King's show, Strong Island's own Suffocation confirmed it's participation in Carcass's "Exhume To Consume" tour (as we reported earlier). So let's recount, shall we? That makes Carcass, Suffocation, Necrophagist, & Aborted, but there are also rumors circulating that Rotten Sound (who still haven't confirmed) and 1349 are on board as well, bolstered by Sonar's (a club in Baltimore, MD) advertisement for "Carcass, 1349, Aborted, Rotten Sound, and special guest TBA". Considering that Necrophagist & Aborted have been confirmed for the tour, that should round out the lineup. We'll keep you posted, but just the thought of Carcass, 1349, Suffocation AND Rotten Sound... yikes. Sounds awesome.
Early Man have announced that they have signed with The End and will release a new EP this fall produced by Jack Endino! Early Man is currently on the road with Valient Thorr and are scheduled to hit the Bowery with Monotonix on July 25th. Tickets are still available. Tour mates Skeletonwitch have added a few headlining dates around the Early Man tour, including one at the Knitting Factory on July 26th with the mighty Titan and Krallice. Tickets are on sale. More Skeletonwitch headlining dates below. Skeletonwitch hits the road this fall on the Blackest Of The Black tour. Also available over at Metalkult, footage from their April show at BB Kings.
The mayhem-inducing Gaza have announced they will head into the studio, "hoping" to have their new record out in October. Gaza released their last record, the critically acclaimed I Don't Care Where I Go When I Die in 2006. Me = stoked.
Cursed, At The Gates, Agnostic Front and much much more below......

Thou

Now here's a band to look out for, or cross the street when they come your way... Baton Rouge's Thou takes a cue from the asphyxiatingly slow doom of Louisiana brethren Eyehategod, pounding away at thunderous riff after riff. The band initially dropped Tyrant on One-Eye Records (now long gone), but will see a repress by the dark forces at Southern Lord. The band also just dropped Peasant via Autopsy Kitchen (buy it here) with the vinyl on Level Plane later this year, but the band has made two tracks available for download above and the whole thing available on their site! Download it, be sickened/bowled over, and support the band by buying the CD/wax or catching them on tour!
Cult Of Luna dropped Eternal Kingdom in the US last Tuesday (July 8th), and we have two copies up for grabs! Just email us at BVCONTESTS@HOTMAIL.COM (subject: Cult Of Luna). Winners will be picked at random and contacted.
Cursed - "The Void"

a href="http://www.myspace.com/astormoflight">A Storm Of Light has announced a that they will record two songs with Joel Hamilton at Studio G for an upcoming split with Nadja! The release will include two new songs by A Storm Of Light as well as one Nadja track. There are also plans in the works to remix the other's song, in hopes of turning it into a double LP. Look for it this fall on Robotic Empire.
Original members Kelly Shaefer and Steve Flynn of Atheist are currently working on new material! No word on what (if anything) that might mean, but there are slightly more details at Blabbermouth.
Young Widows have announced that they will drop their new album, entitled Old Wounds, this fall on their new home Temporary Residence Limited. Old Wounds will be released near the same time that Young Widows will do a series of four split seven-inches with their new label. Details to come. Young Widows side project Brain Banger have announced a tour of the Northeast and Midwest. Check out tour dates below and help 'em book a show in NYC!
The Secret - "Funeral Monolith"


The secret - Funeral monolith from Nocturnal Movies on Vimeo.
Sourvein has announced that they have signed to Candlelight Records will release a new EP, Imperial Bastard, which will hit the streets on September 30th. Sourvein dropped the Ghetto Angel EP earlier this year.
Viking metallers Amon Amarth have OFFICIALLY announced their US tour, including an NYC date at Irving Plaza (no ticket info yet). Dudes in loin cloths and chain mail are stoked. Support comes from Belphegor, Ensiferum, and The Absence.
Black Elk will drop their follow up to their massive 2006 S/T debut on Crucial Blast this October 21st. Always A Six, Never A Nine will no doubt be showcased at some of their current west coast dates, but also look for the band to hit the road a little harder when Always drops. Meanwhile, dig on Black Elk's "Eyebone" from their S/T debut above.
Zozobra (featuring Caleb Scofield of Cave-In and, on this album, Aaron Harris of Isis) will drop "Bird of Prey" on July 22nd on Aaron Turner's (also Isis) Hydra Head records. Dem boys are currently streaming "In Jetstreams" over at their myspace, but you can download the track over at Metalsucks.
The Gates Of Slumber live in Baltimore, July 5, 2008

At The Gates have launched a North American Tour Diary at their myspace, detailing their two night stand at Irving Plaza. In addition, you can check out a ton of photos from the Worcester, MA show over at ReturntoThePit.com. In related news, the Bjorler twins (of At The Gates) have announced that The Haunted their new album, (due for Century Media this October) entitled Versus, will mark a return to their "trademarked aggressive, thrashy sound".
Agnostic Front has sandwiched an a few East Cost dates in between their current European Tour and an upcoming tour of South America. Those east coast dates include one "For Their Family" at the Knitting Factory on August 21st! Tickets are on sale. Support comes from Jamey Jasta's solo band called, you guessed it, Jasta and Malas Noches.
Shai Hulud teamed up Q-Boro's own Full Blown Chaos, touring coast to coast on the strength of Shai Hulud's new album Misanthropy Pure. Along the way they will cross path's with Philly's Reign Supreme who are currently on a North American tour of their own. Tour dates for both are below.
Lemmy (Motorhead) got into a liiiitle bit of hot water in Deutchland last week after an investigation was launched into whether he committed a crime for possibly wearing a Nazi hat in a German photo shoot. Eeek. Of course, lord knows the man has an obsession with war imagery.
PUNISHMENT DUE:
It's a slow week for releases, so instead, I would play catch up with some of the records in my previous "Week in Metal" posts that you might not have scooped up already! Or, check out one of the other great non-heavy releases here!
NEWS BLAST (BEATS)
- Integrity has dropped a little video snippet of their recent European tour with Converge, Coliseum, and Amenra. Check it out here.
- Caina has posted a new track from his new album, Temporary Antennae. Download it above.
- Black Market Activities labelmates Architect and The_Network both have posted pre-production rough mixes of new songs.
- ASRA has announced a show at the Charleston on July 26th. They play another in the same spot 3 weeks later with Gridlink, Hayaino Daisuki & Weekend Nachos (Aug 14th)
- Black Tusk has added a few new tour dates, including a show at the Knitting Factory on August 24th. Dates are below, ticket info is forthcoming.
- Ben Weinman of The Dillinger Escape Plan will guest appear on Italian metallers Ephel Duath's new record for Earache. Look for Through My Dog's Eyes this October.
- Trap Them has announced that Seizures in Barren Praise will hit the shelves this fall.
- Benediction has announced a split 7" with Wolfbrigade, limited to 2500 pieces (500 in picture disc form) on Feto Records (Shane from Napalm Death & Mick from Anaal Nathrakh's label). Benediction has a new record on the way and Wolfbrigade is playing the Knitting Factory on October 2nd (still no ticket info).
- Krallice is available now at the Profound Lore store.
- Dismember & Augury have announced a Canadian Tour in October and November. We have tour dates down low. How about some USA love, yo?
- Satyricon is currently working on material for what will see the light of day on November 3rd via Roadrunner Records and have announced a tour of the US supporting Cradle Of Filth in Jan of 2009.
- Ceremony has posted a new song on their myspace, "He God Has Favored Our Undertakings", on their myspace from their current 7" and upcoming record, Still Nothing Moves You due August 5th on Bridge 9 Records.
- Tickets are on sale for the Impaled / Phobia show that we announced back in March at Knitting Factory on September 8th.
Wolves In The Throne Room has made video from their Roadburn appearance available here.
- Zao has announced that they are heading to the studio to record their new album.
- New England Death Fest set times have been posted.
AMON AMARTH, BELPHEGOR, ENSIFERUM, THE ABSENCE - 2008 TOUR DATES.
10/1 Anaheim, CA @ House of Blues
10/2 Los Angeles, CA @ The Avalon
10/3 San Francisco, CA @ Slim's
10/4 Portland, OR @ Hawthorne Theatre
10/5 Seattle, WA @ El Corazon
10/6 Vancouver, BC @ Croatian Culture Centre
10/8 Edmonton, AB @ The Starlite Room
10/9 Calgary, AB @ The Warehouse
10/10 Regina, SK @ Ridell Centre
10/11 Winnipeg, MB @ The Garrick Centre
10/12 St. Paul, MN @ Station 4
10/13 Chicago, IL @ House of Blues
10/15 Toronto, ON @ The Phoenix
10/16 Montreal, QC @ Le Medley
10/17 Quebec City, QC @ Theatre Imperial
10/18 Worcester, MA @ The Palladium
10/19 Philadelphia, PA @ The Troc
10/20 New York, NY @ Irving Plaza
10/21 Springfield, VA @ Jaxx
SHAI HULUD, FULL BLOWN CHAOS - 2008 TOUR DATES
July 14 - Poughkeepsie, NY @ The Loft *
July 15 - Utica, NY @ @ Skate-A-Rama *
July 16 - Buffalo, NY @ Mohawk Place *
July 17 - Pittsburgh, PA @ Stratus Nite Club *
July 18 - Cleveland Hts, OH @ Grog Shop **
July 19 - Detroit, MI @ Magic Stick **
July 20 - Dekalb, IL @ The House Café *
July 22 - Milwaukee, WI @ The Miramar Theatre *
July 23 - St. Paul, MN @ Station 4 *
July 24 - Iowa City, IA @ The Picador *
July 25 - Sioux Falls, SD @ Nutty's North *
July 26 - Wichita, KS @ Eagles Lodge *
July 27 - Denver, CO @ Marquis Theater **
July 29 - Ogden, UT @ Club Boom VA **
July 30 - Boise, ID @ The Venue *
July 31 -Seattle, WA @ Studio Seven *
August 1 - Portland, OR @ Satyricon *
August 2 - Sacramento, CA The Boardwalk **
August 3 - Westlake Village, CA Kung Foo Corner **
August 4 - Reno, NV @ Club Underground *
August 5 - Victorville, CA @ Karma *
August 6 - Hollywood, CA Knitting Factory *
August 7 - Anaheim, CA @ Chain Reaction **
August 8 - San Diego, CA @ Soma Sidestage **
August 9 - Phoenix, AZ @ The Brickhouse
August 11 - Oklahoma City, OK @ The Factory ***
August 12 - Dallas, TX @ The Door
August 13 - San Antonio, TX @ White Rabbit
August 14 - Houston, TX @ The Java Jazz
August 15 - Metairie, LA @ The High Ground
August 16 - Nashville, TN @ Rocketown ***
August 18 - Atlanta, GA @ The Masquerade ***
August 19 - Jacksonville, FL @ Jack Rabbits
August 20 - Winter Park, FL @ The Haven ***
August 21 - Pensacola, FL @ American Legion Post 33
August 22 - Augusta, GA @ Sector 7G ***
August 23 - Wilmington, NC @ The Soapbox ***
August 24 - Fredericksburg, VA @ KC's
August 25 -Baltimore, MD @ The Ottobar ***
August 26 - Philadelphia, PA @ First Unitarian Church
August 27 - New York, NY @ Knitting Factory
August 28 - Allston, MA @ Harper's Ferry
August 29 - Livingston, NJ @ Good Timez Nightclub ***
August 30 - Albany, NY @ Valentines ***
August 31 Providence, RI @ Club Hell ***
* w/ Elysia, Woe of Tyrants
** w/ Woe Of Tyrants
*** w/ Elysia, A Girl A Gun A Ghost
SKELETONWITCH - 2008 TOUR DATES
July 24 - Championship, Lemoyne, Pennsylvania
July 25 - Mojo 13, Wilmington, Delaware
July 26 - Knitting Factory, New York, New York*
July 27 - Millcreek Tavern, Philadelphia, Pennsylvania**
July 28 - DC9, Washington DC***
July 29 - Steppin' Out, Virginia Beach, Virginia
July 30 - Volume 11 Tavern, Raleigh, North Carolina
July 31 - Lucky's Pub, Wilmington, North Carolina
August 1 - Landshark Cafe JACKSONVILLE, FLA&
August 2 - The Backbooth ORLANDO, FLA&
August 4 - The Earl ATLANTA&
August 5 - One Eyed Jack's NEW ORLEANS&
August 6 - Rudyard's Beer Bar HOUSTON&
August 7 - House of Rock CORPUS CHRISTI, TX&
August 13 - the Clubhouse TEMPE, AZ&
August 15 - Troubadour LOS ANGELES&
August 17 - TBA, San Francisco, California
August 19 - Vixen, Reno/Sparks, Nevada
August 21 - Satyricon, Portland, Oregon
August 22 - The Funhouse, Seattle, Washington
August 25 - TBA, Salt Lake City, Utah
August 26 - The Black Sheep, Colorado Springs, Colorado
August 27 - Marquis Theater, Denver, Colorado
August 28 - TBA, Kansas City, Missouri
August 29 - Vaudeville Mews, Des Moines, Iowa
August 30 - TBA, Iowa City, Iowa
October 9 - Ft. Laudersale, FL @ Revolution$
October 10 - Orlando, FL @ Hard Rock Live$
October 11 - Atlanta, GA @ Tabernacle$
October 13 - Richmond, VA @ Toads Place$
October 14 - Philadelphia, PA @ Electric Factory$
October 15 - New York, NY @ Roseland$
October 17 - Worcester, MA @ Palladium$
October 18 - Montreal, QC @ Metropolis$
October 19 - Toronto, ONT @ Sound Academy$
October 21 - Milwaukee, WI @ The Rave$
October 22 - Minneapolis, MN @ Myth$
October 24 - Detroit, MI @ Fillmore Theater$
October 25 - Chicago, IL @ Congress Theater$
October 26 - St. Louis, MO @ Pageant$
October 28 - Houston, TX @ House Of Blues$
October 30 - Dallas, TX @ Palladium$
October 31 - Kansas City, KS @ Uptown$
November 1 - Denver, CO @ Fillmore Theater$
November 3 - Las Vegas, NV @ The Joint$
November 5 - Los Angeles, CA @ Gibson Amphitheater$
November 7 - Portland, OR @ Roseland$
November 8 - Seattle, WA @ Showbox At Market$
November 10 - San Francisco, CA @ The Warfield$
* w/ Titan, Krallice
** w/ Javelina
*** w/ Deathammer
& w/ Valient Thorr, Early Man
$ w/ Danzig, Dimmu Borgir, Moonspell, Winds Of Plague
BRAIN BANGER - 2008 TOUR DATES
Jul 28 - Skull Alley Louisville, Kentucky
Jul 29 - 2 Cents Plain St. Louis, Missouri
Jul 30 - TBA Iowa City / Davenport, Iowa
Jul 31 - The Triple Rock Social Minneapolis, Minnesota
Aug 1 - TBA Milwaukee, Wisconsin
Aug 2 - Metal Shakers Chicago, Illinois
Aug 3 - The Creephole Michigan City, Indiana
Aug 4 - TBA Columbus / Dayton, Ohio
Aug 5 - Now That's Class Cleveland, Ohio
Aug 6 - TBA Rochester, Syracuse, Buffalo, New York
Aug 7 - Londonderry Lion's Hall Londonderry, New Hampshire
Aug 8 - TBA Providence/MA/CT, Massachusetts
Aug 9 - O'Brien's Allston, Massachusetts
Aug 10 - TBA NYC, Brooklyn, New York
Aug 11 - TBA Philadelphia, Pennsylvania
Aug 12 - TBA Baltimore, Maryland
Aug 13 - TBA Greensboro, North Carolina
BLACK TUSK - 2008 TOUR DATES
Jul 8 Washington, DC @ Velvet Lounge
Jul 18 Athens, GA @ Caledonia Lounge
Jul 19 Nashville, TN @ The End
Jul 20 Memphis, TN @ The Buccaneer
Jul 21 Cloumbia, MO @ Sapphire Lounge
Jul 22 Chicago, IL @ Cobra Lounge
Jul 23 Lansing, MI @ Mac's
Jul 24 Cleveland, OH @ Jigsaw Saloon
Jul 25 Richmond, VA @ Nara Sushi
Jul 26 Raleigh, NC @ Volume 11 Tavern*
Aug 8 Savannah, GA @ The Jinx**
Aug 23 Baltimore, MD @ Talking Head
Aug 24 New York, NY @ Knitting Factory
Aug 25 Boston, MA @ Great Scott
Aug 26 Philadelphia, PA @ M Room
Aug 28 Charlotte, NC @ The Milestone
Aug 29 Wilmington, NC @ Soapbox
* w/ ASG
** w/ Weedeater
REIGN SUPREME - 2008 TOUR DATES
07/11: Cleveland, OH @ Now Thats Class
07/12: Louisville, KY @ Brycc House *
07/13: Peoria, IL @ Creve Couer Comm. Center *
07/14: Hutchinson, KS @ McGraws *
07/16: Denver, CO @ Underground *
07/17: Twin Falls, ID @ American Legion Hall *
07/18: Tacoma, WA @ Viaduct *
07/19: Spokane, WA @ Empyrean *
07/20: Portland, OR @ Backspace *
07/21: Orangevale, CA @ VFW Hall *
07/22: San Francisco, CA @ Balazo Gallery *
07/23: Tijuana, MX @ Kimbara Cafe *
07/24: Riverside, CA @ Pharos Den *
07/25: Santa Barbara, CA @ Earl Warren Showgrounds SOUND AND FURY FESTIVAL
07/26: Santa Barbara @ Earl Warren Showgrounds SOUND AND FURY FESTIVAL
07/27: Santa Barbara, CA @ Earl Warren Showgrounds SOUND AND FURY FESTIVAL
07/28: Las Vegas, NV @ La Onda Hall
07/29: Denver, CO @ Underground **
07/30: Albuquerque, NM @ Moonlight Lounge **
07/31: Austin, TX @ Red 7 **
08/01: Dallas, TX @ Red Blood Club **
08/02: Oklahoma City, OK @ Factory **
08/03: St Louis, MO @ Building R **
08/04: Nashville, TN @ Muse **
08/05: Lawrenceville, GA @ Treehouse **
08/06: Pensacola, FL @ American Legion Post 33 **
08/07: Orlando, FL @ Uncle Lou's **
08/08: Tampa, FL @ Transitions w/ The Carrrier, Living Hell
08/09: Jacksonville, FL @ Fuel **
08/10: Johnson City, TN @ Hideaway **
08/11: Virginia Beach, VA @ Liberty IV **
08/12: Baltimore, MD @ Sidebar **
08/13: Cleveland, OH @ Now Thats Class **
08/14: Romeo, MI @ Static Age **
08/15: Toronto, ON @ Studio BLR **
08/16: Montreal, QC @ Black Dot **
08/17: Boston, MA @ tba **
08/18: Long Island, NY @ TGIF Sights And Sounds **
08/19: Brooklyn, NY @ Charleston **
08/20: Albany, NY @ Fuzebox **
08/25: Livingston, NJ @ Goodtimez
08/26: Syracuse, NY @ Westcott Community Center
08/28: Quebec City, QC @ L'anti
08/29: Burlington, VT @ 242 Main St ***
08/30: Amherst, MA @ Mercy House ***
08/31: Providence, RI @ Club Hell ^
* w/ Colin Of Arabia, Letdown
** w/ The Carrier, Living Hell
*** w/ Meltdown
^ w/ Full Blown Chaos, Shai Hulud, Meltdown
BLACK ELK - 2008 TOUR DATES
07/11/2008 Oak Street Speakeasy - Eugene, OR
07/16/2008 The Alibi - Arcata, CA*
07/17/2008 Thee Parkside - San Francisco, CA
07/18/2008 Alex's Bar - Long Beach, CA
07/19/2008 The Scene Bar - Glendale, CA
07/26/2008 Capitol Hill Block Party - Seattle, WA**
* w/Helms Alee
** w/Akimbo
AGNOSTIC FRONT - 2008 TOUR DATES
Jul 14 - Musicdrom - Milano, Italy
Jul 15 - Landespavillion - Stuttgart, Germany
Jul 16 - Cafe Charbon - Nevers, France
Jul 17 - Batschkapp - Frankfurt , Germany
Jul 18 - Dour Festival - Dour, Belgium
Jul 19 - Zakk - Dusseldorf, Germany
Aug 1 - Ressurection Fest - Vivero, Spain
Aug 2 - Schollenpop - Scheveningen, Netherlands
Aug 3 - Markthalle - Hamburg, Germany
Aug 6 - Roxy - Flensburg, Germany
Aug 7 - Metal Heads Mission Festival 2008 - Crimea, Ukraine
Aug 8 - MTV Headbanger's Ball @ Amager Bio - CopenHagen, Denmark
Aug 9 - Kelder - Amersfoot, Netherlands
Aug 10 - Wintergarten - Blackpool, Great Britain
Aug 11 - Met Lounge - Peterborough, Great Britain
Aug 12 - Underworld - London, Great Britain
Aug 13 - Roxy - Saarbr?cken, Germany
Aug 14 - Hannover - - Faust Germany,
Aug 15 - Tells Bells Festival - Villmar - Germany,
Aug 16 - Brutal Assault - Jaromer - Czech Repu,
Aug 17 - Kantine - Augsbure, Germany
Aug 19 - Sonar - Baltimore, Maryland
Aug 20 - Canal Club - Richmond, Virginia
Aug 21 - Knitting Factory - New York, New York
Sep 5 - El Aguijon - Quito, Ecuador,
Sep 6 - Revolution - Bogota, Colombia,
Sep 7 - Iguana Rana - Lima,Peru,
Sep 10 - El Sotano - Rosario, Argentina,
Sep 11 - Teatro - Buenos Aires, Argent,
Sep 12 - Galpon Victor Jara - Santiago, Chile,
Sep 13 - Via Reboulas - Curitiba, Brazil,
Sep 14 - Hangar 110 - Sao Paulo, Brazil,
DISMEMBER, AUGURY - 2008 TOUR DATES
October 24 - Sherbrooke, QC @ Bar le Magog
October 25 - Chicoutimi, QC @ Bar le Bunker
October 26 - Quebec, QC @ L'Impérial
October 27 - Montreal, QC @ T.B.A.
October 28 - Ottawa, ON @ T.B.A.
October 29 - London, ON @ The Embassy
October 30 - Toronto, ON @ The Wreck Room
October 31 - Sudbury, ON @ The Serbian Centre
November 2 - Winnipeg, MB @ The Zoo
November 3 - T.B.A.
November 4 - Edmonton, AB @ The Mead Hall
November 5 - Calgary, AB @ The Underground
November 6 - T.B.A.
November 7 - Vancouver, BC @ The Cobalt