This Week In METAL (11/20/08)
by Black Bubblegum
DOWNLOAD: Vitamin X - "Deal With It" w/ John Brannon of Negative Approach (MP3)
DOWNLOAD: Vitamin X - "You Suck" (MP3)
DOWNLOAD: Hooded Menace - "Grasp Of The Beastwoman" (MP3)
DOWNLOAD: Mammoth Grinder - "God is Stuck in a Black Hole" (MP3)
DOWNLOAD: Saros - "Reversion" (MP3)
Cattle Decapitation live @ Gilman, photo by Taija Lynn

Cattle Decapitation have announced dates in support of their new record, The Harvest Floor due on 1/20/09. Supported by Psyopus, Book Of Black Earth, and Gigan, full tour dates are below, but no NYC just yet.
Adding insult on top of insult to injury, Maryland Death Fest have added powerviolence bad-asses Despise You (with Phil Vera of Crom), as well as grinders Pigsty. This is on top of Mayhem, Bolt Thrower, Enslaved and soooo many others... Unfortunately, Repulsion have cancelled their appearance.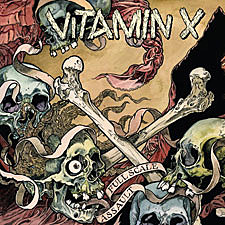 Need a fix of fun, skull-splitting hardcore? Vitamin X have dropped their new record, Full Scale Assault on Tankcrimes and it is one awe-inspiring slab of lightning riffery and old-school hardcore punk produced by none other than Steve Albini at Electrical Audio Studios. Sporting ultra-suh-weeeet artwork by John Baizley of Baroness, the band has been kind enough to drop off a pair of MP3s from the record... check out "Deal With it" featuring John Brannon of Negative Approach and "You Suck" downloadable above and pick up the album here.
How many times has a headliner you dug dropped off a bill, and you were actually pleased with the results? In a bit of shuffling, Doomriders have dropped off their bill with Tombs at Union Pool on 12/20 (frown), BUT Bloodhorse (who are working on a new record), Keelhaul(!), and Acid Tiger (Ben from Cave-in, Converge) have been added! So Keelhaul in NYC, huh? Exciting, and it sounds like they have more than just the show on their agenda...

We are going to Brooklyn to record another cd with Andrew Schneider in December. Yee haw.-[Keelhaul myspace]
NOICE! Meanwhile, look for Tombs to play a show at Death By Audio on Dec 6th, play a few shows opening for Don Caballero at both Maxwell's and Europa, and embark on a short tour in the new year with Dysrhythmia. Full Keelhaul and Tombs dates are below.
Doomers My Dying Bride have revealed details of their new album, For Lies I Sire due in 2009 via Peaceville! Spanning nine tracks and recorded with producer Mags, vocalist Aaron Stainhorpe recently discussed the new record with Beyond The Dark Horizon.
Saros, the Bay Area blackened prog metal band contructed from members of the almighty Weakling and Amber Asylum, will drop their new album Acrid Plains on Profound Lore 2/17/09. Album art is below and check out the new MP3, "Reversion" available for download above.
Mammoth Grinder are scheduled to rage through the tri-state in the new year. The trio will be in town on Jan 3rd to double up.. playing shows at ABC No Rio (matinee) AND The Charleston (night) in support of their long-player Rage & Ruin and No Results 7" due together on Assassinated Records. Alternating between thundering doom and crusty hardcore, check out heavily doom-oriented "God is Stuck in a Black Hole " from Rage & Ruin, downloadable above.
Gracial death-doomers Hooded Menace are responsible for the massive Fulfill The Curse on Razorback Records. It's out NOW and it's absolutely frightening.. highly reccomended for fans of Coffins and death-doom in particular. Check out the track "Grasp Of The Beastwoman" from Fulfill The Curse and pray for your own safety that these Finns never make it to the US... it'll be a massacre.
More news on Intronaut, Pelican, The Sword, Krallice, Saint Vitus, Total Fucking Destruction and more as The Week In Metal continues...

Intronaut - "Australopithecus"

The Sword added a few more dates, including a night at Bowery Ballroom.
Conifer's Crown Fire dropped on Important Records... you can checkout three preview tracks that the label has provided here.
Satyricon have signed with Koch Records.
Orphan have lined up a few new dates, including a pair of local dates... at Union Pool on Dec 4 and at Santos Party House with Growing, Child Abuse, and Extreme Violence on Dec 22nd. (tickets here).
Metalkult have posted an interview with Watain as well as footage of Krallice at CMJ (photos here).
Pitchfork's Show No Mercy has dropped it's year-end list, with top tens from members of Torche, Enslaved, Ludicra, Krallice, The Endless Blockade and more... check it out here.
Terrorizer Magazine caught up with Dave Chandler of the reuniting Saint Vitus, Blabbermouth has the preview.
SMNnews interviewed Richard Hoak of Total Fucking Destruction/Brutal Truth fame and they discuss the upcoming BT album (due spring 2009) and TFD's new record Peace, Love, and Total Fucking Destruction which is out NOW.
Precious Metal will house the previously announced Architect show, with local badasses Tiger Flowers and Rose Funeral on 12/15.
High On Fire have announced a few West Coast headlining dates, check 'em out below. Matt Pike of High On Fire's ex-bandmate Al Cisneros talked to us about the Sleep reunion.
If ya missed it, we profiled the mighty Gods & Queens.
Enslaved is shooting a video for "The Watcher" from their awesome new album Vertebrae. The band is currently touring Europe and announced US tour dates including a date at Gramercy on May 24th (currently on presale).
The Dillinger Escape Plan are currently wrapping up a DVD about the early days of the band up until the Calculating Infinity era. In addition, the band is working on new material which is due "soon", which they further qualify as in "DEP time"... meaning not really all that soon.
Pelican - "Lost In The Headlights"

Orange Goblin have announced that they will record their performance at Roadburn for a forthcoming limited-edition, vinyl-only live album.
More news on Graf Orlock, Crowpath, Kylesa, Neurosis, Nachtmystium, Kill The Client and more in the last edition of Week In Metal, and the one previous!
PUNISHMENT DUE:
Sloooow release week... look for a TON of releases next week, and pick up the new Hooded Menace (here) and the new Vitamin X (here)! Both are highly recco'd!
NEWS BLAST (BEATS)
- Burst have lined up a few Scandanavian dates with new Deathwish signees Victims and are looking to tour the US in 2009. Victims re-drops Killer on Deathwish later this year.
- Celtic Frost participated in a documentary on the band entitled "Celtic Frost - A Dying God" which aired on swiss TV. A trailer for the documentary is viewable here, hopefully we'll see it stateside.
- Bill Steer says that a new Carcass album is "a possiblity", according to an interview in Metalexiles.
- Opeth have added a few South American dates to their already gi-normous itinerary. Full itinerary details are below.
- Agalloch bassist Jason Walton has launched his own studio, Audio Savant.
- Steve Austin of Today Is The Day guest blogs for Metalsucks- Maynard James Keenan of Tool is planning a cabaret-style show at the Palms in Las Vegas, according to Blabbermouth.
- The Sword are readying a dual CD set, packaging their two LPS into a single disc available at their shows with Metallica.
- Black Cobra have announced a new seven-inch on At A Loss, for release on 12/9
- Genghis Tron have posted remix tracks and were interviewed by Metalsucks.
OPETH - 2008/09 TOUR DATES
Nov 18 2008 St. Vicars - SOLD OUT Dublin
Nov 19 2008 Academy Birmingham
Nov 20 2008 Shepards Bush Empire London
Nov 21 2008 Academy Bristol
Nov 22 2008 Rockcity Nottingham
Nov 23 2008 Academy Manchester
Nov 25 2008 Melkweg - SOLD OUT Amsterdam
Nov 26 2008 AB Brussels
Nov 27 2008 Elysee Montmartre (SOLD OUT) Paris
Nov 28 2008 Havana cafe Toulouse
Nov 29 2008 Cafe Antzokia Bilbao
Nov 30 2008 Heineken Club Madrid
Dec 2 2008 APOLO Barcelona
Dec 3 2008 Transbourder Lyon
Dec 4 2008 Alcatraz Milan
Dec 5 2008 Rohstofflager Zurich
Dec 6 2008 Backstage werk Munich
Dec 7 2008 Arena Wien
Dec 9 2008 Longhorn Stuttgart
Dec 10 2008 Live Music Hall Colonge
Dec 11 2008 Postbahnhof Berlin
Dec 12 2008 Markthalle Hamburg
Dec 13 2008 Brew House - SOLD OUT Göteborg
Dec 15 2008 Cable Factory - SOLD OUT Helsinki
Dec 17 2008 Debaser Medis Stockholm
Dec 18 2008 Debaser Medis Stockholm
Feb 20 2009 To Be Confirmed Moscow
Feb 21 2009 DK Lensoveta St Petersburg
Feb 28 2009 House of Metal Fest Umeå
Mar 6 2009 Dubai Desert Rock festival Dubai
Mar 27 2009 Circo Valador Mexico City
Mar 29 2009 Bogota Bogota
Apr 1 2009 Teatro Capoulican Santiago de Chile
Apr 2 2009 El Teatro Buenos Aires
Apr 4 2009 Hangar Sao Paolo
BURST - 2008 TOUR DATES
November 26 - Copenhagen, Denmark @ The Rock
November 27 - Malmö, Sweden @ Debaser
December 4 - Tampere, Finland @ Klubi
December 5 - Helsinki, Finland @ Semifinal
December 6 - Jyväskylä, Finland @Lutakko
December 6 - Turkku, Finland @ Klubi
HIGH ON FIRE - 2008 TOUR DATES
December 9 - Brick by Brick - San Diego, CA
December 10 - The Knitting Factory - Los Angeles, CA (free show)
December 11 - Velvet Jones - Santa Barbara, CA
December 12 - The Blank Club - San Jose, CA
December 13 - The Blue Lamp - Sacramento, CA
December 18 - Great American Music Hall - San Francisco, CA
MAMMOTH GRINDER - 2008/09 TOUR DATES
December 27 - Mobile, AL @ Alabama Music Box
December 28 - Orlando, FL @ This Is For You Fest
January 1 - Richmond, VA @ Nara Sushi
January 3 - New York, NY @ ABC No Rio
January 3 - Brooklyn, NY @ The Charleston
January 5 - West Berlin, NJ @ The Fly Trap
January 6 - Parkersburg, WV @ Lubeck Civic Center
January 8 - Louisville, KY @ Skull Alley
January 9 - Nashville, TN @ Gingerbread House
January 11 - Tupelo, MS @ Lifeblood Skateshop
CATTLE DECAPITATION, PSYOPUS, BOOK OF BLACK EARTH, GIGAN - 2009 TOUR DATES
1/21 Santa Barbara, CA @ The Jensen Mainstage
1/22 Bakersfield, CA @ Studio 99 (no B.O.B.E.)
1/23 Berkeley, CA @ 924 Gilman Street
1/24 San Francisco, CA @ Thee Parkside
1/25 Hollywood, CA @ Knitting Factory
1/26 Tempe, AZ @ The Sets
1/27 Albuquerque, NM @ Launchpad
1/28 El Paso, TX @ Uncle Paulie's Pub
1/29 Austin, TX @ Red 7
1/30 San Antonio, TX @ White Rabbit
1/31 Houston, TX @ Java Jazz
2/1 Metairie, LA @ The High Ground
2/2 Pensacola, FL @ American Legion Post 33
2/3 Jacksonville, FL @ Fuel Coffeehouse
2/4 Orlando, FL @ Back Booth
2/5 Tampa, FL @ The Orpheum
2/6 Atlanta, GA @ The Masquerade tentative
2/7 Tallahassee, FL @ The Engine Room
2/9 Little Rock, AR @ The Village
2/10 Dallas, TX @ The Lounge on Elm Street
2/11 Farmington, NM @ Gator's
2/12 Tucson, AZ @ The Rock
2/13 San Marcos, CA @ The Jumping Turtle
ORPHAN - 2008 TOUR DATES
Dec 4 2008 Union Pool Brooklyn, New York*
Dec 5 2008 17 Mules Providence, Rhode Island
Dec 7 2008 Bar New Haven, Connecticut
Dec 10 2008 The Black Cat - Backstage Washington DC
Dec 11 2008 Nightlight Chapel Hill, North Carolina
Dec 12 2008 TBA Asheville, North Carolina
Dec 13 2008 Nara Sushi Richmond, Virginia
Dec 14 2008 The Talking Head Baltimore, Maryland**
Dec 22 2008 Santos Party House NYC, New York
* w/Red Dawn II & Pollution
** w/Vincent Black Shadow & The Convocation
*** w/Child Abuse, Extreme Violence, & Growing
KEELHAUL - 2008 TOUR DATES
Dec 10 Johnny Brendas Philadelphia, Pennsylvania
Dec 20 Union Pool Brooklyn, New York*
* w/ TOMBS, ACID TIGER, BLOODHORSE
TOMBS - 2008/09 TOUR DATES
Nov 23 2008 JOHNNY BRENDAS PHILADELPHIA, PA **
Dec 6 2008 DEATH BY AUDIO Brooklyn, New York
Dec 7 2008 Maxwell's Hoboken, New Jersey
Dec 8 2008 Europa Brooklyn, New York*
Dec 19 2008 HEART OF WINTER FEST - ALLEY KATZ RICHMOND, Virginia
Dec 20 2008 UNION POOL NYC, New York***
Jan 17 2008 ABC NO RIO New York, New York
Feb 2 2009 The Church Boston, Massachusetts
Feb 3 2009 Savannah's Albany, New York
Feb 4 2009 Union Pool Brooklyn, New York
Feb 5 2009 Kung Fu Necktie Philadelphia, Pennsylvania
Feb 6 2009 Talking Head Baltimore, Maryland
Feb 7 2009 Nara Sushi Richmond, Virginia
Feb 8 2009 Velvet Lounge Washington, DC
* w/DON CABALLERO
** w/ MADE OUT OF BABIES, A LIFE ONCE LOST
*** w/ KEELHAUL, ACID TIGER, BLOODHORSE