This Week In METAL (04/09/09)
by Black Bubblegum
DOWNLOAD: Coalesce - "Questions To Root Out Fools" (MP3)
DOWNLOAD: Brutal Truth - "Sugardaddy" (MP3)
DOWNLOAD: Agoraphobic Nosebleed - "Agorapocalypse Now" (MP3)
DOWNLOAD: General Surgery - "Restrained Remains" (MP3)
DOWNLOAD: Lord Mantis - "Lord Mantis"
DOWNLOAD: Mournful Congregation - The June Frost Medley (MP3)
DOWNLOAD: The Atomic Bitchwax - "Revival"
DOWNLOAD: Weekend Nachos - "Pain Over Acceptance" (MP3)
DOWNLOAD: Weekend Nachos - "Shot In The Head" (MP3)
DOWNLOAD: Ruins - "Suicidal Pulse" (MP3)
Coalesce LIVE at Scion Rock Fest (photo by Mike White)

Relapse is KILLIN' IT in the 09 so far. In one month's time, Relapse will destroy the Earth with THREE grind releases that could all potentially make my list of favorites for the year! First up, Mumakil's new album Behold The Failure which is out NOW on Relapse. Made up of ex members of Knut, Behold The Failure has been in constant rotation since it dropped on Mar 31st. Hear the whole thing here. Then on April 17th, Relapse aims to make you empty your wallets, by releasing both the new Brutal Truth (Evolution Through Revolution) and Agoraphobic Nosebleed (Agorapocalypse) on THE SAME DAY. In other ANb/Brutal Truth news, if you skate, dig on the ANb, Total Fucking Destruction (featuring Richard Hoak of BT), Crom, and Cryptic Slaughter decks for sale here. ANb and Crom dropped a split 7" which is fading fast.... head here to scoop it before it goes bye-bye.
A month or so after the grind mayhem, Relapse will drop the new Coalesce, Ox, their first record since the classic 0:12 Revolution is Just Listening which was release TEN YEARS AGO. The quartet recently debuted two new tracks; check out "Wild Ox Moan" streaming at their myspace and download "Questions To Root Out Fools" above!
Swedish gore-grinders General Surgery will drop their new album Corpus In Extremis on Listenable Records on April 7th, which includes the massive "Restrained Remains" available for download above! Check out their myspace page or their home page for a preview, dig on the album cover (to the right), and swing way low for tour dates.
Malkuth's latest record Sefirah Gevurah is out NOW on Hospital Productions. Pick it up here. The band has one show on their itinerary... May 9th at Starr Space in Bushwick. Mark your calendars.
Mournful Congregation recently dropped their new LP, The June Frost, on Enucleation Records, and if you like your guitar chords served up in first-gear (or maybe even in neutral) this funeral doom opus is for you. Check out the above snippet MP3 featuring moments from The June Frost above, and pick that record up here. For more on the band, check out an interview with Mournful Congregation here.
The Atomic Bitchwax will re-release their LP TAB4 on Tee Pee Records. Check out "Revival" available for download above and look for the record on 4/21.
The previously mentioned Atheist tour has expanded. Check out current tour dates below. Tickets for their July 12th show at BB Kings are currently on sale.
Weekend Nachos have offered up two new songs from their upcoming LP Unforgivable due on Deep Six Records in May. Check out "Pain Over Acceptance" and "Shot In The Head" downloadable above.
Xasthur's new full length LP on cassette, All Reflections Drained has sold out. "The 2xLP should be out shortly"
More on The Auditory Assault Festival, Om, Coffins, Dark Castle, Lord Mantis, The Holy Mountain, Church of Misery, Minsk, and sooo much more as The Week In Metal continues...

Lord Mantis

Lord Mantis, a new band featuring former and current members of Avichi, Indian and Nachtmystium will release Spawning The Nephilim on April 28th via Seventh Rule Records. Lord Mantis definitely derives some of their sound and tone from their pedigree (sludgy riffs from Indian, blackened tone from Avichi & Nachtmystium), but also veers close to Neurosis & Today Is The Day territory on tracks like "Lord Mantis", downloadable above. Spawning The Nephilim was recorded and mixed by Sanford Parker and the band will hit the road throughout 2009 with the likes of Plague Bringer and The Atlas Moth.
Dark Castle

Though they are a couple, and she plays guitar at 10000 decibels behind a massive wall of amps while he plays drums, there is no way you can mistake them for Jucifer. Dark Castle will drop their new crusty doom album Spirited Migration on May 26th via At A Loss Recordings. Recorded by Philip Cope (Kylesa) and mastered by Scott Hull (Pig Destroyer), the debut full length is the follow-up to their Flight Of The Pegasus EP which dropped independently... pick that EP up through the band.
Japans death doom vomitory, Coffins, have scheduled a West Coast jaunt! Check out the dates below. The band recently dropped the Warhead 7"... pick it up here and announced a few new releases including a split 7" with Pig Destroyer on Relapse, a three way split with Anatomia and Grudge on Enucleation, a split 7" with Lobotomized on Plague Island Records, a split 7" with Spun In Darkness on Metal War Productions, and the vinyl issue of the Coffins / XXX Maniak split via Haunted Hotel Records. In addition, Coffins have contributed to the Clone compilation (mentioned in my recent interview with Salome) is coming soon on Blind Date Records and includes contributions from Salome, Atavist, and Fistula, among others.
One upcoming record that reeeeeaaally COOKS is the new Church of Misery, Houses Of The Unholy due on Rise Above Records on April 20th (order here). Scoot on over to their myspace to check out the monster "El Padrino", and get on that preorder ASAP! Highly recommended.
Om in Electrical Audio Studios recording their as-yet untitled debut for Drag City, due 9/8!

The Gates of Slumber have signed to Rise Above! Congrats guys. Look for their Rise Above debut, the follow-up to last year's critically acclaimed Conqueror on Profound Lore, to emerge this fall!
A Life Once Lost has been added to May's edition of Show No Mercy at Public Assembly with Buried Inside and Rosetta. In other ALOL news, frontman Robert Meadows announced the launch of his label Staggered Works Music, as well as it's first signee, War Pigs.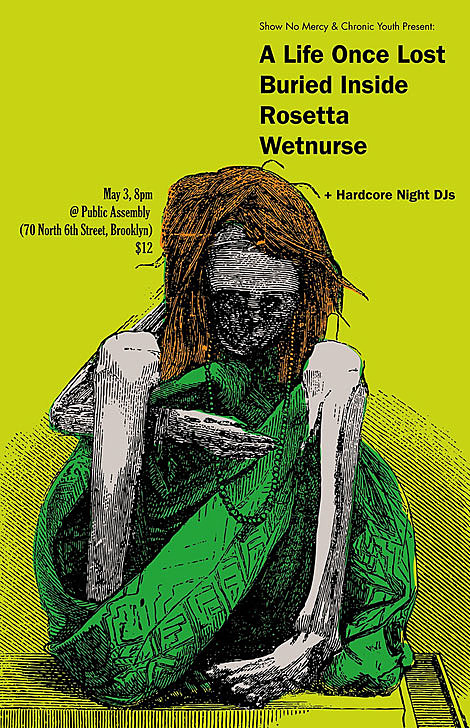 Millions is streaming their debut album Gather Scatter, which dropped in the tail end of March on Seventh Rule Records. The band will hit the road in the tail end of April, lining up a gang of dates including two in NYC: The Charleston on May 29th with Gods & Queens and Lit Lounge on June 1. Full tour dates are below.
Fallen crust metallers The Holy Mountain have released their second to last record, a split 7" with Black Tusk on Financial Ruin Records. The Holy Mountain have one more split coming "soon", with Cobra Noir. The Holy Mountain called it quits in 2007.
Turmoil LIVE with new singer Nate Johnson (Premonitions Of War)

Lustmord has released his new album independently! Pick up a copy of The Dark Places Of The Earth via his "procurement" website.
Ruins (no, not the mathy Japanese band) will release the black metal infused Cauldron, due on Moribund on April 7th. The Aussies recently posted a song for download from that record; "Suicidal Pulse" is available above. In addition, the band has tracked a second LP, Front the Final Foes due "later this year".
Minsk is currently streaming a new track from their upcoming record With Echoes In The Movement Of Stone. Produced by bassist Sanford Parker, look for the record on Relapse on May 26th. Meanwhile, the band recently dropped a split 7" of Roky Erickson covers with labelmates Unearthly Trance for Parasitic Records.
The Auditory Assault Festival have added Skinless and The Communion to their ranks for the Saturday show. Tickets for the festival are currently available here in daily and two-day-pass flavors. The current lineup is as follows:
May 16:
DEAD INFECTION (Poland)
SKINLESS (New York)
LETHAL AGGRESSION (New Jersey)
GADGET (Sweden)
SAYYADINA (Sweden)
SPLITTER (Sweden)
DEFEATIST (New York)
MAN WILL DESTROY HIMSELF (North Carolina)
CHAINSAW TO THE FACE (New Jersey)
THE COMMUNION (New York)
May 17:
BRUTAL TRUTH (New York)
ROTTEN SOUND (Finland)
MISERY INDEX (Maryland)
TOTAL FUCKING DESTRUCTION (Pennsylvania)
CROWPATH (Sweden)
SULACO (New York)
PIGSTY (Czech Republic)
KILL THE CLIENT (Texas)
JIG-AI (Czech Republic)
MARUTA (Florida)
COPREMESIS (New York)
Harpoon, who we originally profiled here, have signed to Hewhocorrupts Inc and scheduled a handful of dates including July 13th at Lit Lounge as part of Precious Metal. Full tour dates are below. The band recently dropped a video for "Company Man" viewable here...
Phobia, Magrudergrind and Unholy Grave will team up for a West Coast and Southwest tour in June. Dates are below.
Battlefields is currently streaming their new album Threshholds of Imbalance.
Back from a looooong hiatus (break up?), Unanimated, featuring former members of Entombed and Dismember. The quartet will release their third album, In The Light Of Darkness, and first in 14 years (!) in April via Regain Records.
Funeral doomers who bear no resemblance to Leviathan-era Mastodon, Ahab will release their new album The Divinity Of Oceans on July via Napalm Records. The tracklisting for that record is below.
Brutal Truth rehearsal footage 3/15/09

Heaven & Hell will drop their new album, The Devil You Know, on April 28th via Rhino. Look for the early pressings to be packaged with a DVD that includes rehearsal footage.
Early Graves will team up with The Secret for a US tour that will bypass the Northeast entirely. Full tour dates are below. Early Graves recently announced a new bassist, Matt O'Brien, with prior bassist Tyler Jensen moving to guitar. The new quintet are currently writing their new album Goner.
Mastodon with Scott Kelly performing "Crack The Skye" Live at Scion Rock Fest. Also available, Mastodon performing at Criminal Records on March 24th.

Check out the flyer for the Beyond The Pale festival with recent additions Amenra, Eugene Robinson (Oxbow), Nadja, and Zeni Geva!

UK doomers Ramesses, featuring ex-members of Electric Wizard, will drop their second LP, Take The Curse on FETO in the first half of this year. Until then, dig on the Baptism Of The Walking Dead EP (Ltd to 200 Copies) available through the band (email here) or the split 10" they did with Unearthly Trance, available here.
Abscess (featuring Chris Reifert of Autopsy and Death) and Population Reduction will team up for a split LP due on Tank Crimes this spring!
Abscess recently dropped a split with Bonesaw on Aphelion Productions. Check out the Chris Reifert designed artwork below, and look for the LP/CD this spring.

Glorior Belli have dropped the tracklisting for their upcoming LP, Meet Us at The Southern Sign, due June 2nd on Candlelight. Check that out below, and stream one of those songs over at MetalKult.com.
The Los Angeles Murderfest gets better and better, having recently added Skarp, Reciprocal, and Destroyed In Seconds. Flyer below.
Cattle Decapitation - "Regret & The Grave"

PUNISHMENT DUE:
Lots of great releases in the past couple weeks including the new Wolves in The Throne Room, the excellent Pulling Teeth, and we can't forget about the new Mastodon! Count on these records for your (good) metal fix.
Mumakil - Behold The Failure
General Surgery - Corpus In Extremis
Mastodon - Crack The Skye
Battlefields - Thresholds Of Imbalance
Millions - Gather Scatter
Pulling Teeth - Paranoid Delusions | Paradise Illusions
Stinking Lizaveta - Sacrifice and Bliss
Wolves In The Throne Room - Black Cascade
Samael - Above
Lustmord - The Dark Places of The Earth
NEWS BLAST (BEATS)
- Candlemass is currently streaming their entire new album Death Magic Doom at their myspace. Look for in North America on May 5th.
- After all of the nonsense, the trial is over and the Gaahl and King ov Hell version of Gorgoroth will now be known as God Seed.
- The recently reunited Faith No More have released some new tour dates in addition to the previously mentioned Download Festival date.. though all are in Europe. Check 'em out below.
- Gnaw Their Tongues will re-release Die Mutter Wählt Das Todtenkleidchen via Universal Conciousness. Pick that up here.
- A massive band (Metallica) hogging the spotlight at a festival designed to showcase small up and coming bands (at SXSW) has, not surprisingly, made professionally shot footage of that show available. In other Metallica news, Jason Newsted joined current bassist Robert Trujillo for a performance during their induction into the Rock & Roll Hall of Fame.
- Converge recently played Europa, and MetalInjection has video of their two new songs here and here.
- Corrosion Of Conformity - Blind, a band made up of Karl Agell & Reed Mullin of COC, as well as members of Leadfoot & HR's solo band, recently played a show at Volume 11 in Raleigh, NC. stream that show here.
- Ehnarhe have lost two members, Tom Malone and Andrew Hock, and have scheduled a European tour for the tail end of April. Dates are below. The band released The Man Closing Up in 2008 on Sound Devastation Records.
- The Endless Blockade and Magrudergrind will team up for an East Coast tour surrounding Maryland Death Fest. TEB are also looking to tour the West coast with Pig Heart Transplant in September.
- Check out an interview with Suffocation's Frank Mullen conducted by Metal Martyr.
- Devourment is streaming two new songs at their myspace.
- Michael Van Dyne, original Arsis drummer, has returned to the band.
- If you missed it, Tad Doyle joined with 3/4 of Soundgarden (sans the douche) to jam on "Spoonman" and a few other goodies.
- Meshuggah have cancelled shows due to a herniated disc in drummer/founder Tomas Haake's back.
- Check out a new interview with Matt Pike of High on Fire here.
- NYHC vets Merauder have signed with Regain Records.
- Check out a video interview with Keep of Kalessin here.
- Judas Priest has added a few more dates on their US tour where they will play all of British Steel. Current tour schedule is below.
- In the grand tradition of Earache re-releasing everything under the sun, look for Cathedral's Forest of Equilibrium to be reissued with a 40 minute documentary.
- Pre-order the new Graf Orlock, Destination Time: Today here starting April 15th.
JUDAS PRIEST, WHITESNAKE - 2009 TOUR DATES
Jul. 01 - The Family Arena - St. Charles, MO
Jul. 02 - Summerfest, Harley Davidson Stage - Milwaukee, WI
Jul. 03 - Taste Of Minnesota at Harriet Island - St. Paul, MN
Jul. 07 - Comcast Center - Mansfield, MA
Jul. 08 - CMAC - Canandaigua, NY
Jul. 09 - Molson Amphitheatre - Toronto, ON
Jul. 11 - PNC Banks Arts Center - Holmdel, NJ
Jul. 12 - Nikon At Jones Beach Theater - Wantagh, NY
Jul. 14 - Time Warner Cable Amphitheatre - Cleveland, OH
Jul. 15 - DTE Eneryg Music Theater - Clarkston, MI
Jul. 17 - Moondance Jam 18 - Walker, MN
Jul. 18 - Rockfest/Chippewa Valley Music - Cadott, WI
Jul. 21 - PNC Pavilion (Riverbend Music) - Cincinnati, OH
Jul. 29 - California Mid-State Fair - Paso Robles, CA
Jul. 31 - Sleep Train Pavilion - Concord, CA
Aug. 01 - Sleep Train Amphitheatre - Marysville, CA
Aug. 02 - Gibson Amphitheatre - Universal City, CA
Aug. 04 - SDSU OPen Air Theatre - San Diego, CA
Aug. 07 - Dodge Theater - Phoenix, AZ
Aug. 08 - Thomas & Mack Center - Las Vegas, NV
Aug. 10 - Sandia casino - Albuquerque, NM
Aug. 11 - Red Rock Amphitheatre - Morrison, CO
FAITH NO MORE - 2009 TOUR DATES
Jun. 12 - Download Festival Donington Park UK
Jun. 13 - Greenfield Festival Interlaken, Switzerland
Jun. 14 - Rock in Idro Festival Milan, Italy
Jun. 19-22 - Nova Rock Festival Nickelsdorf, Austria
Jun. 19-22 - Southside Festival Tuttlingen, Germany
Jun. 19-22 - Hurricane Festival Scheebel, Germany
Jun. 25-26 - Hove Festival Arendal, Norway
EARLY GRAVES, THE SECRET - 2009 TOUR DATES
April 16 Annies, San Francisco, California
April 17 The Firehouse, Arcata, California
April 18 Studio 34, Waldport, Oregon
April 19 Studio 7, Seattle, Washington
April 20 Viaduct, Tacoma, Washington
April 21 Gusto, Boise, Idaho
April 22 Club Vegas, Salt Lake City, Utah
April 23 Blastomat, Denver, Colorado
April 24 Roxbury, Omaha, Nebraska
April 25 Metal Shaker, Chicago, Illinois
April 26 Cara bar, Columbus, Ohio
April 27 The Boiler Room, Ashville, North Carolina
April 28 Volume Eleven, Raleigh, North Carolina
April 29 The Muse, Nashville, Tennessee
April 30 The Continental, Slidell, Louisiana
May 1 The Vortex, Beaumont, Texas
May 2 Skky Bar, McAllen, Texas
May 3 Rock Bottom, San Antonio, Texas
May 4 Red 7, Austin, Texas
May 5 War Legion Underground, Amarillo, Texas
May 6 Convervatory, Oklahoma City, Oklahoma
May 7 Launchpad, El Paso, Texas
May 8 Phix Gallery, Phoenix, California
May 9 The Farm, Las Vegas, Nevada
May 10 The Knitting Factory, Hollywood, California*
May 25 Elbow Room, San Francisco, California**
* part of Los Angeles Murderfest
** w/ Embrace The End, Rise Of Caligula, NO The Secret
DARK CASTLE - 2009 TOUR DATES
April 3 Mia's Pub, Shreveport, Louisiana*
April 4 Saturn Bar, New Orleans, Louisiana$
April 5 Doozer's Pub, Jacksonville, Florida#
April, 30 Lenny's, Altanta, Georgia&
May 7 Drip's, Hickory, North Carolina%
June 4 Spinnaker, Panama City, Florida^
^ w/ Zoroaster, DeadRinger's Guild
% w/ U.S. Christmas, Stinking Lizaveta
& w/ Subrig Destroyer
# w/ Dead Commuter, Ol Scratch, Hollow Leg
$ w/ Buzzardstein, War Amps, Mountain of Wizard, Karoshi
* w/ Buzzardstein & Power Pellut
GLORIOR BELLI - "MEET US AT THE SOUTHERN SIGN" Tracklisting
01. Once In A Blood Red Moon
02. The Forbidden Words
03. Swamp That Shame
04. There Is But One Light
05. My True Essence
06. In Every Grief-Stricken Blues
07. Nox Illuminatio Mea
08. The Blazing Darkness (Of Luciferian Skies)
09. Fivefold Thought
10. Fires Of The Sitra Ahra
11. Meet Us at the Southern Sign
COFFINS - 2009 TOUR DATES
4/30 Seattle, WA @ El Corazon w/ Skarp, Grey
5/1 Olympia, WA @ Northern w/ Thrones, Sixes
5/2 Portland, OR @ Satyricon w/ Thrones, Aldebaran
5/3 Eugene, OR @ Oak St. Speakeasy w/ HC Minds
5/4 Eureka, CA @ Auntie Moe's
5/7 San Francisco, CA @ Annie's w/ Laudanum, Samothrace
5/8 Berkeley, CA @ Gilman St. w/ Aldebaran
5/9 Los Angeles, CA @ The Knitting Factory (LA Murderfest)
EHNAHRE - 2009 TOUR DATES
April 10 2009 The Old Angel, Nottingham
April 11 2009 Captain Tom's, Aberdeen
April 12 2009 Henry's Cellar Bar, Edinburgh/Northeast UK
April 13 2009 The Grapes, Sheffield
April 15 2009 ACU, Utrecht
April 16 2009 HELP Netherlands/Western Germany, Netherlands/Western Germany
April 17 2009 Lades Kælder, Copenhagen
April 18 2009 Revolver, Oslo
April 19 2009 Intakto, Gävle
April 20 2009 Utkanten, Malmö
April 21 2009 HELP Germany, Germany
April 22 2009 Subway to Peter, Chemnitz
April 23 2009 AZ Conni, Dresden
April 24 2009 TBC; Szentes, HU
April 25 2009 BUDAPEST, BUDAPEST
April 26 2009 Garaboncziás, Szeged
April 27 2009 TIME, Zagreb
April 28 2009 Plano B, Piacenza
April 29 2009 Lazzaretto Okkupato, Bologna
April 30 2009 Unwound, Padova
May 1 2009 CS Kavarna, Cremona
May 2 2009 OCCII, Amsterdam, Amsterdam
May 3 2009 HELP Southeast/London, UK
May 4 2009 HELP Southeast/London, UK
June 20 2009 TBC, Boston, Massachusetts
AHAB - THE DIVINITY OF OCEANS Tracklisting
01. Yet Another Raft of The Medusa (Pollard's Weakness)
02. The Divinity Of Oceans
03. O Father Sea
04. Redemption Lost
05. Tombstone Carousal
06. Gnawing Bones (Coffin's Lot)
07. Nickerson's Theme
GENERAL SURGERY - 2009 TOUR DATES
5/9 Los Angeles, CA @ Knitting Factory (LA Murderfest)
5/10 Phoenix, AZ @ the PHiX
5/11 Santa Cruz, CA @ Blue Lagoon
5/12 San Francisco, CA @ DNA Lounge
5/13 Portland, OR @ Satyricon
5/14 Olympia, WA @ Old School
5/22 Baltimore, MD @ Sonar (Maryland Deathfest)
PHOBIA , MAGRUDERGRIND, UNHOLY GRAVE - 2009 TOUR DATES
June 11 - Hollywood, CA @ Knitting Factory
June 12 - Berkeley, CA @ Gilman
June 13 - Portland, OR @ Satyricon
June 14 - Seattle, WA @ The Vera Project
June 15 - Boise, ID @ Gusto
June 16 - Salt Lake City, UT @ Baxters Cafe
June 17 - Denver, CO @ T.B.A.
June 18 - Oklahoma City, OK @ OKC Info Shop
June 19 - Dallas, TX @ The Lounge
June 20 - Austin, TX @ Emo's
June 21 - El Paso, TX @ No Man's Land
June 22 - Tucson, AZ @ Dry River Collective
June 23 - San Diego, CA @ San Diego Woman's Club
BRUTAL TRUTH - 2009 TOUR DATES
April 7 - Los Angeles, CA, The Knitting Factory
April 8 - San Francisco, CA, The DNA Lounge*
April 23 - Buffalo, NY, Mohawk Place
April 24 - Toronto, ON, Wreck Room
April 25 - Pittsburgh, PA, 31st St Pub
April 26 - Cleveland, OH, Peabody's
May 1 - Montreal, QC, Underworld
May 2 - Quebec City, QC, L'Anti
May 3 - Ottawa, ON, Maverick's
May 7 - Syracuse, NY, The Lost Horizon**
May 9 - Allentown, PA, The Sterling Hotel**
May 11 - Danbury, CT, Bill Baloney's**
May 17 - Brooklyn, NY, Europa ***
May 23 - Baltimore, MD, Sonar^
May 30 - Tilburg, Netherlands, 013^^
June 21 - Clisson, France, Hellfest^^^
* w/ IMPALED
** w/ Graves Of Valor, Obscura, Abysmal Dawn
*** as part of Auditory Assault Festival
^ as part of Maryland Deathfest
^^ as part of Neurotic Deathfest
^^^ as part of Hellfest
MILLIONS - 2009 TOUR DATES
April 6 2009 SKULL ALLEY, Louisville, Kentucky*
April 30 2009 - SUMMER CAMP, Chicago, Illinois**
May 28 2009 - THE BURNERS, Bethlehem, Pennsylvania***
May 29 2009 - THE CHARLESTON, Brooklyn, New York***
May 30 2009 - GREAT SCOTTS, Allston, Massachusetts***
May 31 2009 - THE FIREHOUSE, Providence, Rhode Island***
June 1 2009 - LIT LOUNGE, New York, New York****
June 17 2009 - MILWAUKEE, WI, Milwaukee, Wisconsin^
June 18 2009 - CHICAGO, IL, Chicago, Illinois^
June 19 2009 - ROCHESTER, MI, Detroit, Michigan^
June 20 2009 - BLOOMINGTON, IN, Bloomington, Indiana^
June 21 2009 - LOUISVILLE, KY, Louisville, Kentucky^
* w/ TOMBS
**w/ FURNACE + FINISHER
***w/ GODS AND QUEENS
**** w/ THE NEIGHBOURS + FIST FOKKERS
^ w/ GODS AND QUEENS + MEDUSA
HARPOON - 2009 TOUR DATES
April 24 2009 - The Empty Bottle, Chicago, Illinois*
July 10 2009 - Mac's, Lansing, Michigan
July 12 2009 - O'Brien's, Boston, Massachusetts
July 13 2009 - Lit Lounge, New York, New York
* w/ Pelican & Tombs
THE FACELESS, ATHEIST, PSYOPUS, THE AGONIST, GNOSTIC - 2009 TOUR DATES
July 08 - Atlanta, GA - Masquerade
July 09 - Raleigh, NC - Volume 11 Tavern
July 10 - Springfield, VA - Jaxx
July 11 - Allentown, PA - The Sterling Hotel
July 12 - New York, NY - BB King's Blues Club
July 13 - Cleveland, OH - Peabody's
July 14 - Mokena, IL - The Pearl Room
July 15 - Nashville, TN - The Muse