This Week In METAL (05/09/08)
by Black Bubblegum
DOWNLOAD: Pulling Teeth - Live @ Sound & Fury 2K7 (ALBUM ZIP)
DOWNLOAD: Gnaw Their Tongues - Bubonic Burial Rites (ALBUM ZIP), ALBUM ART
DOWNLOAD: Gnaw Their Tongues - Vomiting Helplessly (ALBUM ZIP), ALBUM ART
Opeth!

Twenty six. Thats how many days we have left until the new Opeth record hits the streets. Mikael Akerfeldt & the boys have put in WORK when it comes to publicity for this record so check out a few interviews that they did here, here, here, here, here, and a seven-parter here. Whew! And here's a taste of their setlist from the Universal City, CA date (May 2nd) of the Progressive Nation Tour:

Master's Apprentices
Baying of the Hounds
In My Time of Need
Wreath
Heir Apparent
The Drapery Falls
Tickets are still on sale for Opeth's two shows at Terminal 5. We have a pair to giveaway too. Want them? Email BVCONTESTS@HOTMAIL.COM (subject: Opeth). Include your first and last name. One winner will be picked at random and contacted.
More dates have been added to the Cavalera Conspiracy tour.... check for the full tour dates below. Missed the presale? Don't worry, tickets are back on sale as of Friday morning @ 10am.
Speaking of the Cavaleras, check out the cover for the new Soulfly record Conquer here, as well as the tracklisting below. Conquer will feature guest appearances by David Vincent (Morbid Angel) and Dave Peters (Throwdown).
Speaking of two nights at the venue formerly known as Irving Plaza, tickets are still on sale for the first of two At the Gates reunion shows. The second night is sold out.
much, much more...............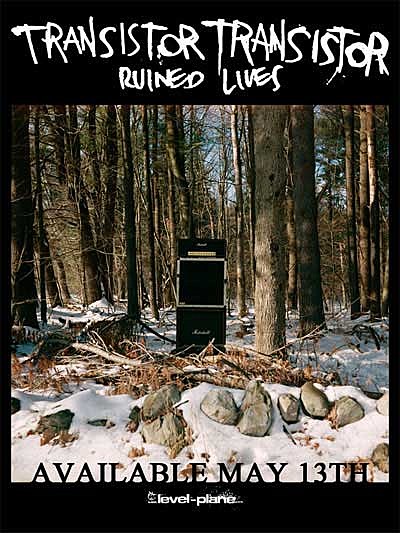 Transistor Transistor unleash Ruined Lives upon 5/13 via Level Plane, with LP versions to follow (40 of 150 left in gold and 350 in black) in mid-June. In the meantime, check out "Letter Of Resignation" over at their myspace and catch them at one of their three (!) NYC area shows, including two with fellow New Hampshire-ites Trap Them. All tour dates below.
Cover art from the aforementioned Narrows 7"
Iann Robinson with High On Fire from the New England Hardcore & Metal Fest.

"Conan Crushing Doom"-ers The Gates Of Slumber have a new chest-thumper, Conqueror, scheduled for release on May 27th (two MP3s are available for download here), but their latest is a 7" split with Crowning Glory available at Rise Above Records. Scoot on over to Rise Above to pick up Moss's new one, Sub Templum as well.
Thrashers Short Sharp Shock (aka SSS) are cranking away at their new album, but have posted an update of their progress in photo/video form here.
An Interview with Tomas Haake of Meshuggah

Jon Chang (ex-Discordance Axis) has announced tour dates for two of his new bands (Hayaino Daisuki & Gridlink) in August, bringing along local badasses ASRA for the ride. Full tour dates are below, including one date at The Charleston on August 14th. In addition, Gridlink has announced that they will release Amber Grey via Hydrahead (the home of Hayaino Daisuki) on June 20th and have posted "Black" for preview on their myspace. Hayaino Daisuki's Headbanger's Karaoke Dangerous Fire is out now, check out my thoughts on it and ASRA's new one below.
Rotten Sound - "Perfection" from Maryland Deathfest V

Phobia are grinding (rimshot!) away at their new record, wth 22 songs in the bag and only the art to go! Look for it soon on Willowtip. Meanwhile, catch Phobia at one of their TWO NYC dates scheduled so far.
Extreme Noise Terror - "Deceived" from Maryland Deathfest V

Shipwreck AD has announced a US tour, including dates at the As One Fest in Connecticut with Underdog, Reign Supreme, Blacklisted, Cold World, Mongoloids, and many many others! Full tour dates are below, pick up tickets for the As One Fest at their myspace.
Cover art for the aforementioned Fantomas/Melvins Big Band DVD.
PUNISHMENT DUE
- Trees - Lights Bane: A testament to thundering doom in the vein of Khanate or Bloody Panda but with an occasional tendency to ride those thick chords out to drone heaven.
- Gnaw Their Tongues - An Epiphanic Vomiting Of Blood: Like I said before, GYT is a harsh combination of the most frightening parts of black metal, noise, horror film scores, and doom, and An Ephiphanic Vomiting... is just plain scary. If you don't have this already (and you probably don't, unless you own one of the 100 CDRs or the 499 LPs released), it's definitely worth a spin.
- Hayaino Daisuki - Headbanger's Club Dangerous Fire: - Kind of late on this one, but this is one of two new Jon Chang (Discordance Axis) projects, the other being Gridlink. Abso-tively posi-lutely (read the following in your best Nathan Explosion voice) bruuuuuuuuuuuutal. The only compaint that I have here is that I need MORE. Soon.
- ASRA - The Way Of All Flesh: Good. Looord! Speaking of Discordance Axis, these deathgrinders (and NYers) have put together a ravenous flesh-eating virus of an album that draws upon DA, Napalm Death, and classic power violence. Hide your f'ing children.
- Burzum - Anthology: I'm kinda conflicted about this one, because although it is an almost essential Cliffs Notes guide to early black metal and the twisted mind of Varg Vikernes, the guy is pretty much a total nutjob. That said, enjoy this excellent compilation, but take a shower afterword.
NEWS BLAST (BEATS)
_ Don Caballero is currently working on a new album for Relapse, but have scheduled a show at The Knitting factory on August 23rd. Tickets are on sale.
- Shai Hulud has announced a show with local metalcore dudes Full Blown Chaos at the Knitting Factory on August 27th. Tickets are on sale.
- Tom Fischer ex-Celtic Frost)is working on a new black metal album!
- Roadburn has released a split 10" from american doomsters Lesbian (winner of worst band name ever) and Ocean (notice that "The" is missing). Pick it up at Allthatisheavy.
- Video has surfaced from the Hate Eternal/Soilent Green/Skeletonwitch show at BB Kings last month. Check out Hate Eternal as they rip through "Bringer Of Storms", "The Obscure Terror" and "Behold Judas" here, and Soilent Green ripping through four songs here.
- The previously mentioned Type O Negative shows with Kingdom Of Sorrow have been rescheduled, check the new dates below. The Terminal 5 date with Hatebreed remains unaffected and is still on sale.
- Joey Belladonna hits Europa sans Scott Ian and Charlie Benante playing a set of all Anthrax songs. The show is this Tuesday and tickets are on sale. In related news, Stephen Pearcy, much like Belladonna, still has the nerve to tour and play only songs by his old band (Ratt). Catch him... in Yonkers on Sunday (at the same venue Joey then hits a few days later).
Transistor Transistor - 2008 TOUR DATES
May 30 Manchester, NH @ Rockos w/ Trap Them, The_Network
May 31 Hartford, CT @ The Whitney House
June 1 New York, NY @ Cake Shop
June 16 New York, NY @ The Knitting Factory w/ Trap Them
June 17 Syracuse, NY @ Castle Rockmoore w/ The_Network
June 20 Indianapolis, IN @ DUDE FEST
June 22 Washington DC @ The Black Cat
June 23 Philadelphia, PA @ North Star Bar w/ Trap Them and The_Network
June 24 Brooklyn, NY @ Death By Audio w/ Trap Them and The_Network
June 25 The Brick House @ Dover, NH w/ Trap Them and The_Network
Transistor Transistor - Ruined Lives Track Listing
1. Morning Sickness
2. The Price of Gasoline
3. Brass Bones
4. Diet of Worms
5. Pillar of Salt
6. The Ghost Hand
7. Harvest
8. Letter of Resignation
9. Celluloid Rats
10. Irreversible
11. Teratogen
HAYAINO DAISUKI, ASRA, & GRIDLINK - 2008 TOUR DATES
August 14 - Brooklyn, NY @ The Charleston
August 15 - Baltimore, MD @ T.B.A.
August 16 - Philadelphia, PA @ T.B.A.
August 17 - Stamford, CT @ T.B.A.
August 18 - Providence, RI @ AS220*
August 19 - Boston, MA @ Church of Boston
* w/ I, Destroyer
CAVALERA CONSPIRACY - 2008 TOUR DATES
May 30 - Electric Weekend Festival Madrid, Spain
June 1 - Pinkpop Festival Landgraf, Netherlands
June 2 - RockhalLuxembourg Luxembourg, Luxembourg
June 3 - Osnabrueck Hyde Park Osnabrueck, Germany
June 5 - Bataclan Paris, France
June 6 - Rock Am Ring Nurburgring, Germany
June 7 - Rock Im Park Nurnberg, Germany
June 9 - Stodola Warsaw, Poland
June 10 - Pasiensky Sport Bratislava, Slovakia
June 12 - STUK Maribor, Slovenia
June 13 - Nova Rock Festival Nickelsdorf, Austria
June 15 - Download Festival Donnington, United Kingdom
June 17 - Astoria United Kingdom
June 18 - Paradiso Amsterdam, Netherlands
June 20 - Kobetasonik Festival Bilboa, Spain
June 21 - Hellfest Nantes, France
June 22 - Ijsselhallen Zwolle, Netherlands
June 23 - Docks Hamburg, Germay
June 24 - Vega Copenhagen, Denmark
June 26 - Hove Festival Arendal, Norway
June 27 - Metal Town Festival Goteborg, Sweden
June 28 - Graspop Metal Meeting Dessel, Belgium
July 1 - Belgrade Smerderevo Festival Belgrade, Serbia
July 2 - Dom Sportova Zagreb, Croatia
July 3 - Lieberec Arena Czech Republic
July 4 - Hohenems Event Centre Hohenems, Austria
July 5 - Eurockeennes de Belfort Belfort, France
July 6 - With Full Force Festival Leipzig, Germany
July 7 - Festhalle Durlach Karlsruhe, Germany
July 9 - Rockwave Festival Greece
July 11 - Evolution Festival Milan, Italy
July 12 - Zurich Xtra Limmathaus, Switzerland
July 17 - Electric Factory Philadelphia, Pennsylvania*
July 18 - Palladium Worcester, Massachusetts*
July 19 - The Fillmore/Irving Plaza New York, New York*
July 20 - The Fillmore/Irving Plaza New York, New York*
July 21 - Rams Head Live Baltimore, Maryland*
July 23 - Vic Theater, Chicago, IL*
July 24 - Orbit Room, Grand Rapids, MI*
July 25 - Toronto Island - Wakefest Toronto, Ontario*
July 26 - Ozzy Osbourne's Monsters of Rock 2008*
July 27 - Myth, St. Paul, MN*
July 29 - Gothic Theater, Englewood, CO*
July 31 - The Fillmore, San Francisco, CA*
Aug 2 - House of Blues, Anaheim, CA*
Aug 5 - House of Blues, Hollywood, CA*
* W/ THE DILLINGER ESCAPE PLAN, THROWDOWN, BURY YOUR DEAD, and INCITE
SOULFLY - "Conquer" track listing:
01. Blood Fire War Hate
02. Unleash
03. Paranoia
04. Warmageddon
05. War Ghost
06. Rough
07. Fall Of Sycophants
08. Doom
09. Rot
10. Touching The Void
11. Soulfly VI
SHIPWRECK AD - 2008 TOUR DATES
May 18 Waterbury CT As One Fest*
May 23 Perth Amboy, NJ Monroe KoC
May 24 Virginia Beach, VA Liberty 4
May 25 Johnson City, TN The Hideaway
May 26 Chattanooga, TN TBA
May 27 Birmingham, AL TBA
May 28 Atlanta, GA The Treehouse
May 30 Mayaguez, PR Bunkers
May 31 Bayamón, PR Iben's Pub
June 2 Clearwater, FL 688 Skatepark
June 3 Panama City, FL Beamers
June 4 Baton Rouge, LA Darkroom
June 5 Houston, TX The Junction
June 6 Dallas, TX Red Blood Club
June 7 Wichita Falls, TX American Legion 169
June 8 Albuquerque, NM TBA
June 9 Denver, CO The Underground
June 10 Cedar City, UT TBA
June 11 Las Vegas, NV 5265 N. Riley St.
June 12 Oceanside, CA The Stripline
June 13 Santa Barbara, CA Jensen's Main Stage
June 14 West Lake Village, CA Kung Fu Corner
June 15 San Diego, CA TBA
June 16 Tucson, AZ The Living Room
June 17 San Antonio, TX The Crossing
* with Underdog, Bitter End, Blacklisted, Cold World, Mongoloids, Reign Supreme
TYPE O NEGATIVE, KINGDOM OF SORROW - 2008 TOUR DATES
July 1 - Sayreville, NJ @ Starland Ballroom
July 2 - Philadelphia, PA @ The Trocadero
July 3 - Cleveland, OH @ House of Blues
July 5 - Norfolk, VA @ The NorVa