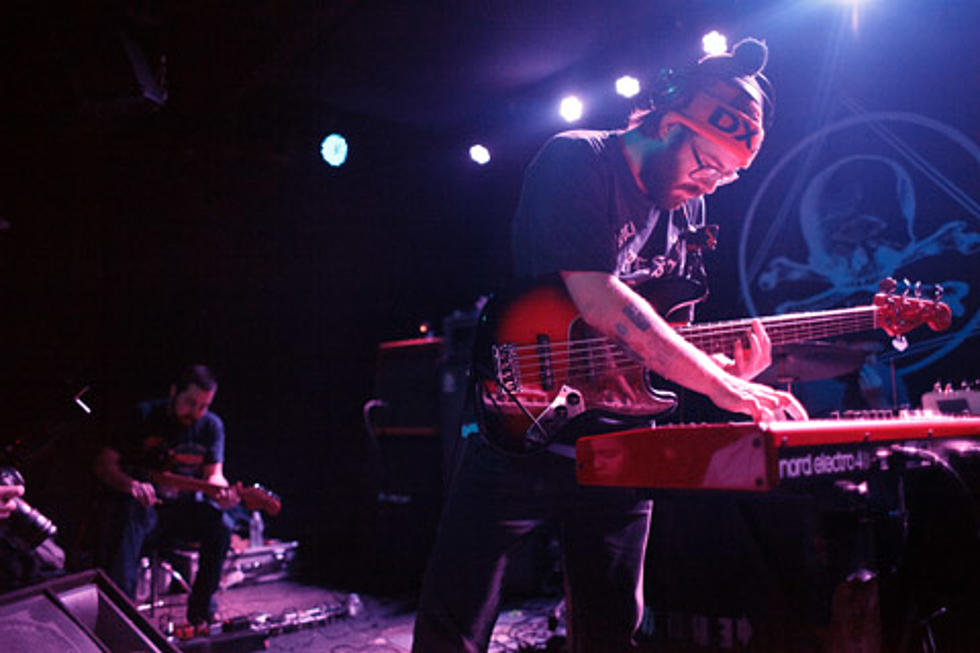 This Will Destroy You played two nights at Saint Vitus (pics from night 2 with Sannhet & Planning for Burial)
TWDY / Sannhet / Planning for Burial @ Saint Vitus - 2/27/15

Post rockers This Will Destroy You played a BrooklynVegan-presented two-night stand at Saint Vitus on Thursday (2/26) and Friday (2/27) with different openers each night. The first had their collaborator Christopher Tignor and local atmospheric metal band So Hideous, and the second had the gloomy Planning for Burial and local instrumental post-metal band Sannhet. The pictures in this post are of night 2.
Planning for Burial's set sounded a little less consistent than his recent album, as he was doing everything with a loop pedal and drum machine which just didn't fully capture what makes the album so great. But there was no denying the power of the raw, cathartic ending which had him screaming into the air without a mic.
Sannhet, whose new album Revisionist comes out this week on The Flenser (same label as PfB) and had hit the web a few days prior to the show, sounded huge. Though atmospheric black and sludge metal are influences, their approach to instrumental rock is not too unlike TWDY's and the pairing of the two of them was perfect. Sannet makes music that overwhelms you, and as good as their albums may be, there's nothing like standing in front of the band with their wall of sound towering over you.
In comparison, This Will Destroy You played a much softer set, but still the kind with the ability to mesmerize. They opened with a newer one, but then took it right back to old favorite "A Three-Legged Workhorse" which really set the mood for the set. While Sannhet's light show makes them a sight to see, TWDY is the kind of thing you want to close your eyes to. The minimal stage show feels intentional -- one member even plays sitting down.
More pictures below...

---