Three Man Cannon (ex-Tigers Jaw) releasing an LP on Lame-O (stream a track); tour w/ Kite Party starts soon
photo by Jess Flynn

Scranton/Philly band Three Man Cannon's history dates back to when members Dennis Mishko and Pat Brier were still playing in Tigers Jaw, but now that they've left that band, they can focus fully on Three Man Cannon who will release their new album, Pretty Many People, on May 27 via Lame-O Records (pre-order), former home of their neighbors Modern Baseball. The nasally vocals of the Pennsylvania punk scene TMC are rooted in are in place here, but it's musically much different. First single "Patiently" has the acoustic jangle of early Shins and new single "Something I Found" throws a surfy twang into the mix. Fans of There's Nothing Wrong with Love-era Built to Spill and The Photo Album-era Death Cab should check this out. "Something I Found" premieres in this post and can be streamed, along with the video for "Patiently," below.
As previously mentioned, Three Man Cannon will soon be touring with fellow Philly ex-punks Kite Party. That tour hits NYC on May 22 at David Blaine's The Steakhouse with LVL UP and Downies (mems of LVL UP and Porches). $5 at the door gets you in. All dates are listed below.
All Three Man Cannon dates are listed, with the song stream and video, below...

---
Three Man Cannon - "Something I Found"

Three Man Cannon - "Patiently" Official Video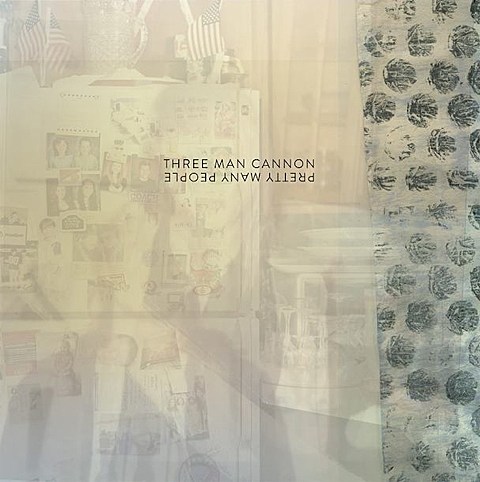 Tracklist:
Simple, Your Room
Moving onto Martha St.
Something I Found
To Sleep
Side By Side
Patiently
Laguzzi Smokes
Bleed
DC Funeral
Baby
Window
Three Man Cannon / Kite Party -- 2014 Tour Dates
5/22 - Brooklyn, NY @ David Blaine's The Steakhouse
5/23 - Pittsburgh, PA @ Garfield Artwork
5/24 - Athens, OH @ The Lodge
5/25 - Columbus, OH @ WYMI
5/27 - Normal, IL @ Firehouse
5/28 - Chicago, IL @ Dee Dee Ramone's Funky Lab
5/29 - Grand Rapids, MI
5/30 - Akron, OH @ It's a Kling Thing
5/31 - Scranton, PA @ 25/8 Studios