Tift Merrit released an album, playing shows w/ Jason Collett & Richard Buckner (who's playing this weekend w/ Jay Farrar)
Tift Merritt @ Stuy High School in 2009 (more by Chris La Putt)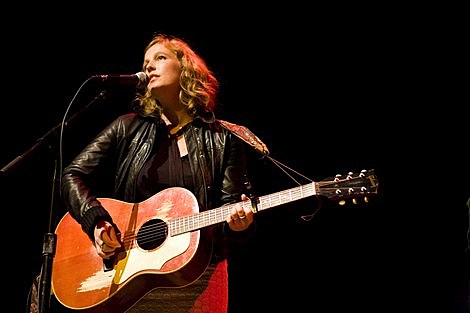 "[Mixtapes were] how I was introduced to music that has been so important to me," she tells The Boot. "Someone made me a mix of Maria McKee and Lone Justice, and someone made me a tape that had Mary Lou Lord, Big Star and the Jayhawks. I was 18 years old -- I didn't know about these people. I just found so much neat new music that way because people really did this kind thing."

The North Carolinian would revisit the subject on 'Mixtape,' one of 12 songs from her new album, 'See You on the Moon.' While some of the country elements that have long been associated with her music can be heard on the record, 'See You on the Moon' also reflects a continued evolution in her sound and approach.
Singer-songwriter Tift Merritt plays a June 17th show at NYC's Hiro Ballroom. Tickets are still on sale. That show and others are with Broken Social Scene member Jason Collett, who joins her on part of her June/July tour.
Tift's new record, See You on the Moon came out June 1st on Fantasy Records/Concord, and features production by Tucker Martine (The Decemberists, Sufjan Stevens, Laura Veirs, Spoon) and guest spots by Jim James and pedal steel guitarist Greg Leisz.
After her Hiro Ballroom show, Tift's next two dates in Massachusetts are with somber songwriter Richard Buckner. Buckner also has a string of June tour dates (and some in September too) coming up - he opens for Jay Farrar at Bowery Ballroom on June 4th and at Maxwell's on June 5th.
Full tour dates for Merritt (who opens for Amos Lee at Westhampton Beach PAC on Long Island on July 2nd), Collett and Buckner are below...

Tift Merritt - 2010 Tour Dates
June 03 Jefferson Theater Charlottesville, VA
June 04 Visulite Theater Charlotte, NC
June 05 North Carolina Museum of Art Raleigh, NC $
June 07 Ram's Head Annapolis, MD $
June 08 Three Rivers Arts Festival Pittsburgh, PA
June 11 Linda Norris Theater Albany, NY $
June 12 Higher Ground Showcase Lounge Burlington, VT $
June 15 World Café Live Philadelphia, PA $
June 16 The Birchmere Alexandria, VA $
June 17 Hiro Ballroom New York, NY $
June 18 Iron Horse Northampton, MA #
June 19 Paradise Rock Club Boston, MA #
June 22 Ashland Coffee & Tea Ashland, VA
June 23 The Square Room Knoxville, TN
June 24 Mercy Lounge Nashville, TN
June 25 Botanical Gardens Athens, GA
June 26 LL Bean Summer in the Park Concert Series Freeport, ME
July 02 Westhampton Beach PAC Westhampton Beach, NY
July 16 The Pour House Charleston, SC
July 17 Greenfield Lake Amphitheater Wilmington, NC
July 22 The Orange Peel Asheville, NC
July 25 Floydfest Floyd, VA
July 28 Waterfront Wednesdays Louisville, KY
July 29 The Ark Ann Arbor, MI
July 30 Lincoln Hall Chicago, IL
July 31 Shank Hall Milwaukee, WI
August 1 Fine Line Minneapolis, MN
August 13 ocky Mountain Folks Festival Lyons, CO
$ w/ Jason Collett
# w/ Richard Buckner
--
Jason Collett - more 2010 Tour Dates
Thursday June 10th, 2010 Halifax, NS Carleton
Friday June 18th, 2010 Burlington, ON Burlington Sound of Music Festival
Friday July 9th, 2010 Orillia, ON Mariposa Folk Festival
Monday July 12th, 2010 Ottawa, ON Ottawa Bluesfest
Friday July 16th, 2010 London, ON Aeolian Hall
Saturday July 24th, 2010 Guelph, ON Hillside Festival
--
Richard Buckner - 2010 Tour Dates
Fri 06.04.10 Hoboken, NJ Maxwell's #
Sat 06.05.10 New York, NY Bowery Ballroom #
Sat 06.12.10 Arlington, VA IOTA Club and Cafe 15th Anniversary Show
Fri 06.18.10 Northampton, MA Iron Horse @
Sat 06.19.10 Boston, MA The Paradise @
Thu 09.09.10 Columbia, SC Columbia Museum of Art
Fri 09.10.10 Raleigh, NC Hopscotch Festival
Thu 09.23.10 Cincinnati, OH Midpoint Music Festival
@ w/ Tift Merritt
# w/ Jay Farrar