Tilly and the Wall played Bowery Ballroom with Nicky Da B and Starlight Girls (pics/video)
NYC!!!! You are true blue!!!! Thank you for being so kind to us. Couldn't help those tears the last two songs. Hearts exploding!!!!! - @Tilly And The Wall's Twitter.
Tilly & The Wall at Bowery Ballroom, 10/13/2012

Tilly and the Wall clearly had a great time during their stay in NYC. The tap-dancing Nebraskans were joined by the booty-clappin' Nicky Da B and Brooklynites Starlight Girls at their October 13 show at Bowery Ballroom, as part of their US tour in support of their new LP Heavy Mood. If the Tilly/Nicky combo seems strange on paper, the crowd didn't seem to notice, going equally mental for both.
The Tilly and the Wall's trek shuffles on, playing Raleigh, NC on Tuesday (10/16) and wrapping up in their hometown of Omaha on November 21. More pictures, as well as video, from Bowery Ballroom are below.

---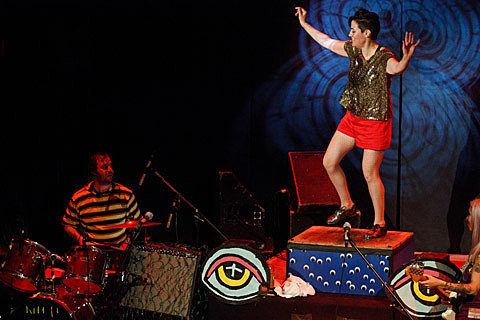 Tilly and the Wall live @ Bowery 10-13-12